Excavation at Hadrian's Villa Uncovers the Art of Ordinary Spaces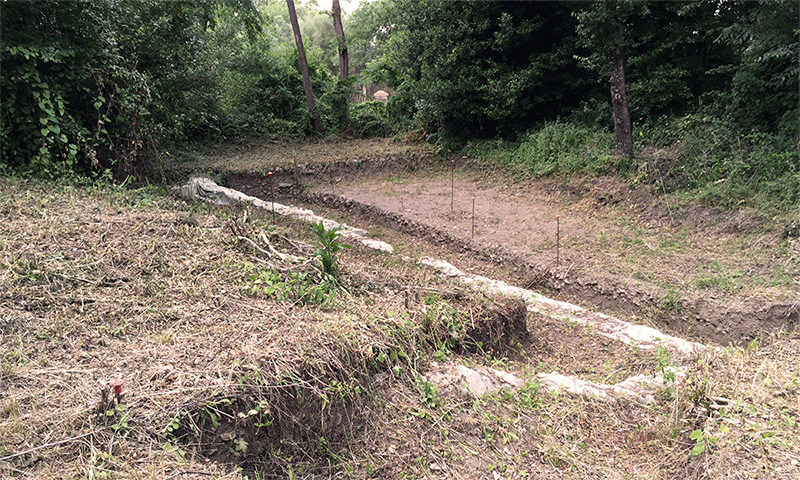 This animated gif shows the progress of a Columbia-led excavation of the UNESCO World Heritage Site of Hadrian's Villa since 2013. Photo courtesy of Kevin MacNichol
Twenty miles east of Rome lies the villa of the emperor Hadrian, who ruled for about 20 years during the second century A.D., but whose lavish estate has exercised a strong influence on architects and artists since its rediscovery in the 15th century.
Hadrian's Villa, a UNESCO World Heritage site since 1999, also has attracted scholarly attention for centuries, but mostly to better understand the genius of the popular Hadrian, according to Columbia's Francesco de Angelis, a professor of art history and archaeology.
De Angelis, who has been leading a dig at the site since 2013 with Marco Maiuro, adjunct history professor and associate fellow of Columbia's Italian Academy, notes that the villa was continuously occupied well beyond Hadrian's reign, from 117-138 A.D., at least until the fifth century, which means that much of its history and the people who lived there have never been properly studied.
"Until now, scholarship has focused very much on the pageantry—the beautiful statues, the reception halls—and less on the workaday," said de Angelis. "How did they live, work, worship? This intersection of high and low, quotidian and ceremonial, can be investigated by looking jointly at the grand architecture and decoration and the more ordinary spaces."
Hadrian's Villa is the most important of the dozens of imperial villas built during Rome's 500 years as an empire, with buildings, baths, gardens and promenades sprawling over 300 acres in Tivoli at the foot of the Apennine Hills. Twice the size of Pompeii, it is renowned for its blend of Roman, Greek and Egyptian architectural and artistic traditions.
The two professors, working with a team of students from Columbia and Barnard through the Italian Academy's Advanced Program of Ancient History and Art, as well as other universities, completed fieldwork in Tivoli during the summers of 2014 and 2015. They will return in June to continue the excavation of two less explored parts of the villa. The first is the Lararium, possibly a shrine to the household gods called Lares located near the Great Vestibule, the main entrance to the villa and crucial center for rituals governing access to the complex.
The other excavation site is the Macchiozzo, an area covered by bushes and trees close to the center of the property. At both sites, the Columbia team is researching the daily life not of an emperor and aristocrats, but of the villa's continuous inhabitants—the administrators, staff members and slaves who lived there throughout Hadrian's long absences. Hadrian spent more than half his reign traveling throughout his empire, leaving new structures and cities from Britain to present-day Turkey.
Last summer students who were scrubbing mosaic floors—"Cinderella work," de Angelis calls it—were dazzled by the tile patterns under centuries of encrustation. "Even the most humble tasks yield extraordinary results and contribute to our historical understanding of Hadrian's Villa."
Image Carousel with 5 slides
A carousel is a rotating set of images. Use the previous and next buttons to change the displayed slide
Slide 1: Advanced Program of Ancient and Art History team members at work preserving and restoring wall paintings and marble decoration. Photo by A. Tartaro

Slide 2: A painted wall from the newly excavated building at Hadrian's Villa. Photo by D. Nocera

Slide 3: Fragment from the ceiling of the newly excavated building, with vegetal decoration. Photo by D. Nocera

Slide 4: Advanced Program of Ancient and Art History participant removing limestone concretions from the surface of a mosaic floor. Photo by F. de Angelis

Slide 5: Hadrian's Villa, large baths. Photo by F. de Angelis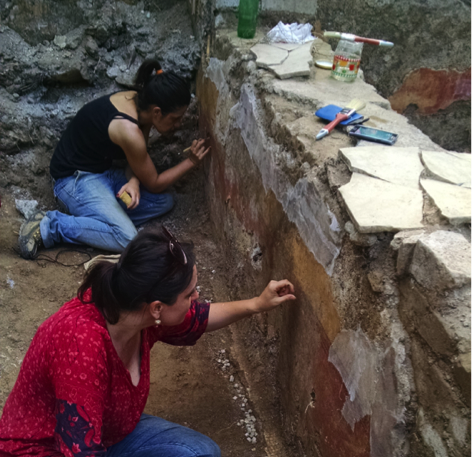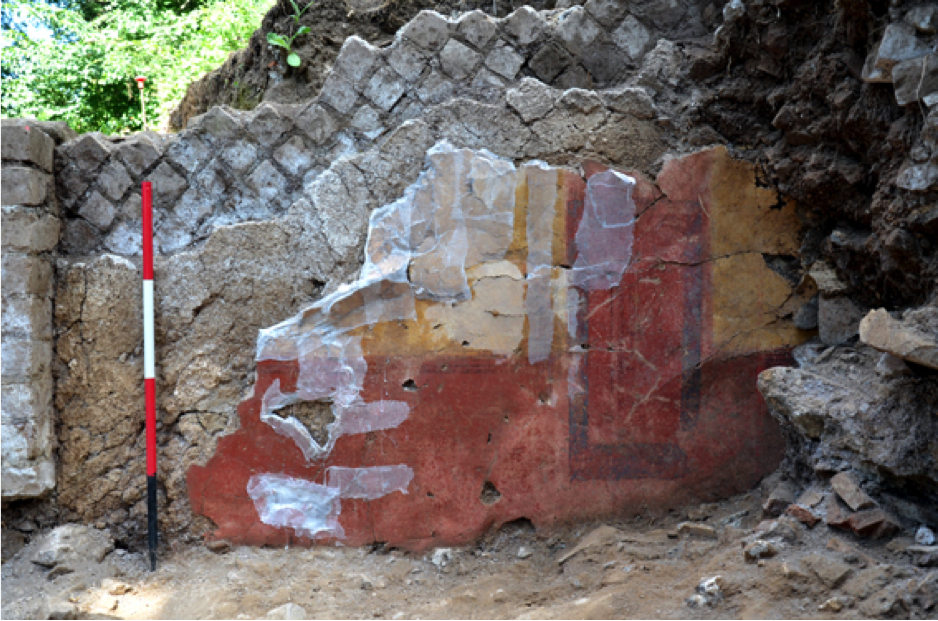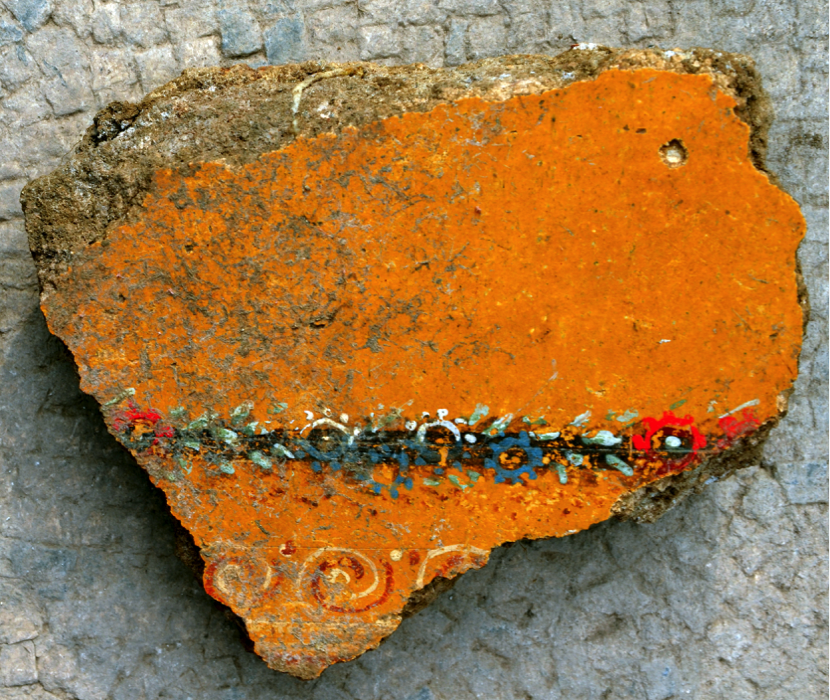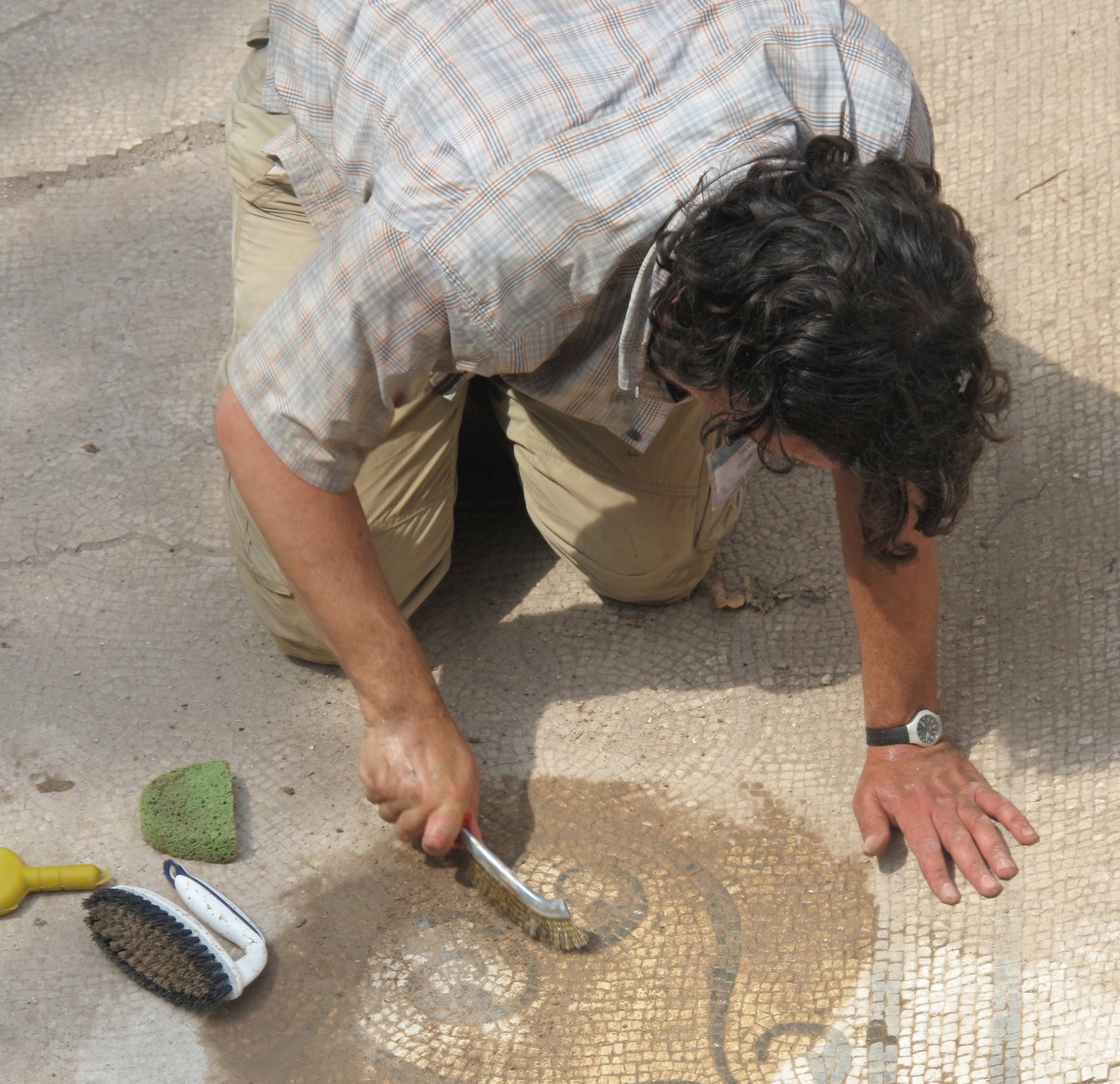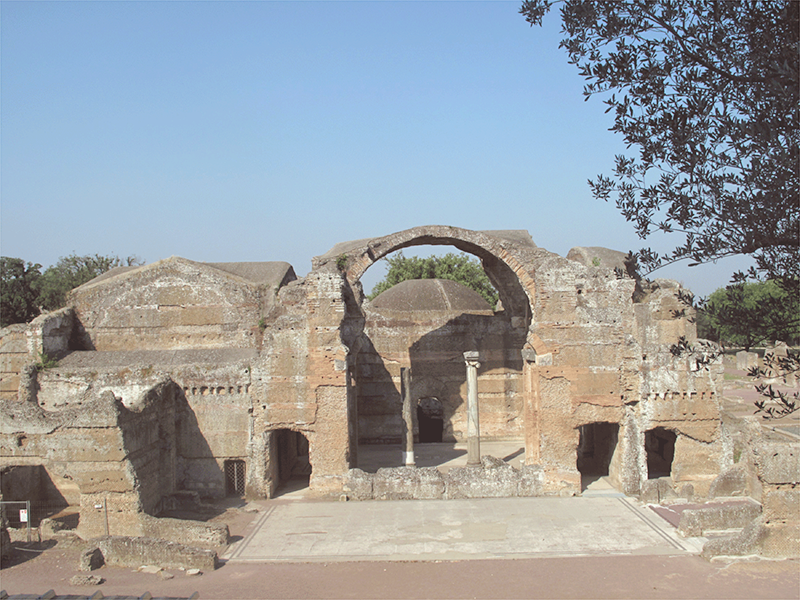 Previous
Next
The 2015 dig season yielded a number of unexpected artistic and architectural results, confirming de Angelis and Maiuro's theories that lower-ranking villa residents performed their religious activities at the Lararium and lived or conducted business at the Macchiozzo.
Work at the Lararium revealed that this courtyard in front of a small temple may have been connected to slave quarters in the northernmost part of the villa. Stratigraphic analysis indicates it was abandoned two centuries earlier than other parts of the villa, later on becoming a dumping ground for architectural marble fragments from all over the villa.
The Macchiozzo is a large compound built during Hadrian's time combining elements of luxury architecture, such as marble-faced walls, with utilitarian structures, such as ramps and water channels. In 2015 archaeologists uncovered a previously unknown residential building with beautifully preserved decoration: floor mosaics with abstract and figural patterns, marble facings, wall paintings with red and yellow panels divided by delicate vegetal motifs, and ceiling frescoes populated by mask-like faces, griffins and sphinxes. Comparisons with similar structures at Hadrian's Villa and from nearby Ostia, the harbor city of ancient Rome, suggest that the building was used not by the emperor but by a high-ranking staff member. Exploration of the area around the Macchiozzo shows a vast network of similar structures, forming a smaller enclave within the compound.
Hadrian's Villa has been a magnet for artists for centuries. Among those who have sketched the ruins are Michelangelo, Raphael, Piranesi and Le Corbusier, some of whose sketches from Hadrian's Villa were included in the 2013 exhibition Le Corbusier: An Atlas of Modern Landscapes at the Museum of Modern Art. It is thought that even Charles Follen McKim, one of the architects of Columbia's Morningside Heights campus—from the firm of McKim, Mead and White—sketched there.
"If you look at this campus, it's interesting to make the connection to Tivoli," says de Angelis. "McKim went to Rome, made drawings there, was trained in that classical tradition. Since we are working in the firm's buildings in New York, I think we are subliminally, if not consciously, conditioned by the same architecture, the same forms that exist at Hadrian's Villa."