How to Tackle the Tech Giants
The Knight First Amendment Institute is publishing a collection of essays from leading experts and scholars looking into big tech's relationship with free speech.
February 24, 2020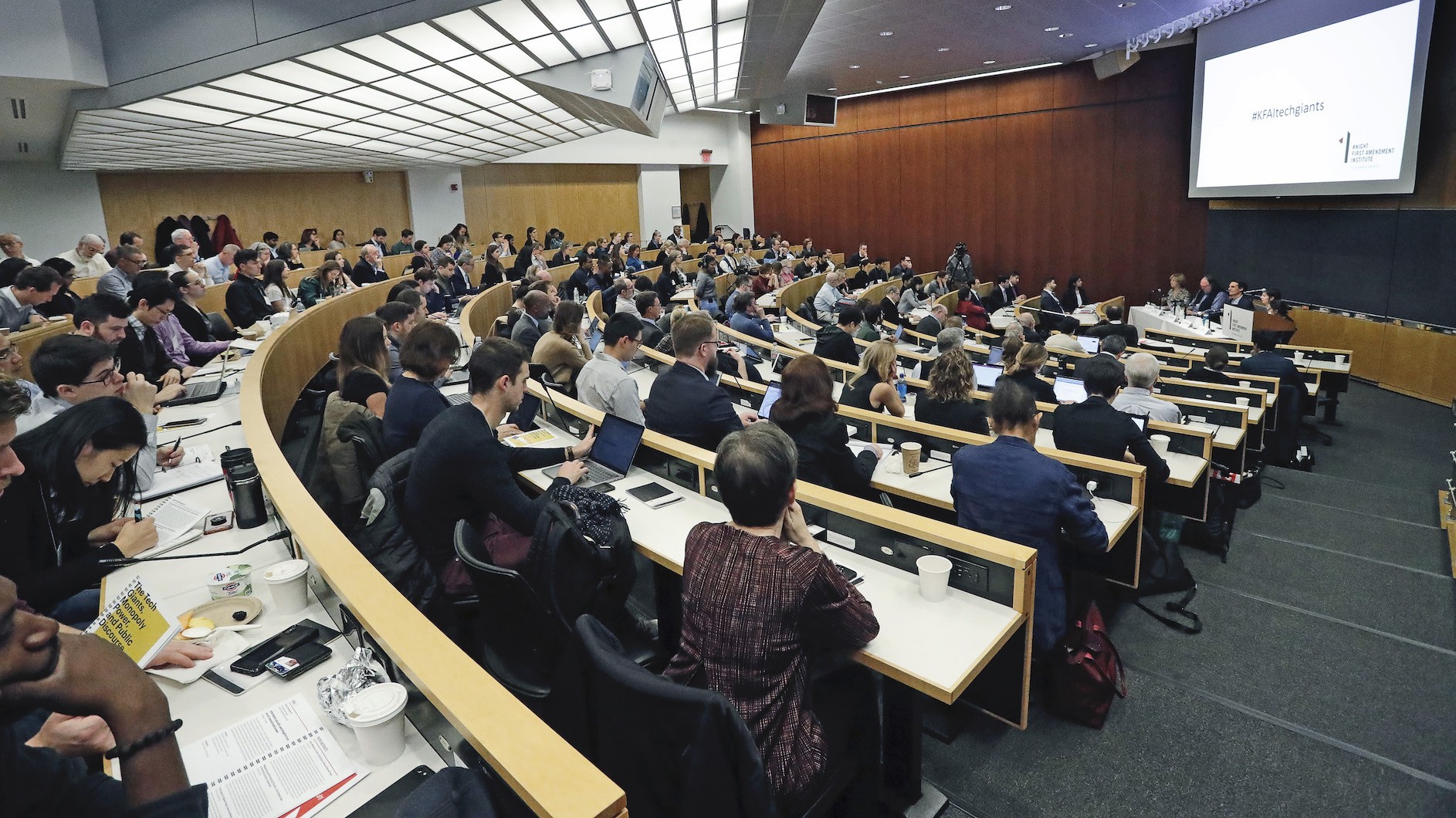 Over two days last November, the Knight First Amendment Institute convened "The Tech Giants, Monopoly Power, and Public Discourse" symposium with experts in law, computer science, economics, information studies, journalism, political science and other disciplines at Columbia Journalism School and Columbia Law School. The panelists were asked to focus on two major questions: how and to what extent the technology giants' power is shaping public discourse, and whether anti-monopoly tools might usefully be deployed to expose or counter this power. 
Learn more about Big Tech's influence on our free speech
The Knight Institute commissioned 12 essays for the symposium, each examining different facets of the influence big tech companies have on our lives and our democratic practices, and proposing different strategies for the way forward.
Below is a selection of quotes and videos from some of the panelists explaining their positions on the most pressing freedom of speech issues related to big tech.
---
ETHAN ZUCKERMAN
Zuckerman is the director of the Center for Civic Media at MIT and associate professor at MIT Media Lab.
"Many people are worried about monopoly power around these questions of online speech because we're suddenly asking either these platforms or the government to have a great deal more power over speech."
Read his essay, "The Case for Digital Infrastructure," here.
---
EVELYN DOUEK
Douek is an S.J.D. candidate at Harvard Law School and an affiliate at the Berkman Klein Center for Internet & Society. She also blogs for Lawfare.
"You have situations where these platforms are sharing information and signals between them, Facebook and Google and Twitter, ... but we don't have any insight or visibility into that.... They're sharing the information between themselves, but they're not sharing that information with us."