How a Group of Columbia Students and Postdocs Are Changing Minds About Masks
Wearing is Caring, a PR campaign that breaks down the science behind how face coverings can combat coronavirus, has reached more than 1 million people via social media.
November 04, 2020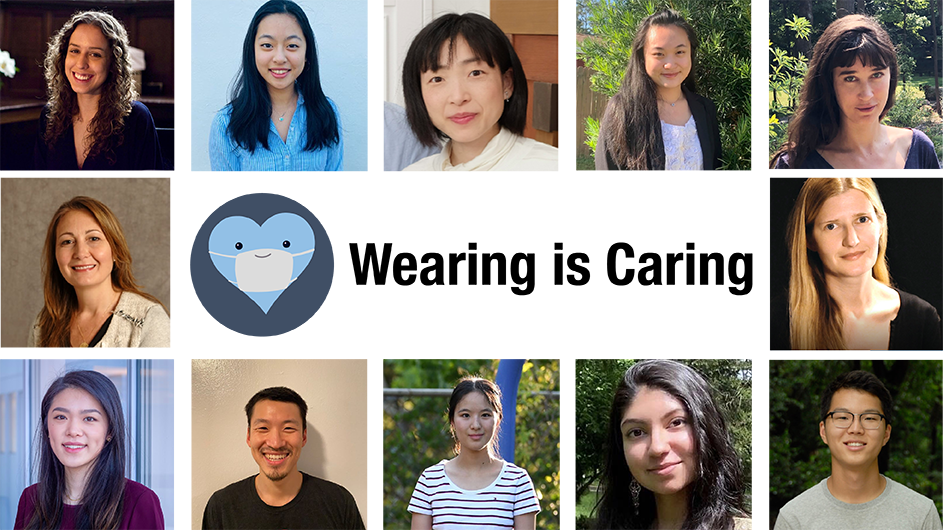 A team of young Columbia scientists has devoted itself to a campaign that aims to convince the public that the widespread use of face masks, combined with physical distancing and proper handwashing, is essential for bringing the pandemic under control.
Wearing is Caring, which launched in July, is driven by a dozen or so post-doctoral researchers and undergraduate students who came together last spring frustrated about the lack of consensus on masks and alarmed about how few people wore them.
"Mask-wearing is a fraught topic. Shifting public health guidelines and misleading claims have caused confusion over whether face coverings are effective," said Tiffany Chen, a researcher at Columbia's Zuckerman Mind Brain Behavior Institute, who oversees the group's PPE guidelines. "Our goal is to present scientific evidence in a way that is credible and easy to understand that will help persuade the undecided that face masks really do save lives."
The campaign makes use of two powerful tools—scientifically based research and social media–to deliver its message. Colorful infographics, slideshows, and true-false quizzes address such topics as how to properly wear a mask, the pros and cons of each type of PPE, and whether herd immunity is the way to go. Each recommendation and myth—such as a mask can make the wearer sick—are accompanied by a citation with a link to a scientific research paper. 
The graphics can be easily downloaded and shared on social media. 
Scientifically Sourced, Playful Messages
Elizabeth Hillman, professor of biomedical engineering and radiology in the School of Engineering and Applied Science and an investigator at the Zuckerman Institute, is one of the group's faculty advisers. She is also the co-inventor of an origami-inspired rapid "Face-Shield" design that provided high-speed, low-cost production for hospitals in the early days of the pandemic. 
 "When COVID-19 hit the U.S. in March, there was a massive shortage of PPE in hospitals, and a void of information about what the public should do to protect themselves," Hillman said.
"Wearing a mask, in a way, is accepting how terrifying COVID-19 is, and it constantly reminds everyone of how our world has changed." 
As she sought to help coordinate Columbia's PPE effort, Hillman met volunteers working on mask sterilization methods as part of Columbia Researchers Against COVID-19 (CRAC), a network of students, staff, and faculty that supported clinicians on the frontlines.
"Together, we realized that although people were being told to wear a mask, they weren't being told why. There were no intuitive explanations about why one mask is better than another, or why it is important that your mask fits you," Hillman said. "The group came up with the idea for Wearing Is Caring to provide scientifically sourced, playful messages to help a diverse audience learn how to best protect themselves and their loved ones."
A Retweet From the Surgeon General
So far, the Wearing Is Caring crusade has reached more than 1 million people via social media and search. As part of its outreach strategy, the group seeks out scientists and nonprofit organizations across the country asking them to help spread its message.
"One of the highlights was when U.S. Surgeon General Jerome Adams retweeted us," said Elaine Lee, a sophomore at Columbia College who serves as Wearing Is Caring's webmaster, illustrator, and graphic designer.
What has surprised the organizers is the level of distress surrounding mask-wearing they've encountered on social media. They understand that some of the discomfort is cultural, and that having to wear a mask for prolonged periods of time can be unpleasant, even irritating.
"We also believe that these strong emotions—sadness, anger, fear, shame—go beyond discomfort or whether masks actually work," said Jaeseung Hahn, a postdoctoral research scientist and Wearing Is Caring's outreach manager. "Wearing a mask, in a way, is accepting how terrifying COVID-19 is, and it constantly reminds everyone of how our world has changed."
An Expanded Focus
Wearing Is Caring organizers recently introduced a section on mental health to the site that offers resources to people feeling depressed, anxious, or overwhelmed. The content is presented in a similar evidence-based, infographic format.
Visitors can find modules on such topics as how to feel calmer wearing a mask and how mask wearers can communicate more effectively. The site offers resources such as research papers on psychiatric illness and COVID;  information on psychiatric conditions; and guidance on where to get help.
"We are experiencing tremendous collective anxiety, increasing isolation, and mental fatigue," said Carolina Jacobs Ramos, a licensed social worker, psychotherapist, and premed student in Columbia's School of General Studies who reviews all mental health content under the guidance of Maura Boldrini, professor of psychiatry at Columbia Medical College and an investigator at the Irving Medical Center. "We hope that our materials remind readers that their reactions are normal and that they are deeply worthy of wellbeing and care."