Columbia's COVID Director Steers University Through Pandemic's Upheaval
Donna Lynne's steady hand and collaborative approach to the crisis has earned the trust of the community.
March 01, 2021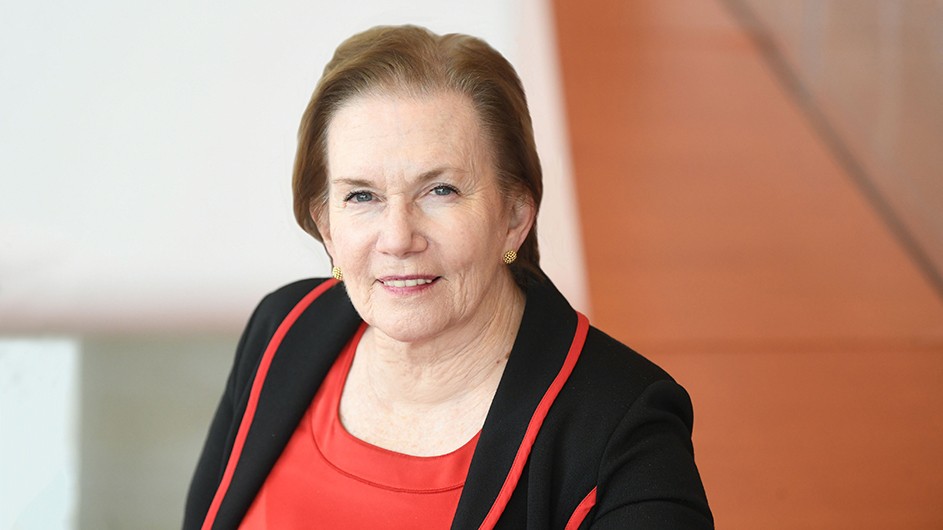 In early March 2020, Donna Lynne, senior vice president and chief operating officer of Columbia University Irving Medical Center, had been in her position less than 18 months when a patient with COVID-19 was hospitalized in critical condition at NewYork-Presbyterian, which is affiliated with Columbia.  
It was the second confirmed case in New York City, the first evidence of community spread, and Lynne—who is also chief executive of ColumbiaDoctors, a 2,000-physician faculty practice organization—knew Columbia had to move quickly.
---
'We had to become a cohesive and flexible team as things changed rapidly from day to day,' Lynne said.
---
Lynne went to work on issues of staffing, testing, and personal protective equipment for employees and patients coming into the hospital and its clinics. She joined the University's COVID Task Force, which was meeting daily, and began a rapid response: Send employees home. Empty dorms. Get international students back to their home countries. Get students abroad back to the U.S. Determine who are essential workers and which labs should stay open. Adapt technology to make classes and offices remote.
 "We had to become a cohesive and flexible team as things changed rapidly from day to day. We needed consistent policies, procedures, and protocols," Lynne said. "We also had to manage the fear and anxiety that had taken hold of the community, which could only be accomplished through communication and transparency."
Bollinger Officially Names Lynne the University COVID Director
In June, Lynne, 66, added to her titles when Columbia President Lee C. Bollinger officially named her University COVID director, in charge of leading Columbia through the next phases of the pandemic. It meant she had to work with a multitude of stakeholders, from the president's office to basic scientists, clinical chairs, and division heads to leaders on the Morningside campus, many she'd never met.
"Donna is the consummate collaborator, a rare combination of intelligence and no nonsense. She works hard to get things done, while registering everybody's opinion," said Jack Cioffi, president of ColumbiaDoctors. "She has gained the trust and respect of the 2,000 physicians and 8,000 staff that support the clinical practices. Her leadership through COVID has amplified that trust and respect."
William Gold, clinical professor of health policy and management at the Mailman School of Public Health, where Lynne has taught for the last 15 years—commuting to the city even when her career took her out West—is confident that she has what it takes to "reopen, recover, and reimagine." Columbia's post-COVID-19 future. "She has the experience, assuredness, credibility, and compassion to bring Columbia to the other side," he said. 
A Self-Proclaimed Risk-Taker With the Courage to Fail
Lynne's skillset evolved during a career she describes as "not at all linear." In early 2016, Colorado Governor John Hickenlooper named her the state's 49th lieutenant governor and chief operating officer, a position she left at the end of their term on January 10, 2019; she joined Columbia on January 14. Her resume includes more than a decade as a top executive with Kaiser Foundation Health Plan Inc. and Kaiser Foundation Hospitals, as well as seven years at Group Health Incorporated in New York.
She also spent 20 years working in New York City government under four different mayors, including serving as the first deputy commissioner at the Office of Labor Relations and director of the NYC Mayor's Office of Operations, where she handled oversight of everything from garbage trucks to bioterrorism attack drills. She is credited for developing the multiagency emergency management office that became the blueprint for the city's response to the 9/11 attacks.
Lynne is a self-proclaimed risk-taker both in her career and personal life. She enjoys extreme sports, took up mountain climbing when she was 52, and has scaled all 58 of Colorado's 14,000-foot mountains known as "14ers." She has a penchant for distance-biking and skiing black diamond trails.
---
Lynne took up mountain climbing when she was 52, and has a penchant for distance-biking and skiing black diamond trails.
---
One of her biggest professional gambles was a long-shot bid in 2018 to become Colorado's governor. Encouraged by Hickenlooper, Lynne sought name recognition in a crowded Democratic primary, and ultimately lost to Jared Polis, who went on to become the 43rd governor of Colorado.
Lynne has no regrets about the race. Campaigning gave her the chance to travel across the state, meet people, debate, and learn firsthand how much money and personal connections matter in politics. "To take risks, you have to be able to deal with consequences," said Lynne, adding that failure can be instructive. "It teaches you to be resilient and how to do something better the next time. But running for office again? No way."
Finding Her Way as a 'Rebel' With a Cause
Born on a Navy base in Jacksonville, Florida, into a military family, Lynne was raised outside Philadelphia. Her parents were conservative—politics, religion, and sex were not discussed at home—and Lynne saw herself as a rebel. A star athlete, she chafed at the limitations put on girls at the time. "I had to wear a skirt to play basketball," she said.
Lynne realized she would have to blaze her own trail. "I wanted to do something meaningful and help people, which is how I found my way into government," said Lynne, who graduated from the University of New Hampshire with a degree in economics and political science and went on to earn a master's in public administration at George Washington University.
Then came marriage and a move to New York, where she and her husband started a family. But when their children were 4, 6, and 8, the couple split up. Suddenly, she found herself a single mother in Queens raising three young children and commuting to Manhattan, while trying to build a career and further her education.
---
Suddenly, Lynne found herself a single mother in Queens raising three young children and commuting to Manhattan, while trying to build a career and further her education.
---
Her daughter, Rachel Gwynne, a senior vice president at an investment bank and financial services company in New York, remembers as a child her mother working long hours, but coming home each night to help out with homework and science projects, and rarely missing after-school or sporting events.
"My mom was always there for us," Gwynne said. "She even coached my eighth-grade basketball team. She is the reason my brothers and I fell in love with sports. My mother also instilled in us the importance of hard work and pursuing a career we were passionate about."
Once her children were older, Lynne pursued a doctorate in public health at Columbia's Mailman School of Public Health, earning her DrPH at age 50, the same day her daughter graduated from Columbia's School of Social Work with her MSW. When Mailman offered Lynne an adjunct teaching position, she jumped at the opportunity, but a year later Kaiser Permanente recruited her, which required a move to Colorado.
Gwynne is constantly inspired by her mother's energy, stamina, self-assuredness, and her ability to keep calm and focused during the pandemic. When COVID hit, my mom was working 16-hour days, seven days a week, but you never heard her complain," Gwynne said.
Another of her mother's attributes is her capacity to enjoy life. In addition to her passion for sports, Lynne is a voracious reader. "No page of The New York Times goes unturned. She is always reading a new book," Gwynne said.
Lynne's most recent joy is her 8-month-old grandson, the child of one of two sons who lives nearby in Manhattan. Regardless of what is on her plate, her daughter said, spending time with friends and family is something she makes a priority.   
Back to Campus and Hopes for a Return to Normal
Such respites are essential when one has a job like Lynne's. She and the COVID-19 leadership team are in the midst of developing return-to-campus plans for the fall, while remaining vigilant about the fluctuating picture of the virus and the new variants that may spread more easily than other strains. 
Lynne feels fortunate to be able to partner with a strong, diverse group of colleagues to guide the University's decisions and response to the pandemic. The senior implementation team, whose members represent both Morningside and the medical center, includes Ira Katznelson, interim provost; Wafaa El-Sadr, University Professor of Epidemiology and Medicine and director of ICAP and Columbia World Projects; Melanie Bernitz, senior vice president for Columbia Health; Gerry Rosberg, senior executive vice president of the University, and others.
---
'One of the silver linings of COVID is that it has created a more integrated approach to managing across the different campuses,' Lynne said.
---
"One of the silver linings of COVID is that it has created a more integrated approach to managing across the different campuses," Lynne said. "At a time of crisis, decentralized decision-making can be problematic; our shared priority of ensuring the health and safety of every member of the community has served to unite us and centralize decision-making while still engaging with the schools and administrative units."
Lynne expects the campus to return to some degree of normal but is not sure when. "As long as the infection rates continue to drop, and we can get the majority of the faculty, staff, and students vaccinated, we can once more enjoy the intellectual, cultural, and diverse community that makes Columbia so vibrant," she said. "We've done a good job of weaving together a unified strategy, and building relationships that didn't exist before."