10 Cool Columbia Cats You Should Know This International Cat Day
These fierce felines are doing the Columbia Lions proud.
By
Kelly Moffitt-Hawasly and Jennifer Pellerito
August 04, 2023
Fierce, fluffy, and delightfully feline, we are certainly partial to cats here at the home of the Columbia Lions. After all, it is said: "The cat was made when the lion sneezed."
Indeed, what more powerful time of year to celebrate International Cat Day on August 8, when we're smack dab in the middle of Leo season? 
To mark the day, we've rounded up some of the cutest kitties in recent Columbia history. Is there a felis catus in your life who sporting some serious Columbia swag? Let us know and use the hashtag #CatsAtColumbia!
School S-purr-it!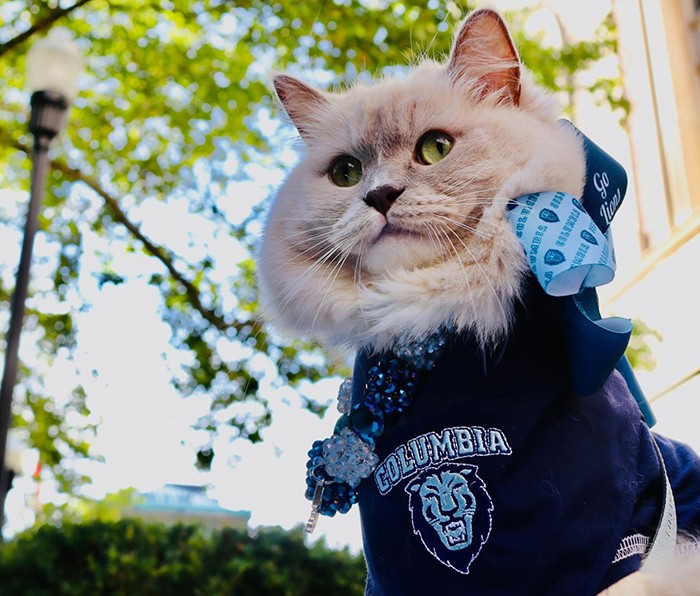 Coco Chanel once famously said of jewelry: "Before you leave the house, look in the mirror and take at least one thing off." Well, this fancy feline proves that statement wrong: if you want to make the biggest splash in the name of school spirit, maximalism is the name of the game. 
A Scholar and a Lion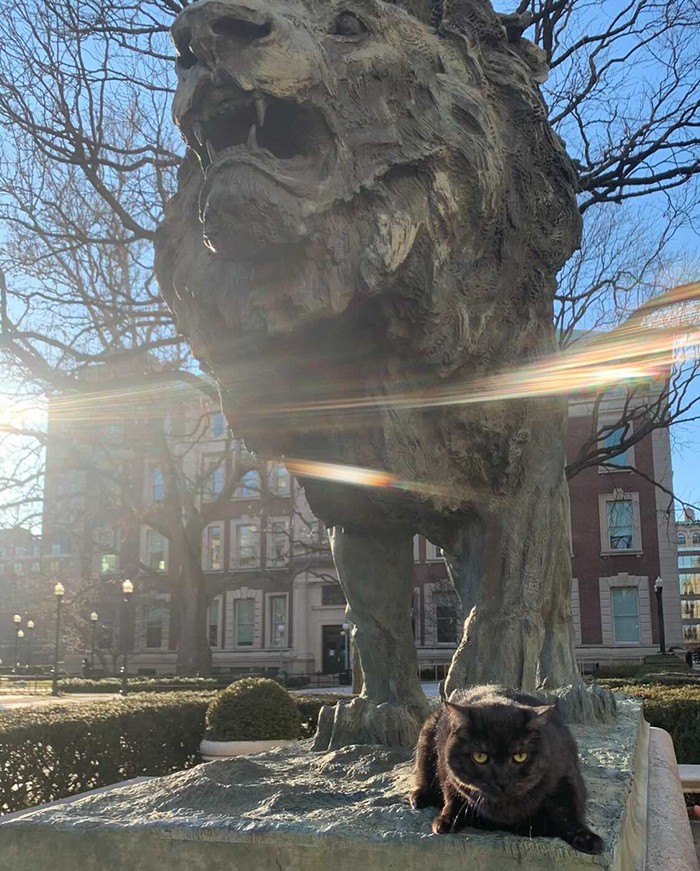 This cat is thinking some pretty serious thoughts, which is why a perch on Scholar's Lion is the only sensible platform, really. 
Did you know that Scholars Lion was sculpted by Greg Wyatt (CC'71, TC'74)? We've got another fun fact coming at ya: Goldwyn Pictures/MGM's "Leo the Lion" logo was designed by Howard Dietz (CC'1917) and inspired by the Columbia Lions. 
Beautiful in Bandana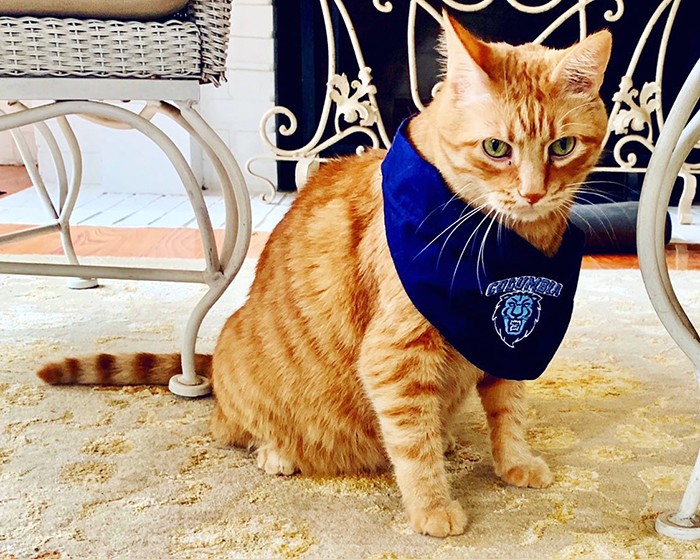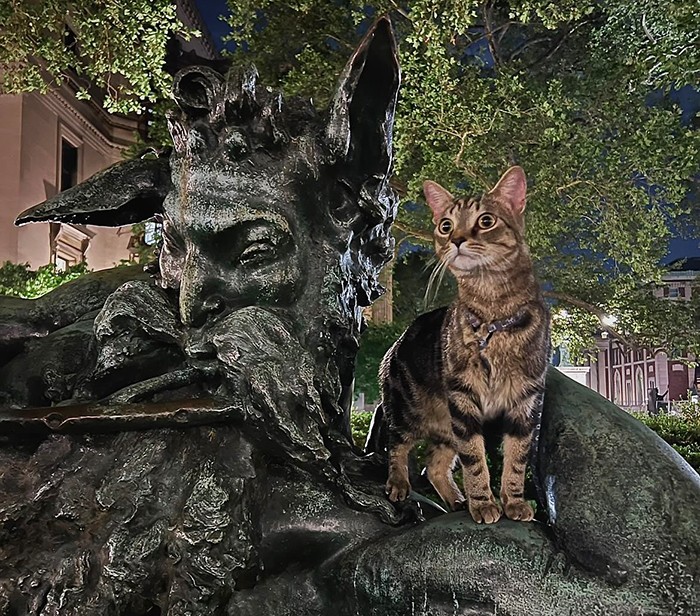 This cat has some serious sculptural taste, hanging out with George Grey Barnard's The Great God Pan, which depicts the Greek God, known as the half-man, half-goat deity of shepherds, flocks, and fertility You can learn more about the sculpture, which has been on Columbia's campus since 1907, here. 
King of the Campus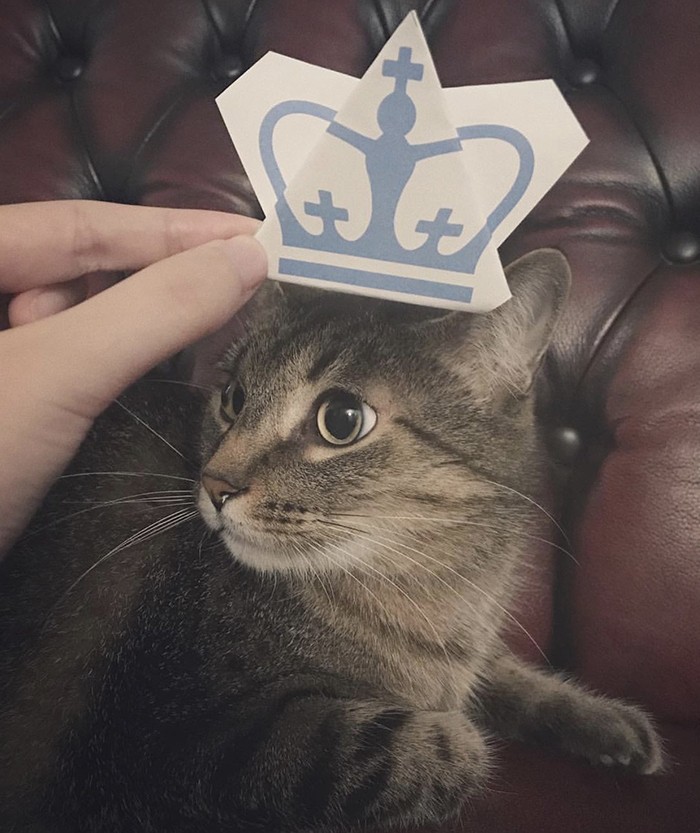 Columbia was founded as King's College, but this kitty is bringing a royal flair all the way into 2023. 
Le Chat Parisien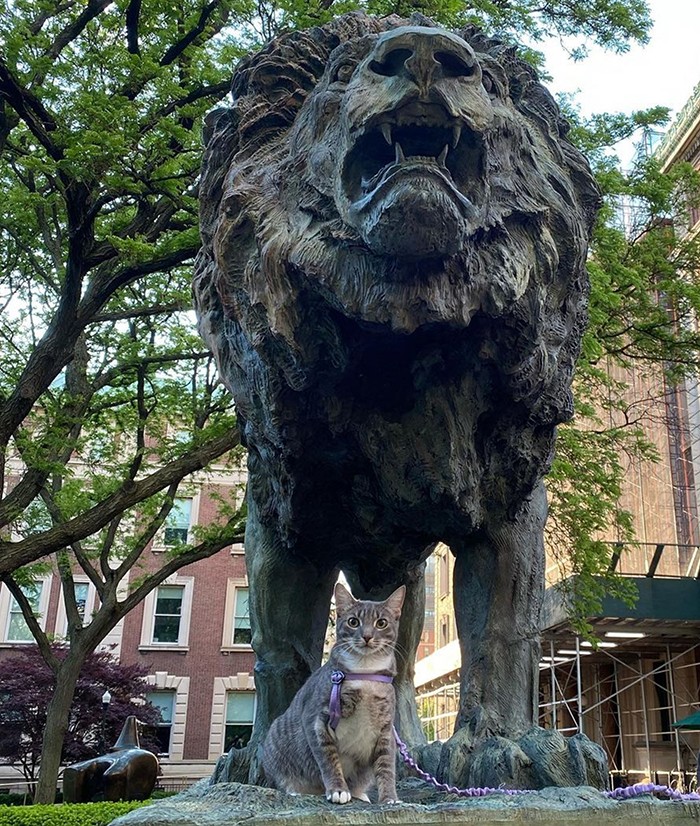 Meet Lion, who has found great inspiration in the courage, power, strength, and leadership exemplified by Scholar's Lion. 
The Sweetest Study Buddy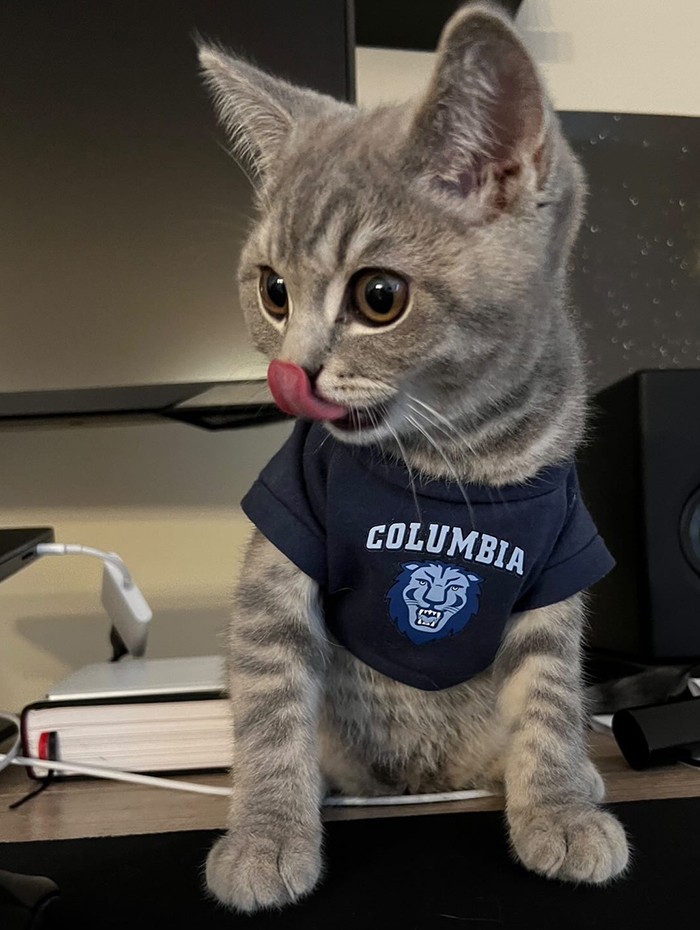 Have you met @chippythelazyboy? This fashionable feline truly understands the ingredients for a successful study buddy: fashion, fuzz, and fluffy friendship. Chippy sports a lot of festive lewks, but we must say: Columbia blue is our favorite!
Last But Certainly Not Least: Roar-EE!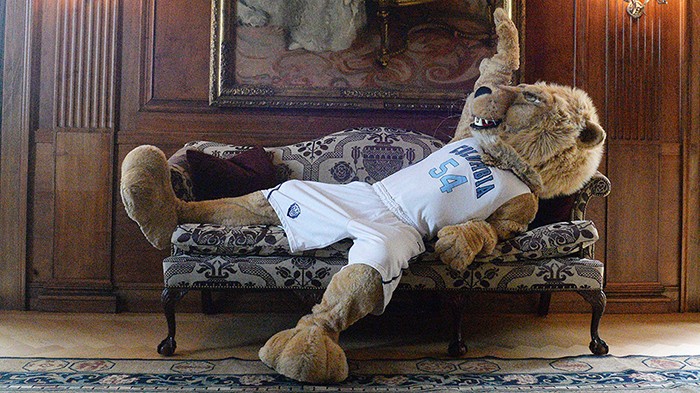 No list of iconic Columbia cats would be complete without our indefatigable mascot: Roar-EE! Columbia's Lion mascot may have turned 113 this spring, but Roar-EE is looking as majestic, regal, and relaxed as ever. You can learn more about the evolution of Columbia's lion mascot over the years here.