5 Questions on the Supreme Court's Latest Abortion Case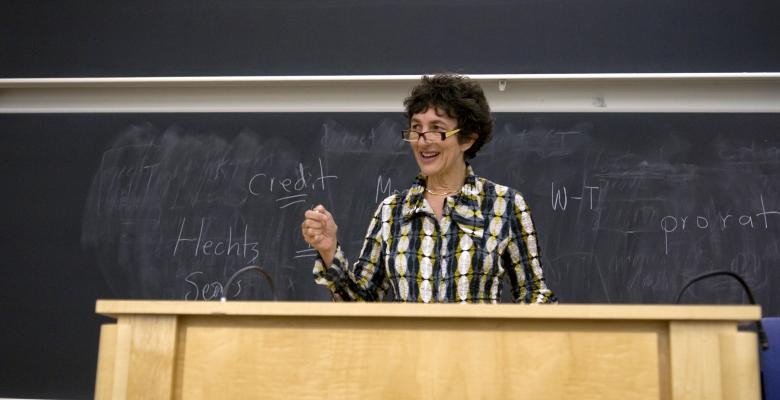 Throughout her career, Columbia Law School Professor Carol Sanger has parsed tricky legal issues affecting families: the contractual rights of birth mothers of adopted children, infant safe haven laws and the future of civil marriage. Few subjects are more fraught than a woman's right to choose, and few experts have more to say on the subject than Sanger. 
On March 2, the U.S. Supreme Court will hear arguments in Whole Woman's Health v. Hellerstedt, a case that could determine the future of abortion regulation in America, which was legalized in the 1973 landmark case Roe v. Wade.
More than 100 briefs have been filed by individuals and groups, among them Columbia Law School's Center for Constitutional Governance whose 16 signers, including center director Gillian Metzger, the Stanley H. Fuld Professor of Law, and Columbia University President Lee C. Bollinger, called for upholding a woman's right to choose.
Here Sanger, the Barbara Aronstein Black Professor of Law, answers five questions about this important case.
Q. What is the basis for this case?
A. It's a challenge to Texas House Bill 2, which imposed new restrictions on abortions. Most people know about this law because of Wendy Davis, the sneaker-clad legislator who filibustered it for 11 straight hours on the Texas House floor in 2013. HB2 requires that any doctor who provides an abortion at a clinic in Texas must have admitting privileges at a hospital within 30 miles of the clinic. Second, abortion clinics must provide the same standard of care as ambulatory surgery centers, which perform more complicated procedures that usually require anesthesia, such as colonoscopies and knee surgeries.
Q. What is at stake?
A. This legislation comes as close to the line as a state can in banning abortion, and it does so by driving abortion clinics out of business under the articulated purpose of protecting women's health. If HB2 stands, 75 percent of abortion clinics in Texas will close. That means that some Texas women, including poor women in the Rio Grande Valley and women in the military who are stationed in Texas, will have to travel between 150 to 300 miles to find a provider. The big question is: Does requiring women to travel huge distances within a state constitute an "undue burden" on women's right to choose an abortion? That phrase became the test for the constitutionality of abortion regulation in another landmark abortion case from 1992, Planned Parenthood of Southeastern Pennsylvania vs. Casey.
There, the Supreme Court said the "undue burden" meant the regulation had to put a "substantial obstacle" in the way of women seeking to terminate their pregnancies. The question in Casey was the constitutionality of a Pennsylvania law that required, among other things, a 24-hour waiting period after a woman consented to abortion before she could get one, and that minors had to have parental consent. The Court found that neither of these constraints created a "substantial obstacle." Whole Women's Health will decide whether the Casey test has any teeth at all, or whether states can simply regulate abortion away. From a practical perspective, this would return many women to a miserable pre-Roe state of affairs.
Q. One brief in the Texas case is signed by 113 female attorneys who speak about the ways access to abortions allowed them to pursue their educational goals and succeed in their law careers. Might these stories sway the court?
A. The Court might be able to see in women's own words what it means to be able to have an abortion. It's possible that particularly the male judges might be able to say, "there's a problem here that really none of us have had to deal with. None of us have had even to imagine foregoing our livelihoods or our legal educations because we were going to become fathers." One of the quotes I like best from the women attorneys' brief is, "To the world, I am an attorney who had an abortion, and, to myself, I am an attorney because I had an abortion."
Q. How will the recent death of Justice Antonin Scalia affect the outcome of this case?
A. There will one fewer vote to uphold the challenged provisions of HB2. Before Justice Scalia's death, the expected count was 4-4, with Justice Anthony Kennedy holding the crucial swing vote. Now, the vote could be 5-3 to strike down the legislation or 4-4 to uphold it. If it's a tie, then the 5th U.S. Circuit Court of Appeals decision upholding the legislation will stand, but it will be the law only in the 5th Circuit, which comprises Louisiana, Mississippi and Texas. In that case, I imagine within a year or two, a new lawsuit would be filed on this issue from another state and the full court, with a newly appointed justice, would then be able to decide the matter.
Q. Which way do you think the court will go?
A. I put my money on Justice Kennedy to vote with Justices Breyer, Ginsburg, Kagan and Sotomayor and strike down HB2. I think there had to be a reason the Court took the case, and that was to clarify what "undue burden" means, and set some limits on how much states can regulate abortion. Clarifying the undue burden test, a test that only applies in abortion cases, is a good thing. And no matter the outcome, the case shows voters in 2016 how much is at stake with who gets appointed to the court.