5 Questions with Writing Professor Ben Marcus on His New Book, 'Notes from the Fog'
Ben Marcus, a professor in the writing program at the School of the Arts since 2000, has taught the work of many writers over the years, but never his own. "I would never do that," he said. "That would take advantage of the teacher's authority. That has nothing to do with the transaction that I hope might happen in the classroom. I am not there to promote myself."
Marcus, the author of several books of fiction, including The Flame Alphabet, Notable American Women and Leaving the Sea, hardly needs to promote himself. His writing has appeared in Harper's, the New Yorker, Granta, The New York Times and Salon, and he is the editor of New American Stories and The Anchor Book of New American Short Stories. Among his honors are a National Endowment for the Arts fellowship in fiction, a literature award from the American Academy of Arts and Letters and three Pushcart Prizes. In 2013, he was a Guggenheim Fellow as well as a Berlin Prize Fellow at the American Academy in Berlin.
Marcus's new book, Notes from the Fog, is a collection of 13 short stories in which, among other things, a young Jewish boy rejects his parents' love and turns into an anti-Semitic conspiracy theorist. In other stories, a father simply vanishes, a woman takes on the role of her dead sister and a researcher loses her identity in a snowstorm. In "The Grow-Light Blues," a hapless, corporate drone is disfigured testing his employer's new product.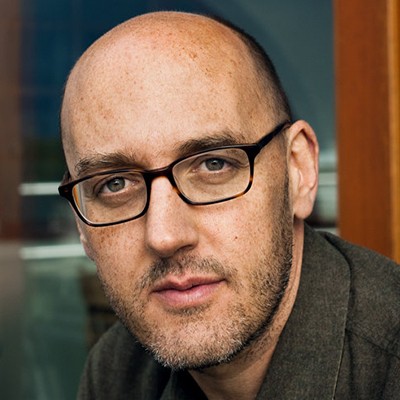 Q. In reviews of 'Notes from the Fog,' critics have noted the dark, dystopian mood throughout the stories. Are you influenced by current events or do your previous books reflect that view, too?
A. The fiction that appeals to me often dramatizes the struggles and tensions that come from trying to make sense of the world and our place in it. The world has always featured greed, abuses of power and treachery, and fiction has commonly specialized at dramatizing the way we conduct ourselves in the face of fleeting happiness and mortality.
Q. Do you have a favorite story in this collection, or is that like asking if you have a favorite child?
A. I prefer my children to the children of others, but it's a straight toss-up between the two that I have. It's a simpler answer when it comes to picking a favorite story – it's almost always the one that I most recently finished. It's fresher and I haven't turned on it yet, seen through its tricks and hollowness. So in this case it's the title story. There's a mixture of sorrow and uplift that I hadn't tried before, and there's something in the voice that I still sort of like, which I'm hoping to steal for something new.
Q. You've written novels, short fiction and magazine articles. Which do you prefer?
A. I have been almost exclusively writing short stories for the past four years, and I have been in awe of that art form, humbled by its complexity, and inspired to try to write the sort of stories that I might like to read. I don't write much nonfiction, though I love to read it.
Q. How do you handle the demands of teaching vis-à-vis your own writing? Does one bleed into the other?
A. The best part of teaching is to be in the company of smart, ambitious students who are striving to write fiction that matters—students who are reading voraciously and discussing literature and its possibilities as if their lives depended on it. I consider myself lucky to be part of this community, and I am often inspired and instructed by the ways in which students conduct themselves with regard to their work. As a teacher, it's a challenge to be relevant and useful to serious writing students. This semester I am teaching a graduate fiction workshop and a graduate seminar on the short story called "The State of the Art." We are looking at the short story of today—what kind of stories are being written and where the art form is headed.
Q. What are you working on?
A. Now I am writing a novel and I am happy to have something longer and open-ended to repeatedly bang my head against. It's a different kind of bruise, so I am grateful.