The Urban Design Program Visits Threatened Cities in the Great Rift Valley
Tel Aviv, Addis Ababa and Beira face challenges caused by climate change, rapid expansion and economic disparity.
February 07, 2020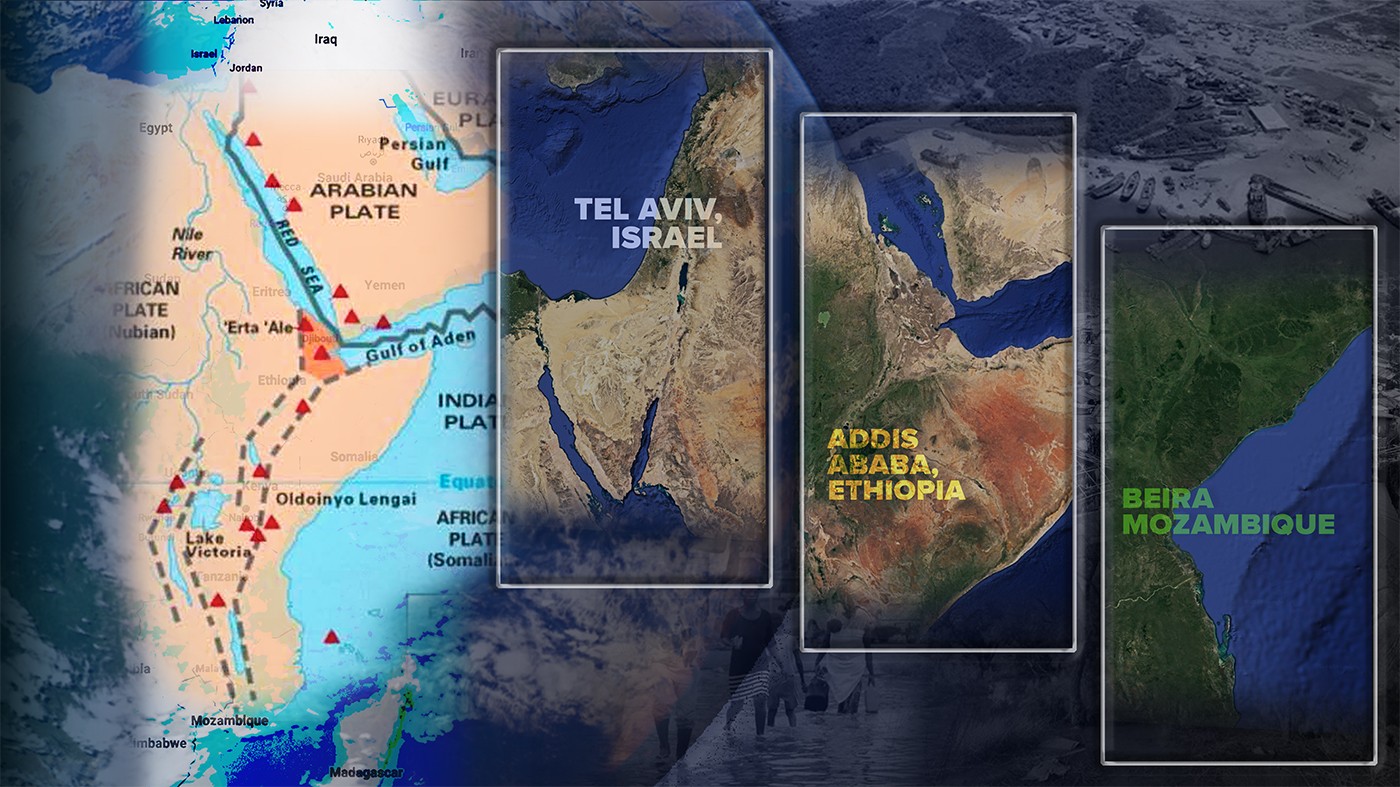 Every spring semester, students in the Urban Design program at the Graduate School of Architecture, Planning and Preservation (GSAPP) travel to cities around the world to explore how urban landscapes are evolving in the 21st century in the face of climate change, rapid urbanization and unequal economic expansion.
This year, the group, accompanied by urban design program director Kate Orff and Thaddeus Pawlowski, director of the school's Center for Resilient Cities and Landscapes, are going to three cities that run, from north to south, along the Great Rift Valley: Tel Aviv, Israel (January 4-10), Addis Ababa, Ethiopia (February 9-16), and Beira, Mozambique (February 16-24).
The Great Rift Valley is a series of contiguous trenches created by the divergence of tectonic plates that extend from Syria to Mozambique. Along these river valleys and coastal plains, the earliest hominids evolved and great cultures flourished. The Urban Design program selected the Great Rift Valley because its cities are undergoing some of the most severe effects wrought by the major global issues of our time—migration, conflict and climate crisis. In each destination, the GSAPP team learns about local urban-environmental challenges and the current projects and policies designed to tackle them by meeting with city leaders and working with students from nearby universities to imagine more resilient futures for communities and ecosystems.
"We are not just observing, we are actively teaching our students and partnering with local entities on how to integrate design and policy to be a positive agent of change against what seem like intractable forces of privatization, displacement and top-down master planning," said Kate Orff. "For the past five years, GSAPP's urban design traveling studios have provided a counter force to typical oil-and-petrochemical-fueled urban expansion."
Following are the reports from Tel Aviv and Addis Ababa. Stay tuned for the report from Beira.
TEL AVIV
January 4, 2020
The GSAPP group arrived in the city during one of the worst rainstorms in recent years. Even though Tel Aviv winters are typically rainy, 71 millimeters (almost three inches) of rain fell in in the city over the course of a two-hour period, almost half the monthly average for January, according to Ynet local news. Two young adults drowned in an elevator, sparking public criticism that the city has not done enough to improve drainage infrastructure. But scientists warn that as the atmospheric temperature continues to rise in Israel and around the world, extreme weather events like this one are becoming less predictable and more common. Rain continued on and off throughout the week, emphasizing the range of climate challenges that cities in the region are facing—from extreme, prolonged heat to fewer, but more powerful storms. 
January 5, 2020
The visit began with a series of meetings with municipal officials who introduced the recently approved statutory master plan for the city, as well as the citywide strategic plan for resilience, which was  released in 2019. The plan emphasizes social and economic development alongside investment in historically underfunded neighborhoods. 
January 6, 2020
The Columbia team split into separate student groups, each of which will develop design proposals for a series of communities located along a mini-rift—the seam between the new city of Tel Aviv and the historic city of Jaffa, as well as the smaller municipality of Bat Yam, just south of Jaffa. On site visits with local experts, these teams learned about problems in their respective neighborhoods. The Bat Yam group met with the city engineer, who explained the urban renewal plan for Bat Yam and then walked with them along a transect from the Ayalon River to the Mediterranean shoreline, which the students identified as a corridor to reconnect natural assets. The team that toured HaTikva, set in the lowest part of Tel Aviv, saw damages from the recent floods. And the Neve Sha'anan students discovered the complex reality of immigrants, refugees and asylum seekers living in that area.
January 7, 2020
Through lectures and conversations with local practitioners, GSAPP learned how various urban systems—from transportation and housing to storm-water management—are connected to persistent climate challenges. Tel Aviv is working toward a paradigm shift in which nature becomes infrastructure, with, for example, different solutions for planting trees in urban environments: root guiding systems that enable trees to grow strong and healthy so they can provide shade and increase thermal comfort.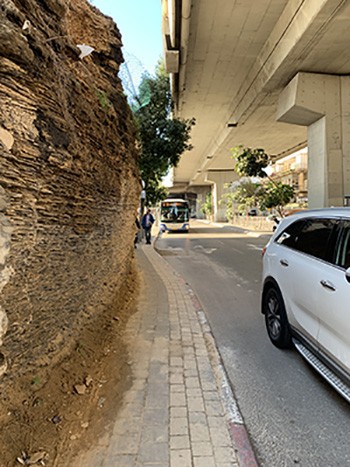 January 8, 2020
The team met with collaborators at Tel Aviv University's School of Architecture to discuss the city's development over time. Some of the region's late 19th-early 20th century agricultural-irrigation methods are still legible in today's urban fabric, offering potential for interventions that would create microclimates. Local students shared their work and critiqued Columbia proposals involving Tel Aviv food culture, development of underutilized spaces and repurposing of aging infrastructure. 
January 9, 2020
Working toward the culmination of the one-week workshop, students spent the day revisiting their sites, meeting with faculty members and preparing their presentations for the following day. Each group was tasked with producing a reading of their assigned neighborhood that identified key "what if" questions and envisioning innovative answers.
January 10, 2020
Municipal representatives attended the final event of the week, the GSAPP presentations, which started with the Bat Yam team. The team suggested reconnecting the Ayalon River with the Mediterranean shoreline through a series of cooling green commercial corridors, a strategy to mitigate urban heat island effects. By highlighting its walkability, multiculturalism and easy access, the Neve Sha'anan team showed how the area's unique character as a transitional space for immigrants and refugees could serve as a blueprint for Tel Aviv's future equitable urban development. Finally, the HaTikva group addressed the recent flooding in the neighborhood by proposing ways in which to harness water during extreme weather events to create improved urban infrastructure.
These initial proposals are guiding the teams after their return to New York by providing the basis for further research throughout the semester. 
ADDIS ABABA
February 10-15, 2020 
As one of the fastest-growing economic hubs in Africa, Addis Ababa is an ideal place to study the future of the continent's cities. Many of Addis's challenges involve water. The Urban Design students spent the week learning about how the rivers that flow through the city are currently being reimagined as part of a plan known as Beautifying Sheger, which is a colloquial term of endearment for Addis Ababa. The first phase of this project is under construction, but, as became clear to the GSAPP team, beautification can come at great social and ecological cost. 
On a tour of the city's rivers, Columbia students saw how flowing water is rarely visible amid a dense urban landscape of wide roads and office towers; how one small community uses a polluted river to grow vegetables; and how, elsewhere, a river winds through a deep gorge whose slopes are covered with lush vegetation and precariously stacked housing.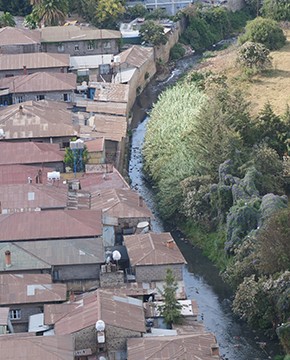 City officials discussed Addis's water and waste problems—for example, 50% of the city's households don't have access to piped water while intermittent supply limits consistent access to potable water for all. Additionally, only 20% of households are connected to the city's sewerage grid, resulting in a significant amount of untreated sewage ending up in Addis's rivers.
Other presentations by local experts covered such topics as Ethiopia's periodic severe droughts and famines—which will likely become more numerous in the future because of climate change—and the city's dire housing problem. Rural-to-urban migration has swelled Addis's residential infrastructure, much of which takes the form of kebele housing—rickety, self-built, mud-and-timber structures. There are also low-rise apartment blocks throughout the city with a waitlist of over one million.  
As in Tel Aviv, the GSAPP team worked throughout the week with local partners on various projects to help improve Addis's rivers. Among their suggestions: understand water as critical urban infrastructure, a green-blue network that supports the entire city; protect and replant forests on high ground to halt erosion and reduce flash flooding; conserve wetlands and floodplains by eliminating haphazard peripheral sprawl; foster local green job training and employment; use local materials such as bamboo, wood, thatch and stone; promote bicycles, walkways and a network of trees along riverbanks.
GSAPP students received valuable feedback on these ideas and built strong ties with their Ethiopian counterparts, all of which help them as they continue work on their projects back at Columbia.