Art Professor Aliza Nisenbaum Paints with an Eye on Social Justice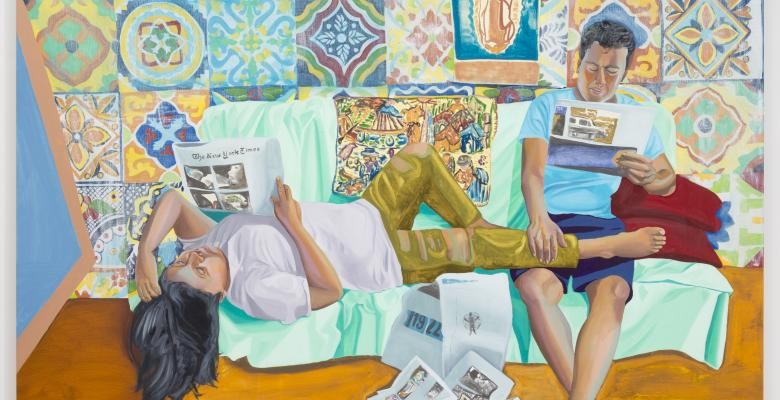 Growing up in Mexico City, Aliza Nisenbaum knew she wanted to make a difference in the world. She contemplated becoming a psychologist, but wrestled with her deeper desire to become an artist who addressed issues of social justice.
Art won out. Nisenbaum earned BFA and MFA degrees from the School of the Art Institute of Chicago and arrived at Columbia in 2015, where she is a professor and the director of graduate studies in the visual arts program at the School of the Arts.
Her recent body of work has made the impact she long sought. From 2012 to 2016 she painted portraits of undocumented immigrants from Mexico and Central America, whom she met at Immigrant Movement International, a community space in Queens started by the Cuban-born artist and activist Tania Bruguera. As a volunteer teacher there, Nisenbaum realized that her students needed to learn English, which she taught through the lens of feminist art history. Friendships developed and students shared stories with Nisenbaum of how they came to the United States. Eventually, she asked to paint their portraits.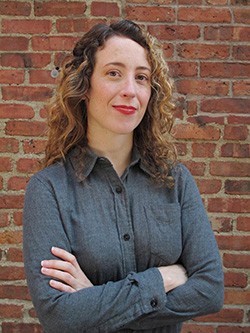 "I was always interested in how ethics comes into painting, and about the politics of visibility—how people are usually seen or depicted, and I was trying to show another side of that," said Nisenbaum. "There's a mutuality in sitting for a portrait. When you're painting, you're looking at every part of their face, and they would ask me about my childhood in Mexico and how I came here. It's very intimate, like painting as documentary."
Her colorful works are a testament to the strong relationship between the artist and her subjects, who appear in brightly patterned, semi-abstract settings that are inspired by the French painters Edouard Vuillard and Pierre Bonnard, whose backgrounds and décor created a larger context or narrative. She is also influenced stylistically by the Mexican Social Realist muralists Diego Rivera and Jose Clemente Orozco. But where their works sometimes feature anonymous figures moving in solidarity, Nisenbaum emphasizes individuals.
A selection from the series was exhibited in the 2017 Whitney Museum Biennial, including Las Talaveritas, Sunday Morning NY Times, in which a father and his teenage daughter lounge on a turquoise couch as they read a newspaper. The quiet moment is juxtaposed against vibrant patterning on the wall behind them, conjuring the Talavera tiles from the pair's native city of Puebla, Mexico, Nisenbaum explained.
Another work shown at the Whitney Biennial is a group portrait, MOIA's NYC Women's Cabinet (2016). It depicts the 15 participants in the 2015 inaugural Women Leaders Fellowship program of the New York Mayor's Office of Immigrant Affairs, and includes a self-portrait of Nisenbaum, who took part in the program.
"She's not painting people she finds on Facebook," said Christopher Lew, a Biennial curator. "There's a real back and forth that happens between painter and subject because they know each other so well."
Last year, Nisenbaum embarked on a new set of portraits during a three-month residency at the Minneapolis Institute of Art, where her first solo museum exhibition opened in September. The first work in that series was a group portrait of six museum security guards, "because they were the first people I met," she said. The series includes portraits of members of local immigrant communities, such as Muslim Somali women who tend a neighborhood garden and Latino elders.
Nisenbaum brings this deep spirit of engagement to her work at Columbia. This semester she is teaching a figure painting class and a one-on-one studio seminar with graduate students.
"There is a lot of excitement about Aliza Nisenbaum's work in the art world because her paintings are masterful, and their intention is clear—to make those who are invisible, visible. She is so inspiring for her students," said Carol Becker, dean of the School of the Arts.
"Teaching art is not a straight line. You have to give of yourself and be sincere," said Nisenbaum. "It's mostly about the students. But they also want professional advice, and they ask questions about your own life as an artist and about how to belong to a meaningful community once they graduate."