Bridging the Gap to Ph.D. Programs in Natural Sciences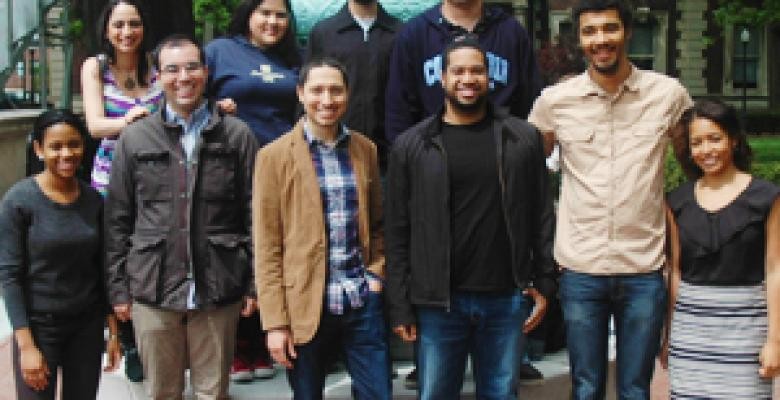 Four years ago, the Provost's Office launched an innovative program designed to close the growing gap between underrepresented minority students who major in natural sciences in college and the pool of individuals who pursue a doctorate in those same fields.
The Bridge to the Ph.D. Program in the Natural Sciences strongly encourages applicants from historically underrepresented groups including but not limited to black, Hispanic, Native American and Pacific Islander undergraduates. The two-year program is supported by the National Science Foundation and the Provost's Office.
Students are given the opportunity to engage in intensive research, coursework and mentoring to strengthen their graduate school applications and better prepare them for the rigors of doctoral work.
"It's not enough for these students to go to graduate school," said Assistant Astronomy Professor Marcel Agüeros, the program director. "We want them to go and thrive."
Students are hired as full-time Columbia research assistants with a yearly salary and benefits. They are eligible for seven tuition-free credits per semester related to their field of study. Each student also attends monthly progress meetings with a program official and a number of professional development sessions.
"It created a safe space for me and helped me experience the realities of grad school while giving me the time to think about what I really want to do," said Raven Harris, a 2010 graduate of Haverford College. The undergraduate biology major is starting the eight-year M.D./Ph.D. program at Albert Einstein School of Medicine in a few weeks.
Andrew Davidson, vice provost for academic planning, said the program "is addressing a leak in the pipeline at exactly the right spot." He compared the lack of diversity in natural sciences Ph.D. programs to the days when there were almost no women in the sciences and said "the missing brain power" of any one group affects the quality of science as a whole. "The good news is that we've got some really great plumbing," he added.
Applicants must show an interest in astronomy, biological sciences, earth and environmental sciences, chemistry, physics or psychology. A key part of the program's success has been the mentorship that faculty and post-doctoral students provide.
"It's been tremendously helpful for me to be around so many people in different fields," said first-year student Evan Hamilton (CC'11), an undergraduate anthropology major now working in a lab at the Lamont-Doherty Earth Observatory. "That just opens so many more doors."
In addition to the emphasis on scientific research, the program also aims to teach the participants how to effectively communicate their ideas to a wider audience. Since it began in 2008, 19 students have graduated, and 15 have been accepted by Ph.D. programs at institutions including Yale, Dartmouth, Johns Hopkins, the University of Michigan and Columbia.
Agüeros knows it will take many years to measure the program's long-term success but said he is already seeing cultural changes in departments where the students have been admitted. "You cannot underestimate the power of how this program has changed the conversation about diversity," he said. "In my department, for example, faculty now expect us to have Bridge students every year."
Summer Ash, the program's assistant director, says she measures the results in the faces of the students. "Seeing these students blossom from one year to the next has been the most rewarding thing."