British Academy Elections, Critical Language Scholarships, Young Investigator Awards, and More
From science to engineering, writing to social sciences, here are the Columbians who received awards recently.
August 23, 2023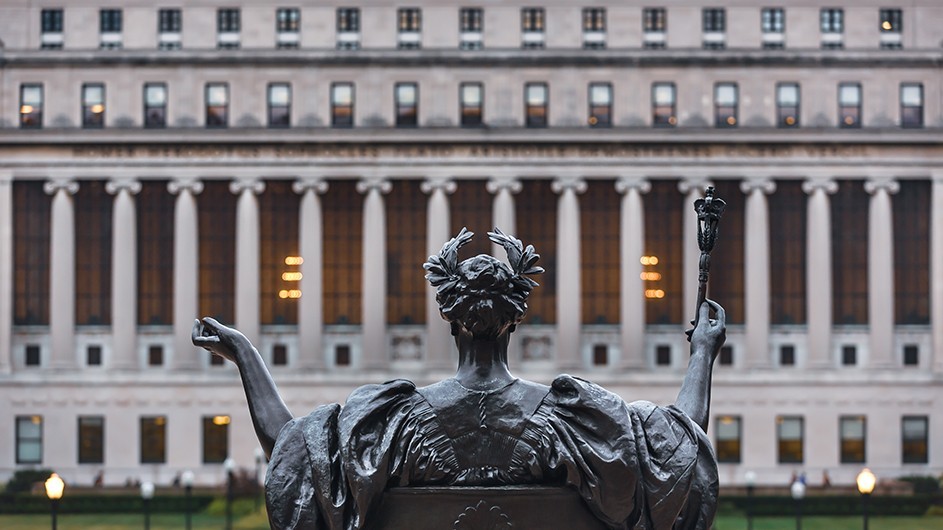 Columbia News produces a monthly newsletter (subscribe here!) and article series featuring a roundup of awards and milestones that Columbia faculty, staff, and students have received in recent days. In this edition, you'll find awards and milestones from June 22, 2023 to August 24, 2023. 
If you have an accomplishment you'd like to be considered for inclusion, please email [email protected] with your name, title, school, department, and a link to the relevant award or milestone. 
You can take a look at past accomplishments on our Awards & Milestones page. And you can subscribe to receive the newsletter in your inbox. 
FACULTY
Ruth DeFries, University Professor, Denning Family Professor of Sustainable Development, and Chief Academic Officer and Co-Founding Dean Emerita of the Columbia Climate School; and Kathy Eden, Chavkin Family Professor of English and professor of classics, were elected to the British Academy. 
ARTS & HUMANITIES
Deborah Brevoort, adjunct associate professor of theatre at the School of the Arts, is the recipient of the 2023 Campbell Opera Librettist Prize. Presented by OPERA America and conceived and funded by acclaimed librettist and lyricist Mark Campbell, the prize is the first award in the history of American opera created specifically to honor the work of opera librettists.
John Coatsworth, John Mitchell Mason Professor of the University and Provost Emeritus, was named the recipient of the  2023 Council of Latin American History Distinguished Service Award.
Nathalie Frankowski and Cruz Garcia, Graduate School of Architecture, Planning and Preservation adjunct faculty members, have been named inaugural recipients of the Association of Collegiate Schools of Architecture's Faculty Fellowship to Advance Equity in Architecture. 
ENGINEERING, MEDICINE, & SCIENCE
Maura Abbott, associate professor of nursing and assistant dean of clinical affairs, and Kasey Jackman, assistant professor of nursing, have been inducted into the American Academy of Nursing's 2023 Class of Fellows. 
Ishmail Abdus-Saboor, associate professor of biological sciences; Yasmine El-Shamayleh, assistant professor of neuroscience; and Vikram Gadagkar, assistant professor of neuroscience, were recipients of the 2023 McKnight Scholar Awards. The professors are all affiliated with the Zuckerman Mind Brain Behavior Institute. The awards are granted to young scientists who are in the early stages of establishing their own independent laboratories and research careers and who have demonstrated a commitment to neuroscience. 
Yelena Akelina, research scientist, received Professor Sun Lee's Outstanding Experimental Microsurgery Career Award 2023, recognizing "outstanding contribution to the progress of experimental microsurgery" at the 16th Congress of the International Society of Experimental Microsurgery in Genoa, Italy.
Adam Brickman, professor of neuropsychology, received $5,239,271 over five years for a sub-award from the National Institute on Aging for "Education and Cognitive Functioning in Later Life: The Nation's High School Class of 1972."
Kellie Bryant, associate professor of nursing, was appointed to the Irving Institute for Clinical and Translational Research's Community Engagement Core Resource as associate director. She was also named Nurse of the Year for Community Service by the National Black Nurses Association.
Five Columbia faculty members have been named Velocity Fellows and awarded pilot grants to support early-stage cancer research: Edmond M. Chan, assistant professor of medicine at Vagelos College of Physicians and Surgeons (VP&S); Jack Grinband, assistant professor of clinical neurobiology in psychiatry and radiology; Elisa E. Konofagou, professor of biomedical engineering and radiology; Juan Manuel Schvartzman, assistant professor of medicine at VP&S; and Jeanine Genkinger, associate professor of epidemiology at the Mailman School of Public Health.
Leon Chen, associate professor of nursing, has been appointed to the Society of Critical Care Medicine's Adult ICU Triage Guideline Committee as an Expert Panel Member.
Nicholas Christie-Blick, professor of earth and environmental sciences, received the Laurence L. Sloss Award from the Geological Society of America.
Stephen Ferrara, associate dean of clinical affairs at the School of Nursing, has been named president of the American Association of Nurse Practitioners.
Ashley Graham-Perel, assistant professor of nursing, has been named a National Black Nurses Association 2023 Under 40 Awardee.
Miriam Laugesen, associate professor of health policy and management, received a Hitachi International Affairs Fellowship 2023-2024 from the Council on Foreign Relations. Laugesen was also accepted to the Robert Wood Johnson Foundation Health Policy Fellows Program at the National Academy of Medicine. 
Corina Lelutiu-Weinberger, associate professor of health sciences research (in nursing), was appointed a standing member of the Population and Public Health Approaches to HIV/AIDS Study Section of the National Institutes of Health.
James McIver, assistant professor of physics, and Elizabeth Paul, assistant professor of applied physics and applied mathematics, have received funding for their research as part of the Department of Energy's Early Career Research Program.
Marlene McHugh, associate professor of nursing, has received the Distinguished Alumni Award from the Presbyterian School of Nursing/Presbyterian University of Pennsylvania Medical Center.
Fatemeh Momen-Heravi, associate professor of dental medicine, is this year's recipient of the International Association for Dental Research Distinguished Scientist Young Investigator Award. 
Catherine Monk, Diana Vagelos Professor of Women's Mental Health (in obstetrics and gynecology and psychiatry), received a grant of $5,235,000 over five years from the Bezos Family Foundation for "Transition to Parenthood – BFF."
Molly Przeworski, professor of biological sciences and of systems biology, received the ASHG Scientific Achievement Award. This annual honor, which includes $10,000, recognizes genetics and genomics researchers who have made significant scientific contributions during the past decade.
Mary Putman, professor of astronomy, received the Cottrell Plus SEED (Singular Exceptional Endeavors of Discovery) Awards for 2023. The competitive SEED Awards offer Cottrell Scholars the opportunity to start high-risk, high-reward new research.
Irwin Redlener, senior advisor and founding director of Columbia Climate School's National Center for Disaster Preparedness, was inducted into the Manhattan Jewish Hall of Fame.
Sarah Rossetti, associate professor of biomedical informatics and nursing, and Maxim Topaz, Elizabeth Standish Gill Associate Professor of Nursing, have been selected as Fellows in the International Academy of Health Sciences Informatics.
Nim Tottenham, professor and chair of the department of psychology, was given the 2023 Rovee-Collier Mentor Award from the International Society for Developmental Psychobiology. The award recognizes members of the Society who have made significant and sustained contributions to the mentorship of young scholars.
Olajide Williams, professor of neurology and vice dean of community health at VP&S, along with rapper Doug E. Fresh, won Clio Health's Impact Award for their work with Hip Hop Public Health.
POSTDOCS & STUDENTS
Muna Ali (CC'25), Jennifer Chiu (CC'26), and Joshua Sandy (GS'24) were selected for the 2023 Critical Language Scholarship, a program of the U.S. Department of State's Bureau of Educational and Cultural Affairs.
Chelsea Allen, School of Social Work doctoral student, has been awarded an American Psychological Association Interdisciplinary Minority Fellowship. Fellows receive stipend support, training, professional development, mentoring, and lifetime access to the network of fellows. 
Gregory Brook (GS'24), an aerial combat photojournalist in the U.S. Air Force with a passion for improving veteran mental health care, was selected as a 2023 Tillman Scholar by the Pat Tillman Foundation.
Nazira Davroni (BC'25) and Alex Taylor (CC'25) were named 2023-2025 Voyager Scholars by the Obama Foundation. 
Seiji Murakami (CC'23) was awarded the Mortimer Hays-Brandeis Traveling Fellowship.
Amanda Qi Xin Ong (CC'20) has been named a 2023-2024 Princeton in Asia fellow. Princeton in Asia offers year-long service-oriented fellowships across the Asian continent in the fields of education, international development, environmental advocacy, journalism, law, and business.
Yukio Suzuki, postdoctoral research fellow, was named to the board of directors of the Japanese Medical Specialty Board.
Nina Yoh, Columbia Medicine neurosurgery resident, received the 2023 Conquer Cancer's Sontag Foundation Young Investigator Award (YIA), for her work on brain liquid biopsy, the process of analyzing body fluid. The YIA provides funding to promising investigators to encourage and promote quality research in clinical oncology. 
Columbia University's Mu chapter of Pi Sigma Alpha, the National Political Science Honors Society, has been awarded a Best Chapter Award for 2022-2023. The chapter's student officers, who received special recognition, include: Olivia Choi, Crystal Foretia, Emily Kohn, Susan Li, Neelam Monroy, Emma Potts, Marla Rinck, Noah Velazquez, and Christopher Yera. The awards recognize local chapters that are particularly active in their institutions and communities and embody the Society's mission to stimulate scholarship and intellectual interest in political science. Judith Russell, adjunct associate professor of political science and faculty advisor to the chapter, was recognized for "her extraordinary leadership and dedication to the students."
STAFF
Columbia Dining was recognized by the CASE Circle of Excellence Awards in the marketing branding category for the design framework at Chef Mike's Sub Shop.
Donald Bartlett, Columbia Dining's chef manager, was recognized in Food Management's "Chefs Who Made a Difference" list of Foodservice Heroes. 
Loftin Flowers, vice president of government and community affairs, was recently honored by City and State NY's list of "Who's Who in Government Relations." Flowers leads both government affairs and community relations, working locally to develop partnerships and strengthen relationships with community organizations, civic groups, small businesses, and neighbors in West Harlem, Morningside Heights, and beyond.