The Carl Sagan Medal, a National Endowment for the Humanities Grant, and a Fulbright First for Columbia Nursing
From science to engineering, writing to social sciences, here are the Columbians who received awards recently.
September 07, 2022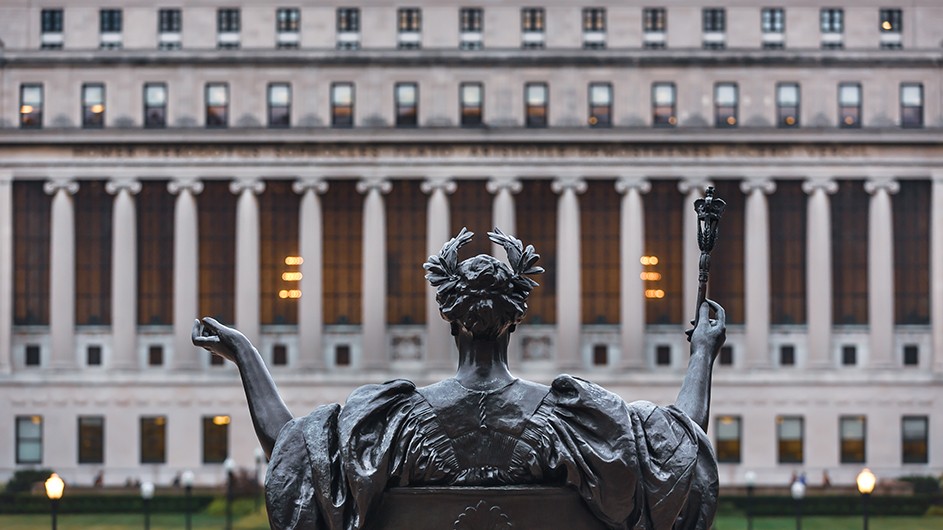 Columbia News produces a biweekly newsletter (subscribe here!) and article series featuring a roundup of awards and milestones that Columbia faculty, staff, and students have received in recent days. In this edition, you'll find awards and milestones from August 12 to September 7, 2022.
Have an award or milestone you'd like to have featured in the newsletter or article online? Please send an email to [email protected]. Note that we'll be running this series every other week. 
You can take a look at past accomplishments on our Awards & Milestones page. And you can subscribe to receive the newsletter in your inbox.
FACULTY
Alisa Solomon, professor of journalism and director of the arts concentration in the Journalism M.A. Program, was awarded a $60,000 National Endowment for the Humanities grant for her project "St. Vincent's Hospital in the 'Plague Years.'"
The Trustees of Columbia University were awarded a $247,399 grant from the NEH Institutes for Advanced Topics in the Digital Humanities for the project "Archives as Data," to be led by Matthew Connelly, professor of history, and Courtney Chartier, director of Columbia Libraries' Rare Book & Manuscript Library.
ARTS & HUMANITIES
Partha Chatterjee, professor emeritus of anthropology and of Middle Eastern, South Asian, and African Studies, has received the Grain of Sand Award for 2022 by the American Political Science Association.
Kevin Fellesz, associate professor of music, ethnomusicology, and African American and African Diaspora Studies, is the new director of the Center for Jazz Studies.
President Biden appointed Jim Neal, University Librarian Emeritus, to the National Museum and Library Services Board.
Joseph Slaughter, professor of English and comparative literature, has been appointed the new executive director of the Institute for the Study of Human Rights.
ENGINEERING
Daniel Bienstock, the Liu Family Professor of Industrial Engineering and Operations Research and professor of applied physics and applied mathematics, received the 2022 Khachiyan Prize for his fundamental methodological and computational contributions to optimization, with an emphasis on very large-scale, non-convex and discrete optimization problems.
The American Society for Bone and Mineral Research (ASBMR) announced X. Edward Guo, Stanley Dicker Professor of Biomedical Engineering and professor of medical sciences, will receive the 2022 Adele L Boskey Esteemed Award for Bone and Mineral Research. The award recognizes an ASBMR member for outstanding and major scientific contributions, leadership, and mentorship in the area of bone and mineral research, especially in the areas of mechanisms of mineralization, bone mineral, bone quality, and mechanobiology.
SCIENCE & MEDICINE
Adriana Arcia, PhD, associate professor of nursing; Karol DiBello, DNP, associate professor of nursing; Dallas Ducar, MS, part-time faculty; Maribeth Massie, MS '98, PhD, assistant professor of nursing; Marlene McHugh, DNP '08, associate professor of nursing; Mary Moran, MS '08, clinical instructor of nursing; Ronica Mukerjee, MS '08, DNP, assistant professor of nursing; and Maxim Topaz, PhD, associate professor of nursing, along with six Columbia Nursing alumni will be named American Academy of Nursing fellows. The new fellows will be recognized for their significant contributions to health and health care at the Academy's annual Health Policy Conference in October.
Stanley Chang, K.K. Tse and Ku Teh Ying Professor of Ophthalmology, was honored with the Gonin Medal, an international award given to an ophthalmologist every four years by the International Council of Ophthalmology. Named in honor of Swiss ophthalmologist Jules Gonin, MD, a pioneer in retinal detachment surgery, the medal represents the highest achievement in ophthalmology, equivalent to the Nobel Prize in the field.
Crain's New York Business has recognized Dean Linda Fried of the Mailman School of Public Health as a Notable Health Care Leader in 2022 for her significant leadership accomplishments and for demonstrating strong mentoring and broad community involvement. Crain's has also recognized Judy Honig, vice dean, Academics, and dean of students at Columbia Nursing, and adjunct professor Natalia Cineas as Notable Health Care Leaders.
Caleb Scharf, a senior research scientist at Columbia Climate School and Columbia's director of astrobiology, won the Carl Sagan Medal for public science communication. The prize, given by the American Astronomical Society, honors astronomers for their work communicating with the public.
Rachel Shelton, associate professor of sociomedical science (SMS), has agreed to serve as the new SMS deputy chair for faculty development and research strategy. She will serve in this key leadership role with a focus on research program development among our junior faculty.
SOCIAL SCIENCES
Michael Gerrard, Andrew Sabin Professor of Professional Practice at Columbia Law School and director of the Sabin Center for Climate Change Law, was named a recipient of a Lifetime Achievement Award from the New York Law Journal.
STAFF
Sasha Wells (TC'18), a longtime Columbia College employee with decades of nonprofit experience, has been named executive director of the Roger Lehecka Double Discovery Center. The center's mission is to increase the rates of high school graduation—as well as college enrollment and graduation rates—of low-income and first-generation college-bound youth from public schools in Harlem and Washington Heights.
STUDENTS
Kylie Dougherty, who started her PhD at Columbia Nursing in Fall 2021, became the first current PhD student at the nursing school to be awarded a Fulbright. Dougherty will travel to Ethiopia to work on an innovative informatics project that aims to improve maternal and child health by helping facilities be better prepared for obstetric emergencies.
The Vagelos College of Physicians and Surgeons, the College of Dental Medicine, and Vagelos's Physical Therapy program held white coat ceremonies, annual welcome events in which incoming medical students are cloaked in white coats by faculty for the first time."
Pete McKenzie (JRN'23) won three 2022 Voyager Media Awards for Best Feature Writing (Crime and Justice), Feature Writer of the Year (Long-form), and Junior Feature Writer of the Year. Awarded since 1973, the prizes celebrate excellence in New Zealand journalism.
The Columbia University Formula Racing team, a club that designs and builds a racecar to compete at the Formula SAE competition held in Michigan in the summer, won General Motors' "Everybody In" award at the event. The award is presented to the team that best reflects the company's Everybody In campaign, which celebrates teams for "building a racecar and a team that is accessible, safe, and inclusive." As part of their prize, GM will cover the group's registration fees for next year's competition.