City Announces Support for New Data Sciences and Engineering Institute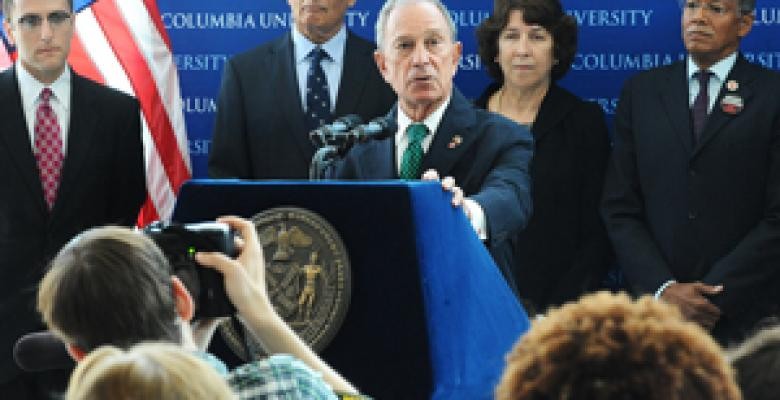 Mayor Michael Bloomberg, his economic development team and a host of local elected officials came to the Northwest Corner Building on July 30 to announce their support for Columbia's new Institute for Data Sciences and Engineering. The endeavor will involve eight schools on the Morningside and Medical Center campuses and lead to a significant expansion of the Fu Foundation School of Engineering and Applied Science.
In connection with the institute, Columbia will add 75 new faculty positions by 2030 and create 44,000 square feet of improved space dedicated to the institute. The city will provide $15 million in financial assistance toward development costs, including discounted energy transmission costs and partial debt forgiveness. Columbia's investment in the institute is expected to be close to $80 million.
"This historic partnership is the newest element in the applied sciences initiative that is, by far, the largest and most far-reaching economic development effort our city government has undertaken in modern memory," Bloomberg said at the announcement, where he was joined by University President Lee C. Bollinger.
"Mayor Bloomberg has placed a new focus on the essential role of great universities in our city's economic future," Bollinger said. "Our faculty at the engineering school will now have new opportunities to expand and thrive in a multi-disciplinary environment where innovation flows from a diversity of knowledge that includes everything from cutting-edge basic sciences and humanities, to the entrepreneurship of a business school and pioneering research of an academic medical center."
Planning for the institute began last fall, when the mayor called for a new engineering campus in New York City. Because of its long-term campus plan in Manhattanville, Columbia did not include the Roosevelt Island site in its proposal. The city chose Cornell University and its partner, Technion-Israel Institute of Technology, which will develop a campus there.
Columbia's new institute will focus on five key areas of an increasingly data-driven society: new media, cybersecurity, financial analytics, health analytics and smart cities. New laboratories and offices will be located in the Northwest Corner Building, the Seeley W. Mudd building that houses the engineering school, and the Audubon building at Columbia University Medical Center. The Institute will be led by Kathy McKeown, Henry and Gertrude Rothschild Professor of Computer Science, and Patricia Culligan, a professor of civil engineering and engineering mechanics, will be its deputy director.
The institute's focus will be highly interdisciplinary. Its work on new media, for example, will involve the journalism school's digital media expertise. The business school will be closely involved in the institute's financial analytics center and the College of Physicians and Surgeons will provide leadership and space for the concentration on health analytics.
"The discoveries produced by the Data Sciences Institute will establish a foundation for significant contributions to society and to the marketplace," McKeown said. Her own research group will work on the problem of detecting influence in social media, such as identifying when people express opinions and how they try to persuade others.
The announcement event shone a spotlight on several engineering faculty members whose cutting-edge work on data science is already having an impact. They included Chris Wiggins, associate professor of applied mathematics, whose HackNY organization encourages students to join New York's growing entrepreneurial tech economy; Mechanical Engineering Professor Vijay Modi, whose work mapping energy usage is a key element of the city's sustainability efforts; and Eitan Grinspun, associate professor of computer science, whose digital animation research has been used in the films Tangled and TinTin.
Provost John H. Coatsworth and Robert Kasdin, the University's senior executive vice president, worked closely with the engineering school to shape the agreement with the city while Joe Ienuso, executive vice president of facilities, oversaw the planning involved in renovating space for the institute.
Bloomberg and Bollinger were joined at the announcement by an array of city and elected officials and Columbia administrators and faculty including U.S. Rep. Charlie Rangel, Manhattan Borough President Scott Stringer, City Council members Gale Brewer and Robert Jackson, and State Assemblyman Guillermo Linares. Deputy Mayor Robert Steel and Seth Pinsky, president of the city's Economic Development Corporation, were also on hand.
"Today, with the announcement of the Institute for Data Sciences and Engineering, the future has never been brighter," said Donald Goldfarb, interim dean of the engineering school and a faculty member for 30 years. " The next chapter of applied science research discoveries from our faculty will continue to be felt in large and unanticipated ways throughout society."