Columbia University Decries Asian Hate, Offers Support After Spate of Recent Attacks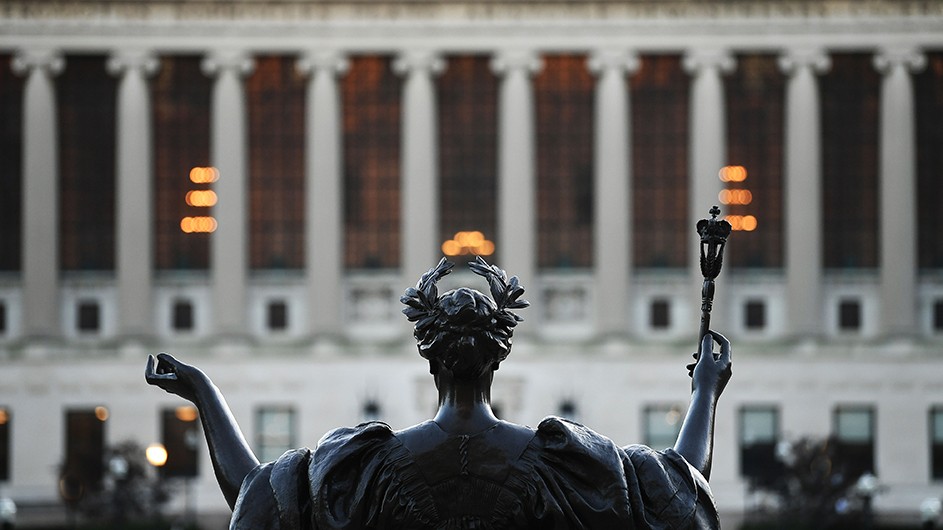 In the wake of rising anti-Asian racism and the recent spate of hate incidents reported across the country, including this week's targeted attacks in the Atlanta area that killed eight people, including six women who identified as Asian, the Columbia community has gathered to publicly decry these horrific events.
In response to these incidents, President Lee C. Bollinger made the following statement: "I cannot adequately express my sense of shared injury and outrage at yet another display of evil and bigotry in this country. The killing of eight people near Atlanta, seven of them women and six identified as Asian, has, once again, brought us to this all too familiar and painful place. To the many thousands in our Columbia community who are Asian or Asian American, we want you to know that we, too, on your behalf and for all of us, feel the anguish and justifiable fear because of this latest episode of a deep-rooted strain of racism in America. The truth is there can be no equanimity for any of us so long as violence born of bigotry and xenophobia is present in our lives."
Below, are statements from across the university and resources for those in our community seeking support at this time. 
---
"These events are deeply troubling to all of us, threatening the core values of our community and society. Our Columbia community is a diverse one, comprised of talented students, faculty, and staff members from every background, from across this nation and around the world. Together we constitute a strong fabric of incredible depth and breadth of knowledge and perspective that enables Columbia to lead in the frontiers of discovery, thought, and innovation. We see this diversity as the bedrock of our campus, our culture, and our society.
"We all must stand against the recent acts of hate and bias as we stand in solidarity with our Asian and Asian-American students, faculty, staff, alumni, and with the wider Asian community. Today, and every day, we affirm our commitment to the incredible diversity that defines the excellence of our School and University as we work together to build a safer and more inclusive environment."
---
"More than a year ago, at the beginning of the COVID-19 pandemic, members of our community who are Asian and Asian-American were disproportionately subjected to bias stemming from unfounded fears about exposure to the virus. It is atrocious that, despite the best efforts of many to raise awareness about these instances and work to prevent them, they have not only spiked in their frequency but in their gravity as well."
---
"Verbal abuse, harassment, and physical violence against the Asian community has increased throughout the past year, a rise in hate crimes which is especially painful for our GSAPP community, where the diversity of cultural, racial, and national backgrounds represented among our students is one of our defining characteristics and a source of collective identity and strength. We denounce these violent acts as well as countless related aggressions rooted in intolerance and hatred."
---
"As an inclusive, welcoming community united in our resolve to help build a smarter, healthier, more equitable and more just society, we have to do our part as well. We must always stand as one to protect and defend any member of our community against discrimination, harassment, and assault. And we must come together as one not only to condemn all acts and expressions of racism directed toward our Asian and Asian American sisters and brothers, but also (and especially) to marshal our intellectual and moral energies to combat racism and hate in all its forms."
---
"The School of the Arts condemns such crimes of hatred. We are a community that believes humanity is best served by a diverse population coming together to encourage the most caring and equitable relationships between people. Hatred is a divisive reality that exists throughout the world. The U.S. has a terrible history of violence against women and people of color, but there are many in this country, many, who condemn racism and misogyny, who have no interest in fostering these aberrations and who work actively, every day to ameliorate them. We align with those working to improve our humanity by opening our minds and hearts to a world where all are cared for equally."
---
"This trend of anti-Asian xenophobia is not new. In the U.S., this sentiment can be traced as far back as the 1800s, with the concept of "yellow peril," the Chinese Exclusion Act of 1882, and Japanese internment camps—all a response to years of racial hostility from white Americans who viewed Asian immigrants as a national threat."
---
"It can be hard to fathom the depth of grief, rage, fear, and confusion we all are feeling in light of this most recent demonstration of American xenophobia and hate. I encourage all of our students, faculty, and staff to take the time to reflect and grieve in their own way, while continuing to show one another the kindness, respect and grace that defines the Barnard community."
---
"In this time of crisis, we at the Journalism School must speak out against the rise in hate crimes and against the trauma inflicted on members of our Asian American community, and we must all offer our support to all students facing pressure."
---
"At Columbia, one of our greatest assets is our globally diverse community. Together we must uphold our shared values, particularly those of respect and the recognition of each of our fundamental worth. We will continue to denounce bias and bigotry in all forms and support each other, as a community."
---
"We need to encourage a larger conversation about ignorance and intolerance. The heart of our School is our diversity—our students bring distinct histories, cultures, and identities to Columbia. It is ingrained in our education here and makes us stronger, wiser, more compassionate citizens. And we have a responsibility to each other, to this institution, and to the professions of which we are a part, to lead on these issues. "
---
"I want to take this opportunity to make it clear that Columbia Nursing condemns the violence that has been perpetrated on members of the Asian community. We want any of our students, faculty, and staff who are of Asian descent to know that we stand with you—that you are not alone."
---
"With our colleagues across the University, our School denounces attacks on race and identity, which are an affront to our beliefs and values.  Many in our community have personally experienced or witnessed racist, discriminatory, and violent incidents, and many feel worried and fearful for their safety and wellbeing and that of their friends and families. I want to express my empathy, solidarity, and support; our community is here for you. We firmly stand against all forms of social injustice."
---
"Over the past year, we have seen acts of hatred and violence targeting Black and Brown people. As discussed at last week's Earth Institute town hall meeting on Combating Anti-Asian Bias, these issues are not mutually exclusive, and we stand together against all forms of bias and hate. The alarming increase in bias-related violence against non-white people across different communities speaks to the larger issue of the systemic racism embedded in our society and institutions."
---
"The shocking increase in violence and hate crimes directed against Asians and Asian-Americans in New York City and many other cities in recent months has been a cause of enormous concern to me personally and to so many in our community. These incidents, which have ranged from verbal harassment and racial slurs to outright assault and appalling acts of physical violence—most recently in Georgia yesterday—are a source of great pain and remind us of the long history of racism against Asians and Asian-Americans in the United States. When considered within the context of the COVID-19 pandemic and the profound personal and professional struggles that many have endured over the past year, our sense of outrage is compounded even further."
---
Gillian Lester, Dean, Columbia Law School: Excerpted from "The Tragedy in Atlanta" school-wide email
"I write today to express our collective grief, support, and empathy for our friends and colleagues of Asian descent as we feel the weight of more senseless bloodshed. We must continue our work—as part of our broader commitment to anti-racism—to actively foster an inclusive community with a capacious understanding of the lived experiences of one another, and reiterate our condemnation of discrimination and violence in all forms, and especially when such acts are rooted in bigotry and hate."
---
Costis Maglaras, Dean, and Gita Johar, Vice Dean, Columbia Business School: Excerpted from "Important message in reaction to Atlanta-area shootings" school-wide email
"Columbia Business School stands in solidarity with our Asian community members as with all oppressed, marginalized communities. We condemn acts of violence and racism at CBS, in NYC, nationally, and globally. As a community, we must name and acknowledge racism whenever we witness it. Incidents of hate and bias have no place at Columbia Business School, and are antithetical to our School values and our pursuit of building a welcoming, inclusive community for all. Attacks like these are painful reminders of the importance of our work in the DEI Initiative, the Race, Diversity, and Inclusion Task Force, the DEI Standing Committee, and the IDEAS Standing Committee. We commit to not only recognizing the impact of racism on our community, but also to working toward dismantling harmful systems and building a better future."
---
"Unfortunately, far too many in our GS community have experienced or have been justifiably fearful of acts of racism, discrimination, and violence directed toward them or their loved ones. For many, this despicable attack may bring memories of traumatic personal experiences. I empathize and offer my, and the support of our GS team,  now and always."
---
Anil K. Rustgi, Interim Executive Vice President and Dean, Faculties of Health Sciences and Medicine: Excerpted from. "Message to the CUIMC community regarding recent violence against Asians and Asian Americans" school-wide email
"To our Asian and Asian American colleagues, know that CUIMC stands with you. We are committed to maintaining a learning environment and work environment that is welcoming, supportive, and safe. We will not tolerate discrimination, intimidation, or violence that is directed against any member of our community."
---
"We appreciate and value the presence and many contributions of our Asian Community and stand proudly with you in solidarity during this most difficult time. With our students, faculty and staff, we express our condemnation of violence, our solidarity with the AAPI community, and our commitment to opposing racism, hatred, and discrimination."
---
"We must look for ways to speak out and act against patterns of violence. Our community's power is to care and then to act; it is what makes Columbia College so special. Together, we must work to protect one another, today and everyday hereafter. I am hopeful that through our unified efforts, voices and action, we'll be part of making a more inclusive and safer school, University and world."
---
Resources for the Columbia University Community
Such racist attacks prompt anxiety, anger, and confusion. Here are several resources for members of our community to find solace:
Virtual Support Groups for Students
Counseling and Psychological Services
Report a Bias Incident