Columbia's Best-Ever Basketball Player Goes Pro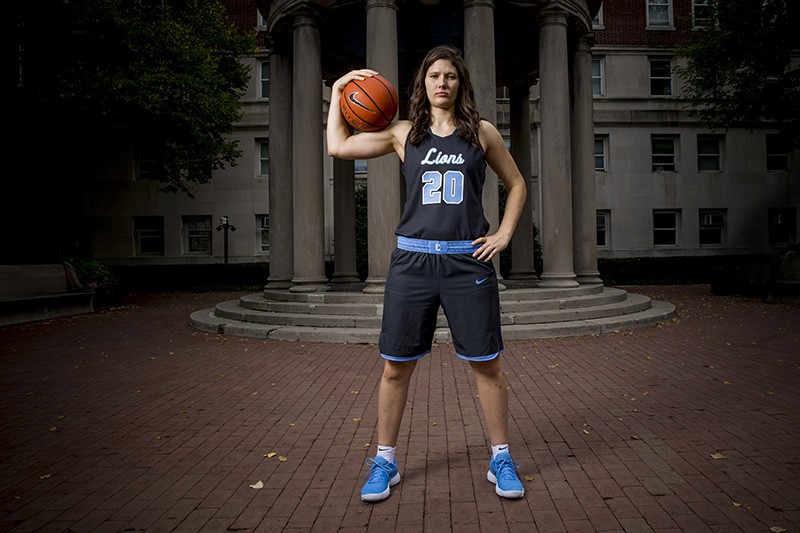 The highest scoring basketball player ever in Columbia Athletics history, who graduates from Columbia College on May 16, has tallied 1,973 points over a four-year career, is an all-time leader with 940 rebounds and 728 field goals, has a free throw percentage of .826 and averaged 17.5 points per game.
And basketball wasn't even Camille Zimmerman's favorite sport when she was growing up in Tempe, Ariz.— soccer was. But at Tempe Preparatory Academy she had to choose between soccer and basketball because they were same-season sports, and basketball's faster pace and continuous scoring won her over.
She expected to spend most of her first year on the bench, until she scored 10 points per game. "The next year I got 12 a game, and I'm like, 'wow, that's a lot of points.'" The following year it was 20 per game and by her senior year, 25. "You don't really know until you go up in scale, and then you realize you are good enough for the next level."
Zimmerman, who describes herself as "6'1 in the morning with shoes on," grew up chasing around two older brothers and sisters. And her family was very competitive; they played many board and card games, and her mother never let them quit activities they initially found too challenging.
Few in Zimmerman's school or on her club team played sports in college, so when it came time to consider the next level, Zimmerman and her mother emailed Division III schools to inquire how she might win a spot. After a club game in her junior year, a Division III coach told her, "you need to stop looking at us" because Division I coaches were interested in her.
Chief among them was Stephanie Glance, a veteran women's basketball coach hired in 2013 to rebuild Columbia's team. She left Zimmerman a message as soon as the recruiting rules allowed her to reach out.
"I'm not going to lie, I didn't know much about Columbia from growing up in Arizona," Zimmerman says. "But my parents and older siblings highly suggested I give them a call back because of Columbia's academic rigor."

From the start, she excelled on the court. "Camille just loves the game," said Megan Griffith, the current women's basketball coach. "She's got a great skill set, and she knew that it would take a lot more work to get from good to great, and she was willing to put that time in."
And off the court. "Camille is a leader by example," said Peter Pilling, Columbia's director of athletics. "She is the ultimate student-athlete and a tremendous example of what it means to be a Columbia Lion."
Zimmerman has devoted her studies to paving the way for a basketball-related career. She majored in economics, earning a spot on the academic All-Ivy the past two years, and the dean's list in her senior year. Her favorite class was sports economics with Sunil Gulati, the longtime president of the U.S. Soccer Federation, and she wrote her final paper on the impact that competing local franchises have on the ability of WNBA teams to draw fans to games.
For two summers, Zimmerman interned with the National Basketball Players Association, working on its digital team. And during this year's NCAA Final Four, she participated in a series of workshops sponsored by the Women's Basketball Coaches Association (WBCA) called "So You want to Be a Coach."
Any future role on the sidelines or in league offices, however, will have to wait. This spring, Zimmerman signed a rookie contract with the WNBA's Minnesota Lynx, the league's reigning champions. The contract doesn't guarantee she will make the roster – there are 11 spots for the 18 players invited to their training camp – but anyone who has seen her play has to feel good about her chances.
For now, Zimmerman is in deep training mode at the Columbia gym three times a day to work out. "Obviously, I want to go to the WNBA," she says. "But if I do not make the roster this year, I'm going to play overseas, improve my game, and try again next season. When I'm overseas I'll travel a little bit, try to get to know and appreciate the people and cultures around me, enjoy my teammates, and learn more about the game of basketball. My Columbia experience will carry me far and for that I am very grateful."