Columbia's Kate Orff, Damon Rich and Alumni Tyshawn Sorey, Regina Barzilay Named MacArthur 'Geniuses'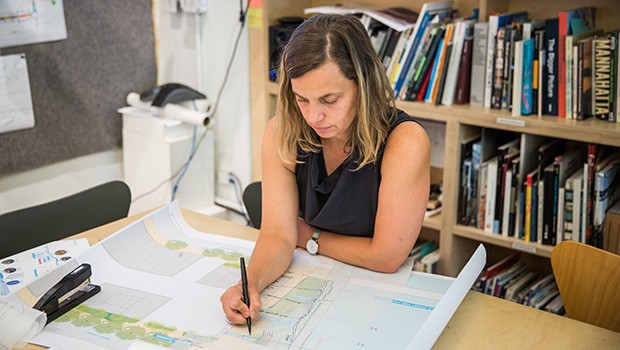 Kate Orff, an associate professor at Columbia's Graduate School of Architecture, Planning and Preservation, is among this year's 24 fellows of the John D. and Catherine T. MacArthur Foundation. She joins a distinguished group of talented people in a variety of fields who received fellowships for creative work that "demonstrates notable originality, dedication and self-direction."
A landscape architect, Orff is internationally known for her work on the intersection of urban design and climate dynamics. At Columbia, she directs the architecture school's Urban Design Program. She joined the Columbia faculty in 2007 and remains a partner in SCAPE a landscape architecture and urban design firm she founded the same year. Orff has worked to revamp the architecture school's curriculum so students consider all aspects of the urban environment and use design as a problem-solving tool.
"Cities around the world are facing challenges of rising seas, intensifying storms, heat waves, fragile water systems, and social fragmentation," said Orff. "I'm excited to double down on research on bays, wetlands, and other critical ecological infrastructure systems that contribute to resilient cities and healthy communities."
The fellowships, known colloquially as "genius grants," come with a stipend of $625,000 paid quarterly over five years. There are no strings attached or reporting requirements, as the foundation views its awards as "seed money for intellectual, social and artistic endeavors."
Orff said she looks forward to expanding research partnerships with colleagues at Columbia in law, policy, sociology, climate science, and public health.
"Being part of the faculty here has meant freedom to explore new forms of teaching and research, not feeling bound by traditional disciplinary pathways. Designing for climate change in the future will require a dynamic, creative, forward-looking collaboration among many sectors - we have more work - and more working together to do, but it's exciting to be part of Columbia at this point in time."
In recent years, Orff has gained attention for her work responding to climate change. She captured public attention in 2010 with Oyster-tecture, a plan to bring oysters back to New York Harbor; the oysters filter water and form reefs that can buffer against storm surges.
After Hurricane Sandy in 2012, the idea known as Living Breakwaters became part of a $60 million federally funded project off Staten Island's south shore. It is expected to be completed by 2019 and will create bays to host finfish, shellfish and lobsters while reducing erosion and buffering against strong wave action. Orff's TedTalk on the project has been viewed more than 300,000 times.
"I'm very happy for Kate Orff to receive this well-deserved recognition," said Amale Andraos, dean of the architecture school. "She is one of the most important voices of her generation, leading the change in how we understand the built environment and actively designing new ways to engage it in our time of uncertainty and climate change. Her leadership and commitment to environmental sustainability and social justice as well as her belief in design's transformative capabilities are inspiring students and reshaping the fields of architecture, landscape and urban design."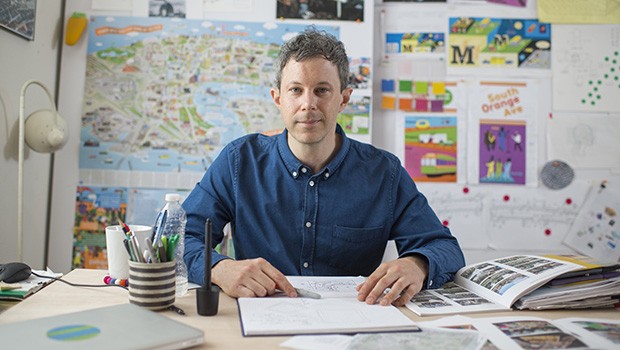 The MacArthur foundation similarly recognized Damon Rich (CC'97), an adjunct associate professor who is in his first semester teaching at the architecture school. Rich is a partner in the urban design, planning and civic arts studio Hector, based in Newark. He was invited to teach at Columbia's architecture school by Orff, and his seminar is titled "Activism and Engagement in Urban Design." Rich majored in architecture, and in the spring 2016 term he returned to the Department of Architecture undergraduate program to teach a seminar titled, "Democratizing Architecture." 
The MacArthur Foundation citation lauds Rich's "vivid and witty strategies to design and build places that are more democratic and accountable to their residents." He was formerly the planning director and chief urban designer for the city of Newark, N.J., and while in that position was instrumental in building a riverfront park, Newark's first, and in 2015 led the effort to update the city's 60-year-old zoning law.
"It is an honor to have two MacArthur Fellows at the school," said Andraos. "Damon is a wonderful colleague whose work we all admire greatly and it's fantastic to have him with us this semester. His transformative and influential work with the Center for Urban Pedagogy was included in an exhibition at the school's Ross Architecture Gallery last fall."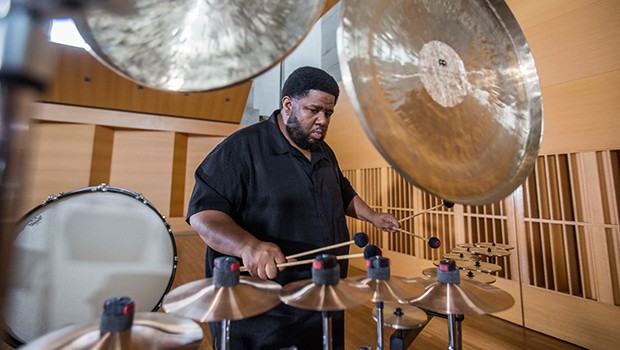 Columbia alumnus Tyshawn Sorey, who received a doctorate from Columbia's Department of Music in May, is also a recipient of a MacArthur award, for "assimilating and transforming ideas from a broad spectrum of musical idioms and defying distinctions between genres, composition and improvisation in a singular expression of contemporary music."
He is a percussionist, trombonist, improviser, composer and conductor. "What makes great improvisation is challenging yourself through the amount of commitment and thought that you put into your sonic contribution and a strong ability to listen," he said in a Columbia News story written about him when he graduated. "Improvisation is really about becoming."
A virtuosic percussionist and drum set player who is fluent in piano and trombone, Sorey is an ever-curious explorer of the nature of sound and rhythm, ensemble behavior, and the physicality of live performance. He erodes distinctions among musical genres as well as the line between composition and improvisation and incorporates sophisticated rhythmic and harmonic phrasing, highly prescribed improvisational sound worlds, and real-time experimentation with sound, among many other structural elements.
In addition to his own work as a composer, conductor, and ensemble leader, Sorey's prowess as a percussionist and drum set player is well known, and he continues to be in high demand as a sideman for popular creative artists. With his genre-free approach to making music and continuous experimentation, Sorey is rapidly emerging as a singular talent in contemporary musical composition and performance.
Regina Barzilay (ENG'03), a professor of computer science at MIT, is a computational linguist who develops machine learning methods that allow computers to interpret unstructured documents and perform real-world tasks. She has has made significant contributions to computational linguistics, including interpretation and generation of human language. Much of her work is focused on designing machine learning models that do not require large amounts of annotations for training.
She currently is focused on bringing the power of machine learning to oncology. In collaboration with physicians and her students, she is devising deep learning models that utilize imaging, free text, and structured data to identify trends that affect early diagnosis, treatment, and disease prevention.