Columbia's Kellie Jones, Sarah Stillman, and Alum Claudia Rankine Receive MacArthur 'Genius Grants'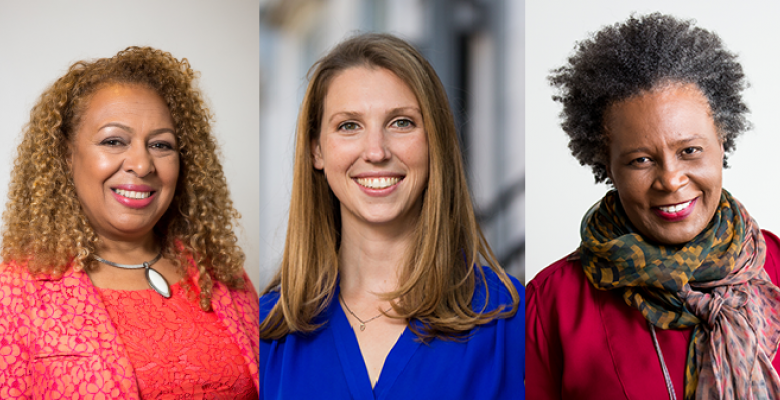 They join a distinguished group of 23 talented people in a variety of fields who received fellowships this year for creative work that demonstrates notable originality, dedication and self-direction.
The MacArthur Foundation also recognized poet Claudia Rankine, a 1993 graduate of Columbia School of the Arts whose work shows the relevance of poetry to contemporary social issues. Her most recent book, Citizen, focuses on the emotional and psychic toll of the everyday racism encountered by African Americans, and has become part of the national conversation around race and policing. \"To have a career recognized in this way, a career and practice that I feel in many ways began at Columbia School of the Arts, is a very exciting and motivating gift,\" said Rankine, the Frederick Iseman Professor of Poetry at Yale University.
Kellie Jones
"This is major recognition for the arena that I have dedicated so much time and energy to," said Jones, whose research includes African American and African diaspora artists, Latino/a and Latin American artists, and issues in contemporary art and museum theory. "The efforts I have put towards making art history and museum culture more reflective of the world we inhabit by recognizing global and gendered creators has paid off."
Jones joined Columbia in 2006 after seven years as a professor at Yale, where she got her Ph.D. She has received numerous awards for her work including a Creative Capital | Warhol Foundation Arts Writers Grant in 2013. Her writing has appeared in exhibition catalogues and journals such as Artforum, Atlantica and Third Text. Her book EyeMinded: Living and Writing Contemporary Art was named one of the top 10 art and architecture books of 2011 by Publishers Weekly.
The eldest daughter of the poets and writers Amiri Baraka and Hettie Jones, whose respective archives are in Columbia's Rare Book & Manuscript Library, Jones is also a curator with numerous exhibitions to her credit. They include the 1997 Johannesburg and 1989 São Paulo biennials and the exhibition "Now Dig This! Art and Black Los Angeles, 1960-1980," at the Hammer Museum, Los Angeles. "Now Dig This" was named one of the best exhibitions of 2011 and 2012 by Artforum, and best thematic show nationally by the International Association of Art Critics (AICA). In 2014, she was a co-curator of The Brooklyn Museum's exhibition "Witness: Art and Civil Rights in the 1960s," which celebrated the 50th anniversary of the Civil Rights Act.
Related: Curator in the Classroom: The Artistic Eye of Prof. Kellie Jones, Columbia News, Dec 21, 2011
"Kellie Jones is a path-breaking scholar, an influential critic, and an inspiring teacher," said Michael Cole, chair of Columbia's Department of Art History and Archeology. "From an academic post, moreover, she has become one of the most visionary curators of modern and contemporary art working anywhere in America. Few of us can aspire to follow her example, writing with the learnedness, originality and insight that made her a leader of her field while also establishing an important public voice. It's exciting to work daily with such a colleague."
Sarah Stillman
"I'm truly stunned, and incredibly grateful for the MacArthur Foundation's vote of confidence—both in my work, and in the discipline of immersive, deeply reported journalism," said Stillman. "I'm so lucky to have found a community of editors and fellow reporters who care passionately about complex investigative work—at The New Yorker and also at Columbia Journalism School. I'm eager to use the fellowship to take big risks with some ambitious long-form stories.\"
Stillman, whose work at Columbia Journalism is focused on publishing stories on women, girls and migration, teaches the course "Gendering Migration: An Intensive Course on Women and Girls Crossing Borders." A staff writer for The New Yorker, she is also a visiting scholar at New York University's Arthur L. Carter Journalism Institute.
She won a National Magazine Award in 2012 and Overseas Press Club Award in 2011 for her reporting from Iraq and Afghanistan on labor abuses and human trafficking on U.S. military bases there. Her reporting on the high-risk use of young people as confidential informants in the war on drugs received a George Polk Award in 2012 and the Molly National Journalism Prize in 2013. She has written on topics ranging from civil forfeiture to amateur drone-builders, Mexico's drug cartels to Bangladesh's garment factory workers.
Before joining The New Yorker, Stillman wrote about America's wars overseas and the challenges facing soldiers at home for The Washington Post, The Nation, The New Republic, Slate and The Atlantic. She co-taught a seminar at Yale University on the Iraq war, and also ran a creative-writing workshop for four years at the Cheshire Correctional Institution, a maximum-security men's prison in Connecticut.
\"Sarah Stillman has emerged as one of the most important public service journalists of her generation, building a body of work that is unflinching, original and essential," said Steve Coll, dean of the Columbia Journalism School. "We are thrilled for her and for our students who have been privileged to work with her."
The MacArthur "genius grant" is awarded annually and comes with a $625,000 stipend that is given with no conditions—fellows may use the money as they see fit.