Criminal Justice Is at the Heart of Initiatives Across Columbia
Criminal justice initiatives started decades ago aim to create a campus-wide interdisciplinary effort to reduce mass incarceration and to support children, families and communities.
June 26, 2019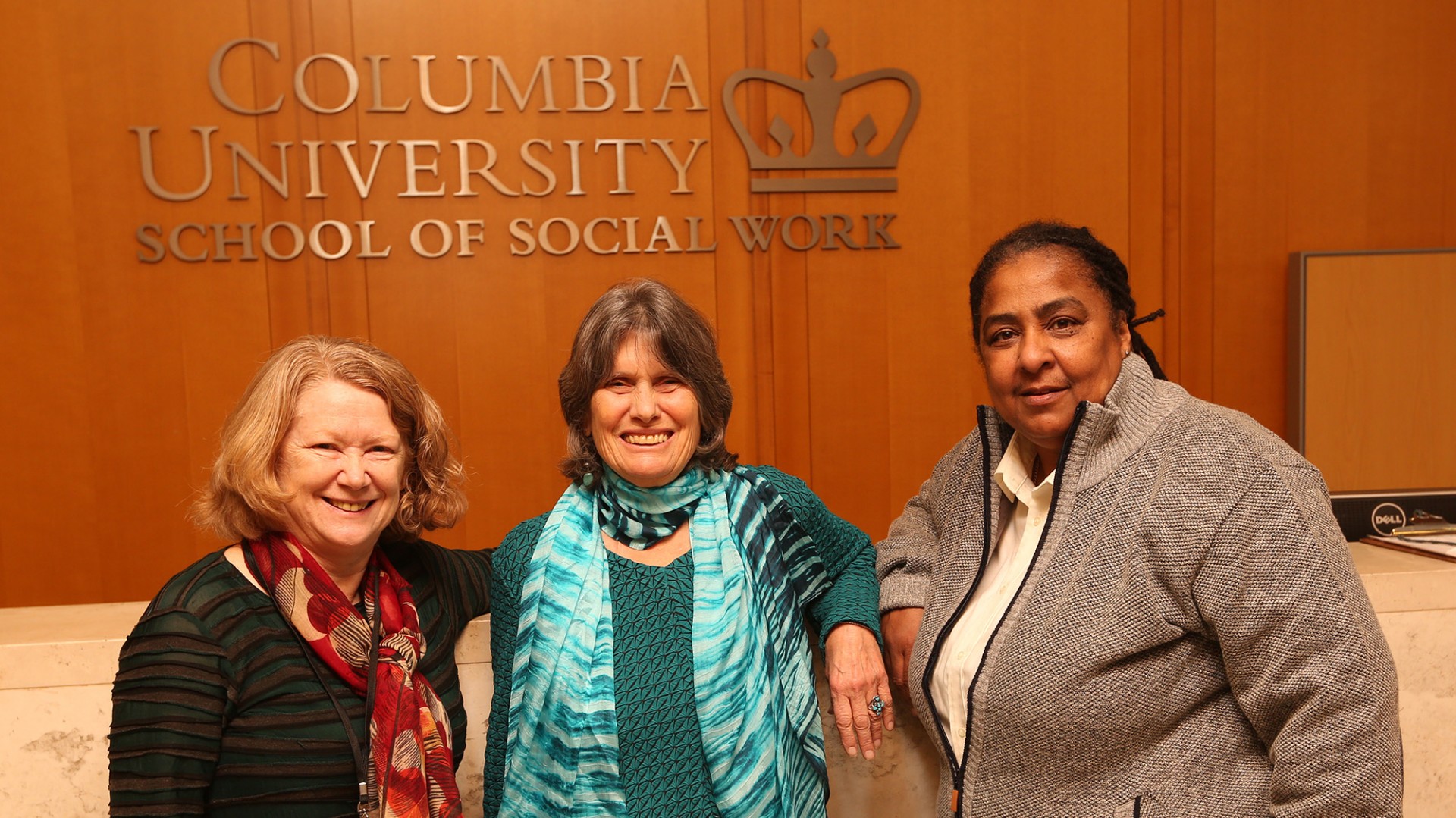 Geraldine Downey was a post-doctoral researcher in psychology at the University of Michigan in the late 1980s when she volunteered to work at a nearby state prison. There she met Mary Glover, who had successfully sued the state to get access to higher education classes for women prisoners like herself, something then available only to men.
"Mary's commitment to higher education and her efforts to become a college student inspired me to become a professor," recalled Downey, now the Niven Professor of Humane Letters in psychology. Soon after she joined the Columbia faculty in 1991, Downey began teaching and mentoring women incarcerated at Bedford Hills Correctional Facility. She currently teaches at Sing Sing.
Today, as the director of the University's Center for Justice, Downey is one of 20 Columbia professors teaching in six different prisons in a collaboration with the Heyman Center for the Humanities and the School of Professional Studies.
"Education cuts recidivism in half, and that's probably an underestimate," said Downey. "It is the best protection against recidivism and against going into prison in the first place."
Interdisciplinary Efforts
The Center for Justice grew out of a Criminal Justice Initiative started a decade ago at the School of Social Work, aimed at creating a campus-wide interdisciplinary effort to reduce mass incarceration and to support children, families and communities. Working with Nabila El-Bassel, the Wilma and Albert Musher Professor of Social Work and recently appointed University Professor, the effort was led by Kathy Boudin (TC'07) and Cheryl Wilkins, who met in the 1990s when both were incarcerated at Bedford Hills, and Wilkins took Downey's courses there.
While in prison, they had worked together to return higher education to Bedford after Pell Grants for people in prison were eliminated by 1994 federal legislation. (College-level courses resumed with private funding.)
Wilkins, who was released in 2005 after serving more than eight years, earned her bachelor's degree while incarcerated and later received a master's degree at the City University of New York. She worked as a counselor to formerly incarcerated students in the City University system and moved to Columbia in 2008, where she is now senior director of education and programs at the Center for Justice and a research scientist at the Social Work school.
Boudin, who served 22 years, earned her master's degree while in prison, completing a Ph.D. at Teachers College after her 2003 release. She developed a health program for people returning from prison at St. Luke's Hospital Center and is now co-director of the Center for Justice, an adjunct lecturer and research scientist at the Social Work school.
A Holistic Approach
"Our vision was to engage the entire University and connect it to the community and formerly incarcerated people, while working on the issue of mass incarceration," recalled Boudin. "When we started, professors had us come into their classes and we would begin by saying, 'we both came out of prison.' People stared. Ten years ago, that was not something people said out loud."
This March, hundreds of academics, students, policy makers, formerly incarcerated people and others affected by mass incarceration spent four days on campus for the ninth annual Beyond the Bars Conference, which focused on the impact of mass incarceration on women and girls. Organized by Wilkins and Boudin, it was co-sponsored by the Center for Justice, the School of Social Work and others in the University and elsewhere.
"One of the great things about Columbia and the Center for Justice is that, with people like Kathy and Cheryl on staff, we have living, breathing examples of the power of people to come back from prison and make a difference, walking around on campus every day," said Vincent Schiraldi, co-director of Columbia's Justice Lab and senior research scientist at the Social Work school. "None of us wants to be known by the worst thing we did in our lives, including people who have been locked up and are trying to get a fresh start."
For the first time, this year's Beyond the Bars conference had a strong international component, featuring panel discussions on gender-based violence, strategies for change, feminist organizing and building a global movement. There were film screenings and an evening of entertainment in Harlem.
Some 200,000 women are currently behind bars in the United States, in federal and state prisons and local jails, but they get little attention, perhaps because they constitute just 10 percent of the more than two million Americans who are currently incarcerated. Yet the number of incarcerated women is nearly eight times higher than it was in 1980. Sixty percent of women in state prisons have a child younger than 18.
"We're not just looking at incarcerated individuals, we're looking at how it affects family, how it affects community, how it affects kids," said Wilkins, noting that women hold up their families and their communities when men go to prison, but when mothers are incarcerated their children often end up in foster care.
The Center for Justice
The conference is one of many initiatives from the University's Center for Justice. These include Justice-in-Education, a partnership with the Heyman Center and the School of Professional Studies, which offers college courses to men and women in prison and brings formerly incarcerated individuals to Columbia to take courses on campus; some go on to graduate from the School of General Studies. "We're giving students inside and those who have come home the opportunity to do what the vast majority of young people do in this country: go to college," said Downey.
The center also works with the Business School's Tamer Center to help open employment opportunities for the formerly incarcerated, and with the Mailman School of Public Health on issues related to healthcare in prison and it collaborates with the Law School and its students on multiple issues.
A new initiative, Women Transcending, has a grant from the NoVo Foundation to develop programs about women and incarceration and involves research, leadership development and public education. Another initiative, the Punishment Paradigm, is focused on alternatives to a justice system centered on punishment.
A larger University-wide initiative, Just Societies, plans to bring together Columbia with other institutions of higher learning to build a national initiative on ending mass incarceration. "It's a way to answer the question of what universities can do to help solve major social problems," said Downey.