CU People: Linda Amrou, Program Officer, Columbia Global Centers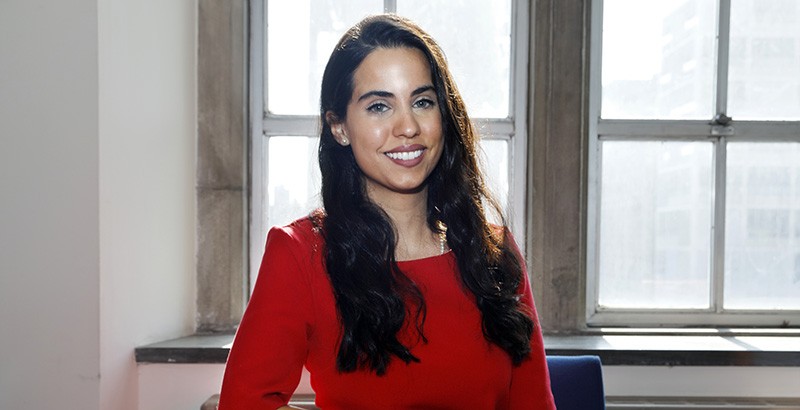 Title
Program Officer, Columbia Global Centers
Years at Columbia
1
What She Does
Amrou works to strengthen the ties between the University's nine Global Centers and Columbia students, faculty and alumni. She also gives presentations to various student groups and assists faculty who receive President Lee C. Bollinger's Global Innovation Fund (PGIF) grants that support research projects at the centers. Her aim is to help people across Columbia better understand and access the centers' resources, which include public programs, research opportunities and support for work that examines pressing issues such as migration and human rights. "These global concerns are incredibly important to me," she said.
Most Memorable Moment
Amrou started at Columbia last fall and missed the rush of students arriving on campus. This year she has been able to meet incoming students at various student fairs and explain how the Global Centers can help them connect with international institutions, such as Sciences Po, the Paris institute for political studies. The centers also serve as a home away from home for Columbia students who are in one of the cities where they are located–Amman, Beijing, Istanbul, Mumbai, Nairobi, Paris, Rio, Santiago and Tunis. "Hearing their experiences, ideas, and excitement on how they hoped to engage with the centers was exhilarating," she said. "It felt like it was my first day of classes again, too!"
Best Part of the Job
Being able to to interact with people from so many places around the world, all while stationed in New York.
Road to Columbia
The daughter of Turkish and Palestinian immigrants who settled in Toledo, Ohio, Amrou still considers herself partly a Midwesterner. "I still say please and thank you to people on the subway, even if it gets me odd looks from other passengers," she laughed.
She received a scholarship to attend the University of Toledo. As an undergraduate, she interned for the World Health Organization in Washington, D.C., in 2009 and was awarded a State Department-sponsored Benjamin A. Gilman International Scholarship to study abroad in Turkey. On her return to the U.S., she began law school and served as president of the University of Toledo's International Law Students Association, organizing programs that served thousands of students. She became a certified mediator and worked with disadvantaged youth at a juvenile court. While in law school, Amrou also clerked at a Toledo law firm, where she worked on numerous cases involving Social Security and disability benefits. And for one week she also served as a human rights observer in Guantanamo Bay, Cuba at the 9/11 Commission hearings.
After passing the bar, Amrou practiced immigration law in New York City, largely serving Latino and Yemeni clients at the height of the Trump administration's travel ban. In the fall of 2017, she turned down a position with the Ministry of Education in Medellin, Colombia. "I was set to go and figuring out accommodations," she said, "when I got the offer to come to New York and eventually work at Columbia the university rather than Colombia the country."
In Her Spare Time
Amrou was trained by the Animal Care Centers of New York to foster kittens that have lost their mothers. She most recently hosted a 7-week-old named Aruba. One of her favorite things about New York is the ability to travel the world just by jumping on the subway. "I love that I can get a taste of the Dominican Republic, Guyana and Morocco all in one day if I want. I also have a dream of one day attending culinary school abroad, but I'll stick to perfecting different renditions of hummus in my kitchen for now."