Did You Know Columbia Has a Circus Collective? Meet Maia, One of Its Leaders
Maia Oceana Castro-Santos (CC'25) is one of the organizers of the group specializing in circus arts.
September 21, 2021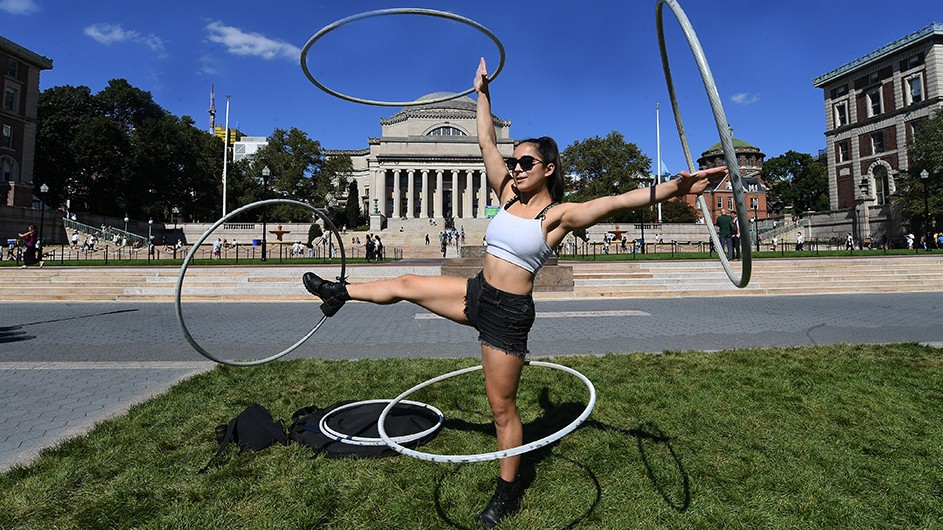 Say hello to the group with all the hula-hoops: Columbia Circus Collective, the university's only student-led group dedicated to circus arts. University Photographer Eileen Barroso came across Maia Oceana Castro-Santos (CC'25) on campus in September and couldn't help but grab a few photos of her practicing on Butler Lawn with her hula-hoops for our recurring Instagram series #ColumbiaStories.
We caught up with Castro-Santos, who is considering a major in math or computer science, to learn more about how she got into circus and what exactly the Columbia Circus Collective is all about.
Where are you from?
I'm from Gill, Massachusetts. It's a small rural town where the population of cows exceeds that of people. I'm not sure if that statistic is actually true, but we do have to go to the next town over for the nearest post office, so you get the idea.
What is the Columbia Circus Collective? How can people get involved?
The Columbia Circus Collective is a new performing arts collective on campus. Our goal is to create a space for students to learn, train, and perform in circus arts — from acrobatics to aerials to juggling. We will be hosting workshops and classes for all levels and have a show coming up in October. 
I started training in circus 11 years ago and then began touring in 2019 with Circus Smirkus — the only traveling youth circus in the United States. [Co-founder] Sam Landa (the artistic director of the club) also toured with Circus Smirkus a few years before me, so that's how we knew each other. When I was first applying to Columbia, I reached out to Sam and asked if there were opportunities to continue doing circus on campus. At that time, he and [co-founder] Emma Owens were just getting the club started, so I've been involved with the collective since then. 
We welcome students of all experience levels and backgrounds — anyone interested in getting involved can contact us at [email protected] or by reaching out to Sam, Emma, or me to get on our mailing list.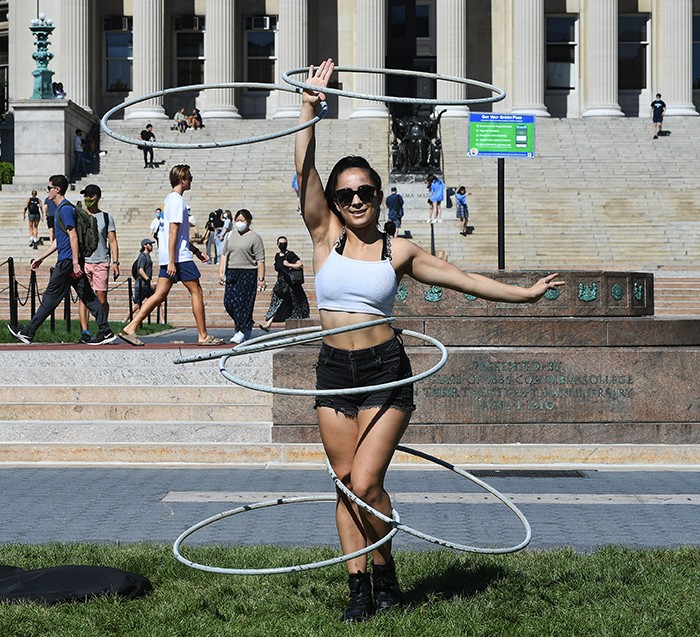 What's something people don't know about circus skills, but should?
I think a lot of people don't realize the variety of circus disciplines there are to choose from. For example, I specialize in hula-hoops and aerials. Within the category of aerials, I specialize more specifically in lyra (also called aerial hoop) and aerial silks. I can't juggle for the life of me. So you can really choose whatever skill you want to work on and focus on that or dabble in a bit of everything.
What's your favorite place on campus?
I don't really know what it's called but the walls on either side of Low steps that extend out over the stairs. I like sitting up there and enjoying the view of campus (plus, I like heights). 
What's your superpower (real or imagined)?
Usually, I say something along the lines of mind reading. In real life, I'm actually pretty good at understanding how other people think so I guess that's just a very normal version of that superpower. 
Anything else we should know?
This is probably an inappropriate use of this space, but I will shamelessly plug my Instagram @maia_castro_santos. If you want to know more about what I do and the kinds of things the circus collective is hoping to teach, I post a lot of training and performance photos/videos on there!
---
#ColumbiaStories are photos taken by University Photographer Eileen Barroso as she randomly selects Columbians to photograph across the university. You can find more on Instagram.