Doctor of Laws: Presented to William V. Campbell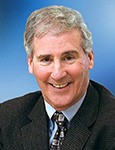 If a great, diverse research university could have a single beating heart, Columbia's would most assuredly be you. From the time you arrived on Morningside Heights from Western Pennsylvania nearly six decades ago, through your venerated term as chairman of our Board of Trustees, your dynamism, humor, and can-do spirit have energized everyone and everything around you. A graduate of the College and then Teachers College who, as an undersized offensive guard, captained Columbia's storied 1961 Ivy League Champion football team, you returned to campus as head football coach more than a decade later during a period of institutional and financial challenge for the University. A proud Army veteran and a winner to your core, you were dissatisfied with your own performance and, despite the enduring admiration of the players whose lives you shaped, you chose to leave the sidelines to pursue a different path.
After starting a new career as a vice president at J. Walter Thompson in New York and general manager of consumer products for Kodak Europe, you joined Apple in 1983. In addition to serving as executive vice president of Apple, Inc., and as a member of its board of directors for 17 years, you were also president and chief executive of GO Corporation, and founder, president, and chief executive of Claris Corporation. You went on to be president and chief executive of Intuit from 1994 to 2000 and have been chairman of the board of directors since 1998.
Not captured by any organizational title or resume entry, you have been an admired leader and a trusted mentor to a generation of Silicon Valley entrepreneurs and executives who have transformed our economy and society.
As chairman of Columbia's Board of Trustees for nine years, you helped support the University through a watershed period in its long history. Your service to and support for Columbia have been invaluable. A founder of the Columbia Alumni Association and a member of the advisory group of the Columbia Entrepreneurship Initiative, you have won virtually every prize Columbia can bestow on its alumni, including the Alexander Hamilton Medal, the John Jay Award, and the Alumni Athletics Award. In 2010, you and fellow members of the 1961 Ivy League Champion football team were inducted into the Columbia University Athletics Hall of Fame. You have been a director of the National Football Foundation and College Hall of Fame, which each year in your honor awards the William V. Campbell Trophy recognizing a student-athlete as "the absolute best in the country for his academic success, football performance and exemplary community leadership." How apt, then, that an acclaimed and innovative work of architecture for Columbia Athletics will forever bear your name.
For both your lion's roar that can wake the echoes of the Hudson Valley and your softer voice that has had such an extraordinary impact on our University, our economy, and the many people for whom you will forever be "Coach," Columbia is proud to confer on you the degree of Doctor of Laws, honoris causa.