An Engineer Tap Dances His Way to Tackling Big Data
Tap dancing and engineering may not seem like they have anything in common. But for graduating senior Vikas Arun, pairing these two passions makes plenty of sense.
May 09, 2017
As a student, he is focused on mathematical modeling, logistics and data science—to identify efficiencies in any operation, from the way Amazon sorts products and tracks its shipments to how fashion retailer Zara can optimize inventory control.

"There are a lot of patterns in tap dance—similar to patterns found in mathematical modeling," said Arun, an operations research major and computer science minor at Columbia Engineering. "I pick up choreography quickly because data science, operations research and math are all about seeing patterns."
He was consumed and inspired by the music and dancing in Bollywood films when he took a serious interest in dance at age 9. He recalled that his parents were thrilled that their energetic young son had latched on to an activity they thought would wear him out. They didn't foresee that tap dancing would evolve into more than just a passing hobby—one that Arun, as a high school student, would spend up to 30 hours a week rehearsing.
His commitment to dance paralleled a knack for math. By tenth grade, Arun knew he was a "math-science kid." But connecting the dots to an engineering degree took some figuring out."I was choreographing at age 16," he recalled. "I knew I liked creating things and seeing it all come together on stage. That helped me understand engineering is what I wanted to do. Engineers ask 'how' questions and they create solutions that can be applied."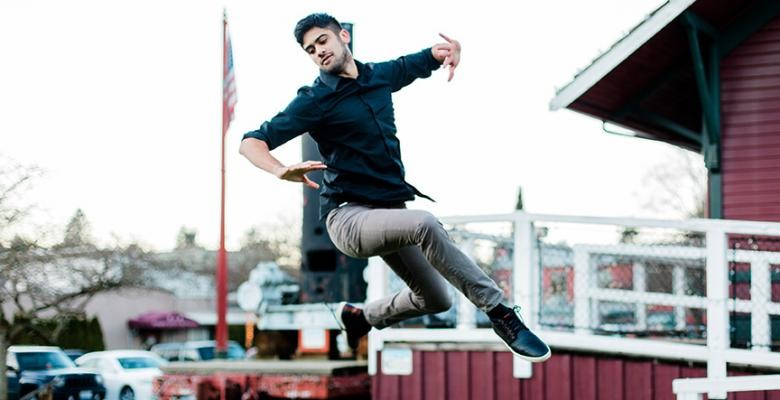 In the fall of 2015, Vikas assistant teaches and performs on a tour with Celebrity Dance Convention.
Arun had already danced professionally as part of a dance troupe in Los Angeles when he arrived at Columbia. He also had spent part of that summer teaching dance in and around his Seattle hometown. His dance credits include a performance for former First Lady Michelle Obama at a 2011 Let's Move campaign event in Burbank, CA and competing on Fox TV's So You Think You Can Dance in the summer of 2015. Since last spring, Arun has been a member of Apartment 33, a New York-based dance company directed by Columbia alumna Chloe Arnold (CC'02).
He was drawn to operations research for its wide reach. "Every business wants someone really versed in ops research—how to schedule things, how to group similar tasks or products, how to get the most efficiently done in the least amount of time as possible," he said.
Last summer, Arun interned at Microsoft, assigned to Bing, the software giant's flagship search engine. He worked on a data analytics project that predicted winners of the Olympics as well as providing content and historic trivia about athletes and certain sports.
In addition to internships, tutoring students and focusing on his studies, he co-chaired the undergraduate recruitment committee and led campus tours. He was instrumental in expanding the engineering portion of the tour from just once a week to three days a week. Arun also is working toward master's in operations research/data science through a program at the Engineering School called M.S. Express that will allow him to earn the degree later this year.
For the foreseeable future, he plans to continue tap dancing while pursuing an engineering career. After graduation, Arun will be splitting his time between Apartment 33 and Armaments Research Company, a data science startup.
He credits Columbia for allowing him to focus on both passions equally over the last four years. In May, Arun was awarded a Robert Gartland Fellowship from the Industrial Engineering and Operations Research Department. Gartland (ENG'75) created the fellowship to provide a five figure tuition waiver to a student continuing their master's studies at Columbia.
"I knew Columbia was the right choice for me because of the type of students that come here, people who want that liberal arts portion of the Core Curriculum," said Arun. "There are incredible mathematicians here and engineering students, but they also want to read the major texts of the world and sit around and talk about politics. As a dancer and an engineer at Columbia, I've never felt like an odd duck."