Back in the Engineering Lab, at Home and Online
Yevgeniy Yesilevskiy, a lecturer in the department of mechanical engineering, discusses the kits sent to students learning remotely around the U.S. and the world so they can design projects at home.
October 01, 2020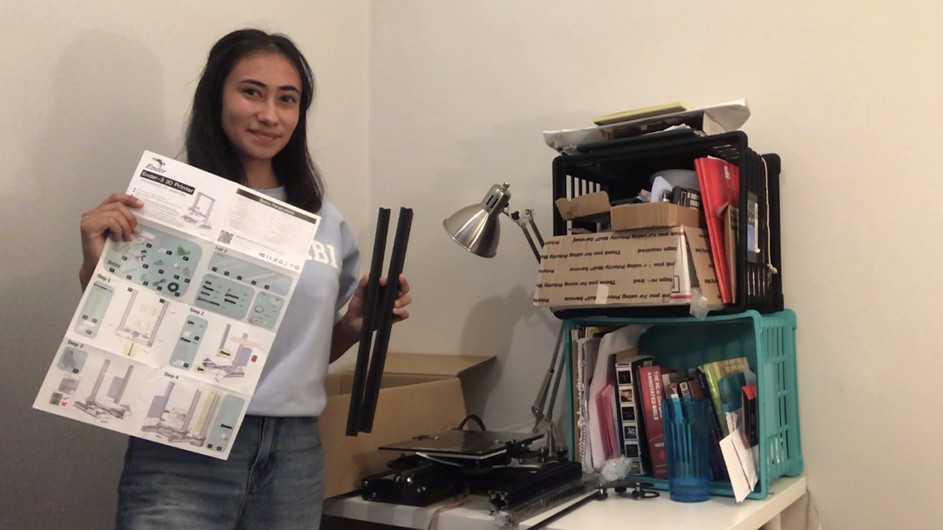 All across campus faculty members have demonstrated creativity and determination to make online instruction as meaningful as possible during the pandemic. In the natural science departments and at Columbia Engineering, professors spent the summer designing project kits that they could send to their students learning from home instead of in campus labs and classrooms. The goal with the kits was for students to be able to safely conduct experiments or design projects in a home environment.
"Our senior design students are receiving one thousand dollars worth of equipment," said Yevgeniy Yesilevskiy, lecturer in the department of mechanical engineering. "Included in the kits are 3D printers, soldering irons, basic and electronic tools, mechanical components, modeling clay, motors, and protective gear. Our juniors are getting project kits, too. We worked extensively with Environmental Health & Safety when developing the kits. The students have everything they need to make the most out of their education."
In all, about 115 kits were sent to both juniors and seniors, living across the United States and the world.
Yesilevskiy recently discussed further the at-home project kits with Columbia News:
Q. Are the kits self-sufficient or do students need to supplement with readily available household products?
A.  The kits are self-sufficient. In principle, since the courses allow for a great deal of creativity, some students may choose to incorporate household products.
Q. What sorts of experiments are students conducting with the kits at home?
A. Unlike, say, physics or chemistry where students are doing at-home experiments, the mechanical engineering kits are intended more for designing projects, especially the senior course sequence, which is heavily design-focused. Our students are inventing and developing products and experimental testing apparatuses, or researching engineering problems.
Last year, we had projects as diverse as a reusable menstrual cup cleaner/sterilizer, a modular robot that can self-assemble structures, and a device that automatically creates a detergent pod based on the amount of clothing and the types of stains. As the course is open-ended and student-driven, we need to give students immense freedom in choosing the direction of their projects. So our kits allow for creativity. The 3D printers will enable seniors to produce new parts or supplement any items they will need. The ample electronic and sensing equipment in the kits can be used to move and control the motion of their designs. The mechanical kit parts can help attach pieces and get desired functionality. The tools can be used to construct projects. Also included in the kits is basic prototyping equipment, such as moldable plastic and cardboard, so that students can test their ideas. By building crude prototypes, they can learn in an iterative design process that pushes toward polished final prototypes.
Q. Can students design projects on their own or are they supposed to be working simultaneously with the instructor?
A. The senior design course is team-focused. Students work together in groups of three to five to meet weekly tasks that push toward a finalized prototype of their projects. That work is supplemented by office hours with me and Harry West, another engineering professor who will be working with me in shaping the course. As noted above, the projects are primarily student-driven. We are there to assist, provide direction, and help trouble-shoot. The main goal of the class, though, is to have students experience a full, student-led design cycle.