EPIC Exchange: Emeritus Professors Bring Columbia to the Community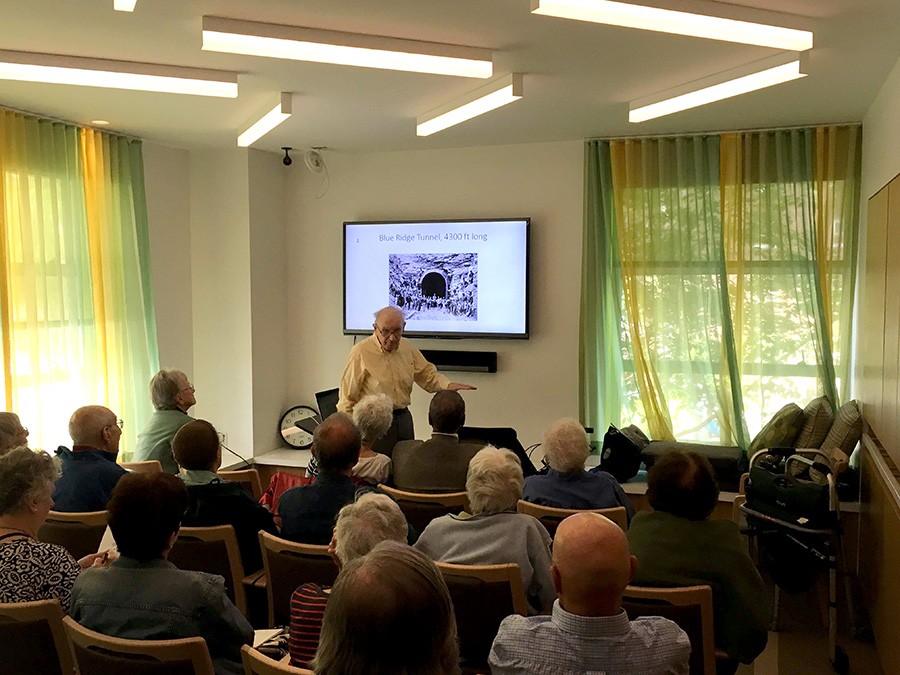 Albert Einstein's politics, the history of engineering, Muslim women as seen through a Western lens, the dangers of Agent Orange and Ogden Nash's poetry—what could all these subjects possibly have in common?
They've all been topics for Columbia University's community discussions at a Morningside Heights apartment complex, led by Columbia professors who continue to share their knowledge and scholarship after they have retired.
The genesis for these talks came three years ago, when members of the group, Emeritus Professors in Columbia (EPIC), began discussing ways to do more community outreach. Enter George Calderaro, director of community relations at the School of Professional Studies, who organized a meeting with Jeanne Stellman, a professor emerita of health policy who is the group's president; Margaret Jo Shepherd, a professor of education at Teachers College until her 2002 retirement; and members of Morningside Gardens, a nearby naturally occurring retirement community (NORC).
Shepherd and Calderaro came up with the idea of the EPIC talks because they saw that "there are a number of Columbia professor emeriti who are still passionate about their scholarship and work, but weren't able to or desirous of teaching every week," he said. "The talks seemed to be a great way to keep professors engaged and to reach out to our community."
Ron Bruno is the executive director of Morningside Retirement and Health Services, a social service nonprofit that works in Morningside Gardens. "We immediately jumped at the opportunity to start these talks because we knew we'd get really interesting lectures from highly qualified professors who would like to continue teaching, but in a different way," he said.
After 20 years of working with the community, "I have a feel for what programs the people like here," Bruno added. "They like to be challenged, so this seemed to be right up their alley."
Take 93-year-old John Johnson, a retired Citibank employee and resident of Morningside Gardens since 1957. He was first invited to the talks by a friend from his days as a student at the Julliard School.
"I connect to the topics because they are often about subjects that are familiar and from New York City's past," said Johnson, a former opera singer. "The teachers are so knowledgeable and they bring the topics to life. It's like learning something all over again. The talks are so interesting that sometimes you just don't want them to stop."
The 2019 series, which kicked off in February with history professor Alice Kessler-Harris speaking on the topic of Lillian Hellman, offers five talks per year to an audience of several dozen, and is growing in popularity.  "Over the past three years, we have seen attendance grow to capacity, I think because of positive word of mouth and also diversification of the audience beyond Morningside Gardens to include the Columbia and Harlem communities," said Calderaro.
The spring 2019 lineup includes discussions about a developing healthcare system on an island off the Democratic Republic of Congo by a professor emeritus and special lecturer of sociomedical science in pediatrics, David Evans, and the undimmed popularity of the song "Over the Rainbow" by music professor Walter Frisch.
The talks are free and open to people of all ages.
Not only do community members gain much from these talks, Columbia's retired professors find the experience of giving them rewarding. Mischa Schwartz, the Charles Batchelor Professor Emeritus of Electrical Engineering, has given two EPIC talks, one on "Political Einstein" and the other on the history of engineering, both topics he hadn't studied before presenting.
"I enjoy learning new things, and the EPIC talks have given me the opportunity to pursue new avenues of knowledge," said Schwartz.
After referencing the book, Einstein on Race and Racism, during his talk, Schwartz was surprised to discover that the author of that book, Fred Jerome, was in the audience and whole-heartedly approved of Schwartz's analysis of his work.
A major reason for having the talks in Morningside Gardens is because many audience members can't easily get to Columbia's campus. "These are special gatherings for the residents where they can enjoy food and drinks and listen to incredible academics in the comfort of their own home," said Bruno. "The retired professors who speak inspire the residents to be more active citizens."
Added Calderaro, for both EPIC and the School of Professional Studies, "it's important to offer programming literally in the community rather than asking the community to come to us."