On Exhibit: Florine Stettheimer, a Feminist Visionary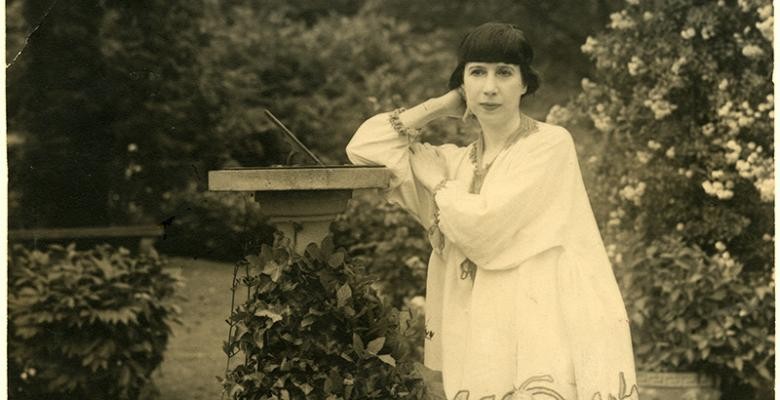 Florine Stettheimer, a renowned New York City-based painter, designer and poet, was a woman ahead of her time. Now, the Jewish Museum in New York City is telling her story in an exhibition, Florine Stettheimer: Painting Poetry, which opened earlier this month. Columbia is well represented in the show: Art Properties, part of the University's Avery Architectural & Fine Arts Library, and the Rare Book & Manuscript Library (RBML) both loaned major works to the museum for the show. Stephen Brown, Neubauer Family Foundation associate curator at the museum, earned his Ph.D. in art history from Columbia and co-curated the show, and Galia Solomonoff, a professor at the Graduate School of Architecture, Planning and Preservation, co-designed the installation.
Stettheimer (1871-1944) held regular salons in the Upper West Side home that she shared with her sisters, Ettie and Carrie, and their mother, Rosetta. Avant-garde artists and writers such as Alfred Stieglitz, Georgia O'Keeffe and Marcel Duchamp were regular attendees.
The exhibition includes more than 50 paintings and drawings by Stettheimer, along with a selection of her costume and theater designs, poems, photographs and ephemera.
"Stettheimer's work fascinates viewers because it offers a new, feminist vision about modernism in the early 20th century," said Roberto C. Ferrari, curator of Art Properties at Columbia, which loaned 14 paintings and two drawings to the Jewish Museum, including the circa 1915 painting A Model (Nude Self-Portrait). That work is considered by some scholars to be one of the first known examples of a woman painter depicting herself entirely nude. Stettheimer based the image of herself lying on a bed on Edouard Manet's Olympia.
Stettheimer studied at the Art Students League of New York, and then spent nearly 20 years in Europe with her mother and sisters. There, she was exposed to early modernist art movements such as Post-Impressionism, Fauvism and Expressionism, which influenced her work. The family returned to New York with the outbreak of World War I, and in 1916, Stettheimer had her first solo gallery show.
Columbia holds the largest collection of the artist's works. More than 65 paintings, drawings and decorative artworks are housed in Art Properties. RBML maintains Stettheimer's archives—sketchbooks, some smaller unfinished drawings and paintings, photographs and ephemera. Its loan to the Jewish Museum includes some of the figurines and props that she created for the 1934 opera Four Saints in Three Acts, by Gertrude Stein and Virgil Thomson.
The Stettheimer Collection was a bequest to Columbia in 1967 from the estate of her sister Ettie, an 1898 graduate of Barnard College. It complements the Stettheimer papers, held at the Beinecke Rare Book & Manuscript Library at Yale University.
Florine Stettheimer: Painting Poetry is on view at the Jewish Museum until Sept. 24.