In the Face of Cancer, Columbia Facilities Director Graduates with Honors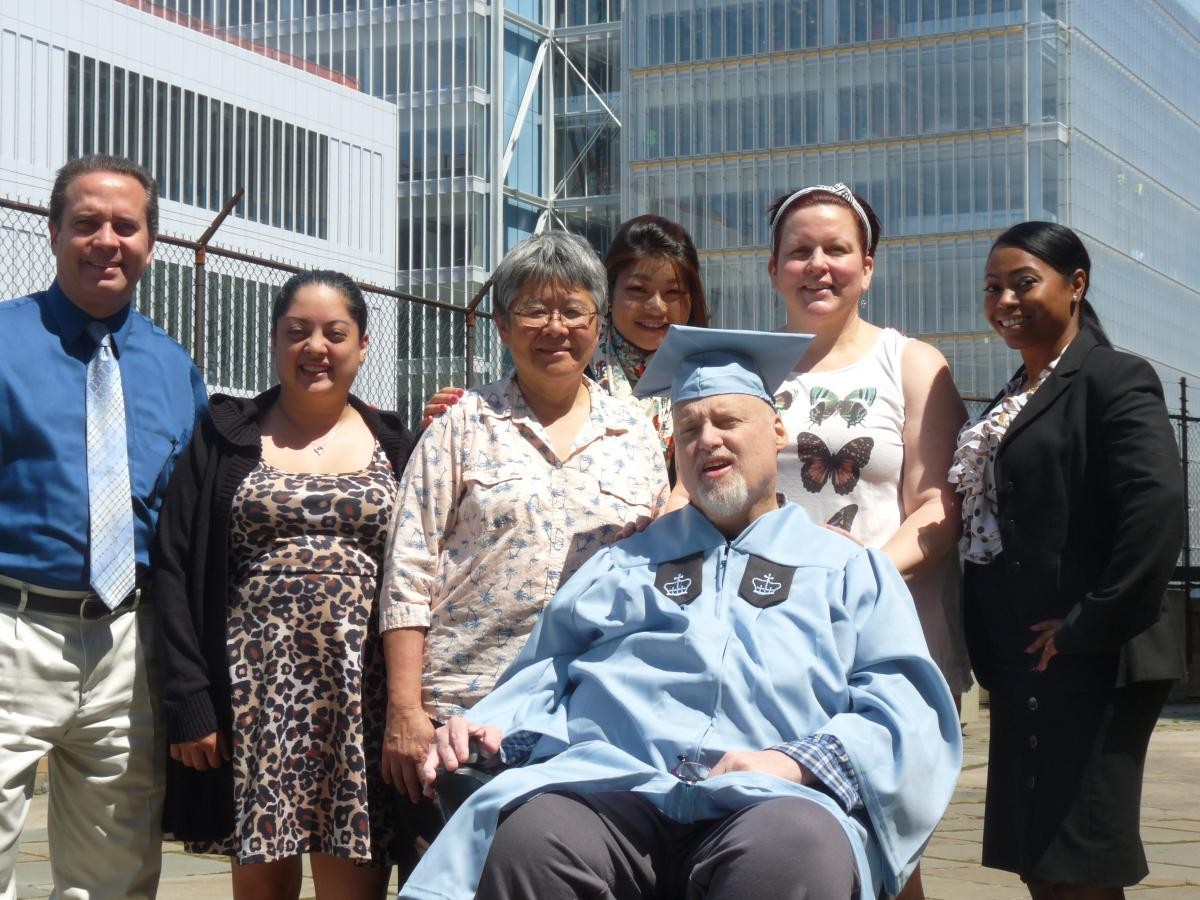 Edward Lauth, director of commercial operations in Columbia's Department of Facilities and Operations, always wanted to earn a Columbia degree. But with five children and a full-time job, he kept putting it off.
In 2012, with four children in or having graduated from college, he decided to pursue his dream. He enrolled in the School of General Studies, majoring in architecture. This week he graduates cum laude, with honors.
But Lauth, 55 years old, had far more to manage even than students who juggle demanding coursework and a day job. In January 2013, he was diagnosed with metastatic, Stage IV male breast cancer, a rare disease for which there is no cure. While it is far more common in women, the American Cancer Society estimates 2,600 new cases of invasive breast cancer will be diagnosed this year in American men.
Despite the diagnosis, Lauth continued his studies. "I was diagnosed with cancer, but what reason do I have to stop?" As he went through one round of chemotherapy and two radiation treatments, he continued attending classes and working on school projects.
Lauth chose architecture as his major because it dovetailed with his professional experience. Before joining Columbia in 2000, he worked as a property manager for a real estate company and earned an associate's degree in fine arts from Nassau Community College. Lauth started working on the Morningside campus as a building director, responsible for operations of several academic buildings, including the Law School, Business School, School of Journalism and the College, where he worked on the renovation of Hamilton Hall.
In 2005, his responsibilities expanded to include operations manager for renovation of the President's house, the first major renovation of the McKim, Mead, and White designed building in more than a half a century. A promotion in 2006 to director for commercial operations gave him an early role in development of the Manhattanville campus.
"Ed Lauth is the definition of a great colleague – someone you can always rely on to pitch in, and he has a history of taking on and successfully completing the hard jobs," says Mark Kerman, assistant vice president, residential and commercial operations. "He never shies away from hard work. His persistence is inspiring."
La-Verna Fountain, vice president, communications and construction business services in Facilities, says she has been particularly impressed with Lauth's commitment to helping others, vendors as well as colleagues. "I have never met an individual as wholly committed to the full expression of life as Ed Lauth," she says. "Always open to learning, growing, and serving others, he is the epitome of what the human experience is meant to be."
Lauth receives his Columbia degree just after his fourth child, Rachel, graduated from the University of Massachusetts, Amherst. Last fall Rachel wrote about her father for a campus magazine, to share his story and raise awareness about metastatic breast cancer and the limited research money going to Stage IV breast cancer.
In the article she writes about how hard it has been to stay positive during her father's treatment. Through it all, she writes, he "has remained the kind of person he always has been: weird, outgoing, loving, stubborn, grumpy, and incredibly strong." His wife Sandra calls him a superhero. "He just keeps going, despite the roadblocks. It's remarkable the strength he has to bounce back from a terrible illness. I love him very much and am proud of his academic achievements and all he has done to get this far."
Lauth gives particular credit to Karen Fairbanks, chair of the Barnard College Department of Architecture, and his advisor, Vanessa Karahalios, the school's senior assistant dean, for their support and guidance as he earned his degree. "Ed has been an inspiration to everyone --students, faculty, and teaching assistants," says Fairbanks. "His desire to pursue his undergraduate degree, while working full time on campus, demonstrated his fierce commitment to his goals and the fortitude necessary for achieving them."
Said Karahalios, "Ed is one of the most caring, industrious, intellectually curious, and cheerful students I have ever worked with. We at GS are all so pleased to congratulate him on this important accomplishment."
Lauth's health prevented him from attending General Studies' class day or the Commencement ceremony. And now that he has achieved his academic goal, Lauth will likely face another round of chemotherapy. "Fear is what holds back awareness," he says of facing cancer. "One thing I have come to learn through this – approach things with integrity. And show your vulnerability. There is nothing more powerful."