Getting Down to Business Despite COVID-19
For Jenna Kirschner, an MBA defined by community and global immersion has prepared her well for the future.  
May 17, 2020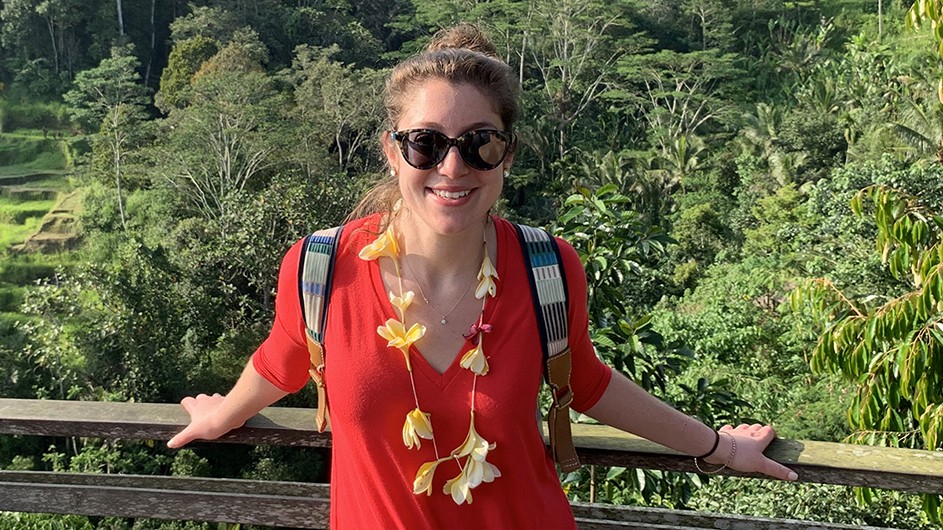 Every evening at 7:00 pm, Jenna Kirschner, who will receive her MBA from Columbia Business School this week, goes out to her front stoop and bangs a wooden spoon on a sauté pan to show her support for frontline workers.
During this global pandemic, she joins her neighbors to cheer on healthcare workers, but her devotion is to the older members of her family. "It's an incredibly scary time for the vulnerable," she said. "I visit with my grandma through her glass front door and drive to see my godmother who looks out from the second-story window of her assisted living facility. I do what I can to provide a sense of calm for them."
Kirschner finds herself back in her hometown on Long Island, living with her parents. Needless to say, when she enrolled in Columbia in the fall of 2018, after working for six years on Wall Street, this was not how she envisioned spending her final months in business school.
That said, she looks back with a smile. Indeed, it's been a transformative experience for her.
"An MBA is more than just an academic degree—it's a communal pursuit in which students collaborate and grow in personal and professional ways that go beyond the classroom," Kirschner said.
And while at Columbia, Kirschner certainly took advantage of all that the Business School had to offer. She was a peer advisor, a role in which she orchestrated first-year orientation and served as a mentor to new students. She was the co-president of the co-ed Volleyball Club, leading the team in competition against rival MBA programs and, through the CBS Reflects organization, she championed diversity, equity and inclusion initiatives on campus. She was also a teaching assistant in both the Management and Marketing departments.
Her involvement in Columbia went beyond the gates at 116th Street. "I eagerly pursued the international travel opportunities afforded by the school, viewing those as not only a chance to enrich my global business acumen, but as a way to build lasting relationships with my peers," she said.
In her first semester she joined a study tour to Indonesia, and, in the following spring semester, she enrolled in a global immersion course that took her to the United Arab Emirates. This past fall, she focused on domestic travel, visiting Decatur, Alabama, with a program dedicated to exploring—and attempting to bridge—the political, economic and social divides of this country. And in January, with the help of the Business School's Chazen Institute for Global Business, Kirschner enrolled as an exchange student at Universidad de San Andrés in Buenos Aires, Argentina.
Kirschner's plan was to close out her final semester with a global immersion course in Ghana, but those plans were canceled because of the global pandemic. That was disappointing, she said, but "figuring out how to maintain a sense of community via Zoom was a new challenge that came in its place, and just one more way the MBA proved to be a growth experience."
Taking classes online has reinforced for Kirschner the incredible friendships she built in her time at Columbia.
"Relationships forged on the steps of Uris as we cheered on arriving first-years, or halfway around the world as we chopped vegetables in a cooking class—those relationships will not wane with social distancing," said Kirschner, who strongly believes that after weathering COVID-19 together, the Class of 2020 "will hold onto each other a bit tighter" for years to come.
Although the upcoming Commencement ceremonies will be conducted remotely, Kirschner is nonetheless excited to don the iconic Columbia blue cap and gown and take a moment to reflect on the journey and the people with whom she shared it. "It's a milestone, and the Class of 2020 deserves to be recognized," she said.
As for what's next, Kirschner is poised for the road ahead. "My Columbia Business School experience has equipped me with knowledge and confidence that will enable me to thrive."