Designing Architecture for People, Animals, and the Natural World
In an online GSAPP event, Thai architect Boonserm Premthada discusses Elephant World, where the large creatures coexist with locals and visitors.
November 04, 2021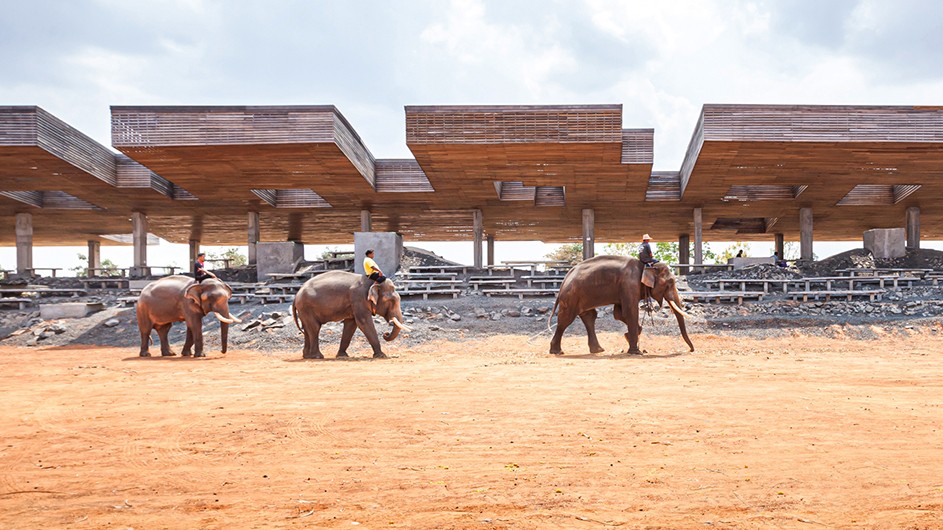 On October 11, 2021, Thai architect and artist Boonserm Premthada delivered an online lecture, "​​Non-Human Centered Architecture," at the Graduate School of Architecture, Planning, and Preservation. Premthada is the founding principal of Bangkok Project Studio and an assistant professor at Chulalongkorn University in Bangkok, Thailand. Andrés Jaque, a GSAPP associate professor and director of the school's Master of Science in Advanced Architectural Design program, joined Premthada for a discussion afterward. 
Taking Cues From Elephants
Throughout his talk, Premthada emphasized the sensory aspect of his design process: "I not only decide the architecture, but I decide the wind, dimness, silence, and shadow." 
This is especially the case with Elephant World, a series of structures built between 2015 and 2020 in Surin, Thailand. The site is home to the indigenous Kuy people, who have lived among Asian elephants—regarded as members of their community—for over 400 years. Premthada began the project by exploring the lives of elephants, who, unlike humans, can't distinguish color, but can detect sounds and scents at long-distance range. 
These elephants have recently been gaining a wider audience, thanks to the younger Kuy generation, who use social media to provide outsiders with a glimpse into their everyday practices. Nonetheless, the elephants, their owners, and mahouts (drivers) are increasingly threatened by a rise in veterinary fees, deforestation and drought, a lack of opportunities, and low wages. In response, Elephant World was funded by the local government as a way to provide suitable living conditions for the elephants and showcase Kuy culture. 
"My architecture performs three functions: It preserves the local culture, revives the forest, and builds a self-sustaining community," Premthada said.
Designing for Interspecies Coexistence
Elephant World comprises three main elements: an observation tower, a courtyard, and a museum. Whereas observation tower visitors typically gravitate to the highest point, Premthada's design features unique layouts and views for each landing on the tower. The structure, which consists of brick columns with concrete, cast-in-place cores, is perforated throughout to facilitate ventilation. Guests are encouraged to support reforestation efforts by dropping seeds from the top of the 92-foot-tall tower. A seed can land about 160 to 330 feet away after being thrown from there.
The Elephant World courtyard is used to host recreational, cultural, and religious events. The design is based on a traditional Kuy house—Premthada affirmed that "simple architecture is louder"—which is characterized by a gable roof that extends far beyond the dwelling. These houses are typically raised on stilts, enabling elephants to wander below roof canopies and use columns as makeshift scratch posts. Elephants can do the same thing against textured columns set across the Elephant World courtyard. Beneath the gable roof, visitors occupy seating constructed atop basalt ridges, which the elephants can't climb. The sloping terrain, together with shafts of light that penetrate the roof's tapered openings, define a porous boundary between humans and elephants.      
For the Elephant Museum, the final building at the complex, Premthada once again was inspired by vernacular architecture, specifically the idea that "the Kuy house has no boundary and no fence." The museum looks like a maze of wavelike walls, with facilities hidden in between. Elephants pass freely through its outdoor passageways, which creates surprising encounters as visitors spot them from inside the museum. These passages also provide a generous supply of sunlight and ventilation throughout the structure.
For the entire complex, Premthada employed construction processes that minimize waste and take advantage of local talent and resources. Nearby sites that were excavated for construction material were later transformed into two water reservoirs, enabling rainwater harvesting for Elephant World. And all of the structures feature compressed earth bricks, fabricated by local craftsmen who received training at the beginning of the project. 
Architecture Attuned to Other Forms of Life
During their conversation, Jaque said that Premthada is "moving toward a notion of architecture that is not about sheltering, but rather about producing opportunities for architecture and humans to be attuned with other humans and other forms of life. It's more about understanding how our sensitivities require calibrations, and how we need to make an effort to support other lives, and to be supported by others."  
At the beginning of the project, Premthada said that he had to resist the government's desire to "Disney-ify" Elephant World and maximize tourism profits. By sharing his extensive research on elephants, he successfully argued for a future-facing development informed by local traditions and culture. 
"It's about an innovation that is hiding inside," Premthada said.
---
Shannon Werle is the digital editor in the communications office at GSAPP.