Increasing the Visibility of the Humanities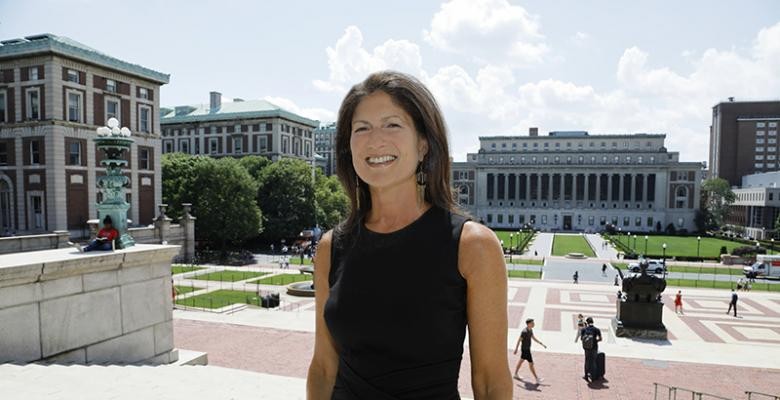 Sarah Cole divides her new role as dean of humanities in the Faculty of Arts and Sciences into three parts: as the liaison between the University administration and the 13 departments she oversees, supporting and promoting the work of those departments and their faculty, and encouraging those departments' best practices.
All three will be in play this fall. One major task will be working with department chairs to implement recommendations of a Faculty of Arts and Sciences committee to improve equity for women and underrepresented minorities among the faculty. The report is expected in September, along with separate reports from committees in the social science and science divisions.
"It's one thing to say, 'We need to change departmental cultures that favor men or that make women feel marginalized or silenced,' it's another to figure out how to do something about it—there are no easy fixes," said Cole, who is also Parr Professor of English and Comparative Literature and was chair of the English department before becoming dean in January. "As these equity recommendations roll out, I and my fellow divisional deans, along with others here in Low Library, will try to help departments rethink what they do," she said.
Also on her agenda this fall are panel discussions, open to all on campus, where new faculty members in the Humanities will discuss their work. And she looks forward to working creatively in the area of public humanities, including welcoming Public Books as part of Columbia. It is an online book reviewing and discussion platform cofounded by her predecessor as dean of humanities, Sharon Marcus, the Orlando Harriman Professor of English and Comparative Literature.
Another project she is developing involves a multi-year, multidisciplinary study of the effects of war.
"There are people working in every single humanities department—religion, music, philosophy, art history, classics, all the language and culture departments, English—all examining questions around war," Cole said. She envisions conferences and events, and collaborations with the social sciences, natural sciences and professional schools, such as the School of International and Public Affairs, the Law School and the Journalism School.
Like her fellow divisional deans, she wants to make people outside the University more aware of the work of Columbia's scholars, with increased visibility in the media and public events, around issues such as the environment, culture, justice, and the arts. She also hopes to make increasingly visible what faculty are doing in and around New York City. The art history department, for example, works with museums on exhibitions, and the music department has programs for children.
"Some see universities as irrelevant and locked in their internal bubbles, she said. "That is far from the truth, as most of us on this campus know."
Cole, who joined Columbia in 1999, specializes in British literature of the 19th and 20th centuries, with an emphasis on the modernist period. She is the author of At the Violet Hour: Modernism and Violence in England and Ireland, and Modernism, Male Friendship, and the First World War. A book about H.G. Wells, for which she was awarded a Guggenheim Fellowship in 2014, will be published by Columbia University Press in 2019.
She recalls what it was like coming to Columbia as an assistant professor just two years after earning a Ph.D. from University of California, Berkeley, and now sees herself as an ally for junior faculty—she wants to make sure they get the necessary support they need to fulfill the promise they showed when they were hired and to make their years as junior faculty as positive as possible. Although she didn't teach last semester while focusing on her role as dean, she has continued to meet with and mentor graduate students and hopes to be able to return to the classroom before her three-year term as dean ends. "Teaching is the best part of what we do; it keeps you sharp, keeps you thinking," Cole said. "I don't want to lose touch with that."
Meanwhile, she is helping her 13 departments with hiring and recruiting, moving tenure cases along, attending to the needs of a large number of centers and institutes, and keeping communication constant so she can be part of what they're doing. "Columbia is a very unusual place in that the humanities are thriving," she said. "These departments are doing groundbreaking, original, creative and wonderful work in teaching, faculty research and in what their students are doing. It's my role to support that, promote it, help to publicize it."