Indigenous Art and Culture Find a Voice at Columbia
From conferences to exhibitions, Native American artists and their work can be found on campus.
June 24, 2019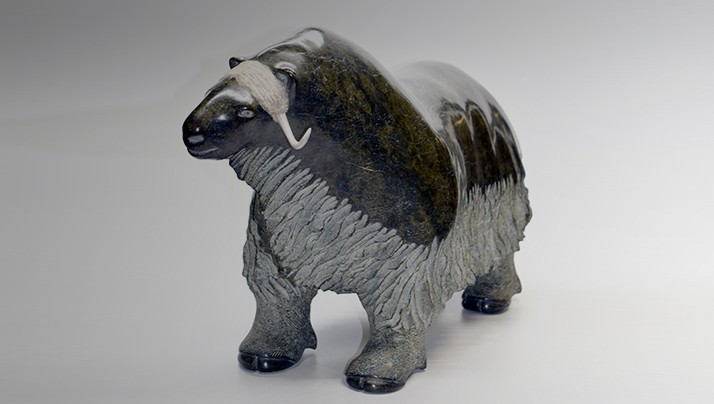 Elizabeth Hutchinson, the Tow Associate Professor of Art History at Columbia's Barnard College, has been teaching Native American art history courses since arriving here in 2001, and has mounted exhibitions and events on campus that focus on indigenous art and culture.
She has made it her mission to redress the misrepresentation of indigenous art in mainstream culture through her activities. "Universities and museums have played a powerful role in circulating these misconceptions, which generally present indigenous culture as an object of study by non-natives. As a result, it can be painful for native people to engage with collections of indigenous art modeled on colonial power," said Hutchinson.
"Not everybody thinks art history is a central place for engaging cultural politics, but the material we study demand it. All of my classes start from a commitment to teaching about America as a settler colony whose history is grounded in slavery and dispossession," said Hutchinson. It's also important that her students understand the Native American Graves Protection and Repatriation Act, a 1990 law that specifies the process for museums and federal agencies to return certain Native American cultural items—human remains, funerary or sacred objects, and works of cultural patrimony—to lineal descendants and culturally affiliated tribes.
In 2015 Hutchinson and a group of graduate students co-curated Messages Across Time and Space: Inupiat Drawings from the 1890s, an exhibition of works from Columbia's art collection that convey the vibrancy of Inupiat life and culture during the American colonization of the Alaska native territory.
 [Watch a video of Hutchinson and others discussing the exhibition.] 
In 2016 she co-organized "Exhibiting Culture," a panel discussion at Barnard that included curators from the Anchorage Museum in Alaska, the National Museum of the American Indian in New York and the Metropolitan Museum of Art in New York, along with two indigenous artists.
During the 2020-2021 academic year, Hutchinson will work with students to organize an exhibition of 10 stone carvings by important Iñuit artists that were recently given to the University art collection, a part of Avery Architectural and Fine Art Library's Art Properties. Some of these works are now on view through Sept. 13 in Animalia, an installation of sculptures and cultural artifacts from the collection in Avery's Wallach Study Center. Organized by Roberto Ferrari, curator of Art Properties, the pieces in the show express the strong ties that have always existed between humans and animals, and the importance of nature in the lives of the artists who made them.
"Intercultural appreciation of Native art is an important way to understand cultural difference."
The issue of how cultural institutions deal with the ruinous legacy of colonialism is part of a growing trend occurring not just in North America, but globally as well.
In November 2018 a pivotal report commissioned by French president Emmanuel Macron called for possibly thousands of artworks in French museums to be returned to West Africa, from which they were acquired during the colonial era. Four months later, German culture ministers followed suit, pledging to establish protocols for repatriating colonial-period artifacts from public collections throughout the country. And this past April, the Art Institute of Chicago postponed a major exhibition Worlds Within: Mimbres Pottery of the Ancient Southwest weeks before its opening over concerns about a lack of indigenous input into the discussion of how and whether to display works excavated from human graves.
"Repatriation is one powerful response to this problem, but it's not the only one for many practical and legal reasons. There are other strategies for actively reshaping museum practice," said Hutchinson, who organized a recent daylong conference on this subject at the Italian Academy—Resisting, Reclaiming, Reframing: Indigenous Communities and Art Museum Collections—during which indigenous artists and curators discussed the marginalization of their perspectives in the collections and displays of native culture in museums in the United States and Canada.
Beyond campus, Hutchinson is on the advisory committee for Art of Native America: The Charles and Valerie Diker Collection, a long-term exhibition of indigenous American art on view at the Metropolitan Museum of Art. During the exhibition's planning phase, the committee worked with curators to ensure that indigenous views were reflected in the installation and ancillary educational programming.
"Intercultural appreciation of native art is an important way to understand cultural difference, and ideally that's what happens at the Met," Hutchinson said.
Wanda Nanibush, a curator at the Art Gallery of Ontario in Toronto who participated in the Columbia conference, said, in an article in the The New York Times, "Museums are the cultural keepers. We come to them to learn our stories, to find out what our humanity is."