Journalism Professors Create a Portrait of Ruth Bader Ginsburg in New Documentary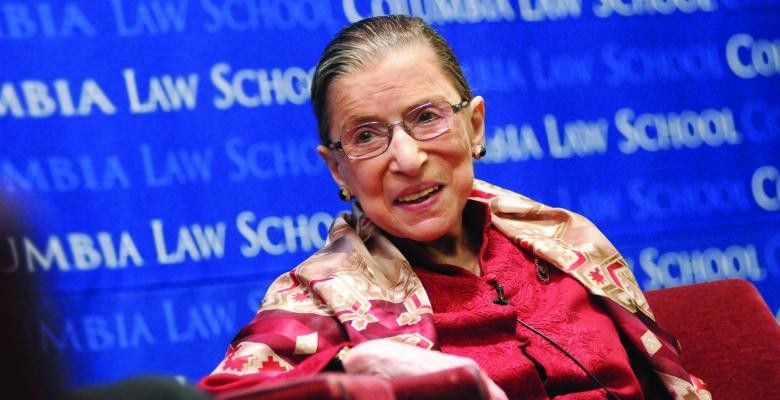 U.S. Supreme Court Justice Ruth Bader Ginsburg (LAW'59) turns 85 in March but has the energy of someone half her age. She works out twice a week with a trainer in the Supreme Court gym, doing pushups and planks, and lifting weights; travels extensively for speaking engagements and opera festivals, and had a small speaking role in a 2016 Washington National Opera production of The Daughter of the Regiment.
This January, she was a star at the Sundance Film Festival, where she watched the premiere of RBG, a documentary about her life that was co-directed by Betsy West, Fred W. Friendly Professor of Professional Practice in Media and Society at Columbia's Journalism School, and Julie Cohen (JRN'89), an adjunct in the school's documentary program.
On Feb. 11, Ginsburg came to Columbia for an Alumni Association-sponsored women's conference called "She Opened the Door," where she was interviewed by CNN's Poppy Harlow (CC'05). The inaugural conference was named in honor of Winifred Edgerton Merrill, who in 1886 was the first woman to receive a degree from Columbia—a Ph.D. in mathematics.
The phrase "She Opened the Door" is easily applied to Ginsburg, who as a lawyer fought gender discrimination for years before she was named to the U.S. Court of Appeals for the D.C. Circuit in 1980 and the Supreme Court in 1993. She founded the Women's Rights Project at the American Civil Liberties Union in 1972 and was the first woman to be a tenured professor at Columbia Law School, where she taught from 1972 until 1980.
She was the second woman named to the Supreme Court, after Sandra Day O'Connor, and today is the longest-serving Justice. She survived two cancers without missing a day on the bench and has said she will continue to "do this job as long as I can do it at full steam."
"Had she not been a Supreme Court Justice, she would still have a big place in history for what she did for women's rights and for gender equality," said West. "Her Supreme Court chapter makes it all the more relevant today."
The documentary begins with Ginsburg looking straight into the camera as she quotes 19th century abolitionist and feminist Sarah Moore Grimké, "I ask no favor for my sex. All I ask of our brethren is that they take their feet off our necks," words she also quoted in her 1993 Senate confirmation hearing, after she was asked about her views on women's rights.
In her nearly 25 years on the Supreme Court, Ginsburg has become known for her impassioned dissents in cases involving equal pay, voting rights, access to contraception, and abortion rights, among other things. She came to be widely embraced as the Notorious RBG, the title of a 2015 biography inspired by a fan blog on Tumblr.
"She's this huge icon, people really love her, yet there's this amazing back story that people just don't know, even her big fans don't understand the history," said Cohen. "The other part of the story that people don't know is a love story," added West. "She had a surprisingly supportive husband whom she married as a very young woman, who was successful in his own right but ultimately stepped back from his career when it became clear that she was on a trajectory to become a federal judge and possibly a Justice."
West and Cohen, both documentary filmmakers who each had interviewed Ginsburg for other projects, decided more than three years ago to make a film about her life. In producing the film, they interviewed more than two dozen of Ginsburg's friends, associates and family members, as well as former President Bill Clinton, who nominated her to the Supreme Court in 1993, and Senator Orrin Hatch (R-Utah), who was the ranking Republican on the Senate Judiciary Committee at the time.
Ginsburg's children, Jane Ginsburg, the Morton L. Janklow Professor of Literary and Artistic Property Law at Columbia Law School, and James, a classical music producer in Chicago, are also interviewed, recalling what she was like as a mother. There are home movies and still photos from Ginsburg's early years, photos and video with her husband, Martin, who died in 2010, and footage of her public appearances.
How West and Cohen got access to a Supreme Court Justice and the people around her is a lesson in perseverance. When they first approached Ginsburg with a proposal, the reply was in effect, "Thank you very much for this idea, but not yet." Because she didn't say "no," they began having informal conversations with people around her to try to reframe the proposal.
A few months later, in 2015, they wrote Ginsburg another letter with a more specific proposal. "We basically said we don't need to bother you right away for an interview, but we'd love to start talking to your former colleagues and friends and putting together the full picture of your life," West recalled. They included a list of people they wanted to speak with. Ginsburg replied that she might be ready for an interview in two years and added a few names to their list. "We took that as a kind of green light, a flashing green light," said West.
They got development funding, and later full support, from CNN Films. Amy Entelis (JRN'79), an executive vice president of CNN Worldwide, is an executive producer of the documentary.
Ginsburg did sit down for an interview in 2017, and also allowed them to film her at the gym, watching operas, and in her home, where the documentary shows her working at her desk and looking at family photographs with her granddaughter.
Ginsburg burst out laughing when the filmmakers showed her clips of Kate McKinnon portraying her on Saturday Night Live, which she had not seen before. She opens a closet to show them the decorative collars she wears with her black judicial robe—one for majority opinions and another for dissents.
West and Cohen sat across the aisle while Ginsburg watched their film for the first time at Sundance; she hadn't asked to see it before. When it started, with the overture to Rossini's Barber of Seville in the background, they heard her whisper to the friend sitting next to her, "Well, I like the music." They watched as she laughed, and occasionally dabbed her eyes with a tissue. In a question and answer session afterward, Ginsburg said she was moved by the film.
The film ends with a clip from Ginsburg's 1993 confirmation hearing. "The spirit of liberty that imbues our constitution must reside first and foremost in the hearts of the men and women who compose this great nation, a community where the least shall be heard and considered side-by-side with the greatest," she said, quoting Learned Hand, a renowned federal judge of the early 20th century. "I will keep that wisdom in the front of my mind as long as I am capable of judicial service," Ginsburg added.
Distribution of RBG to theaters is expected this spring or summer. It will be broadcast on CNN later this year.