Journalism School Professor Appointed to Help Guide Columbia's Digital Learning
Sree Sreenivasan assumes his new job as Columbia's first chief digital officer at a moment when online and distance learning are hot button issues in higher education. 
August 27, 2012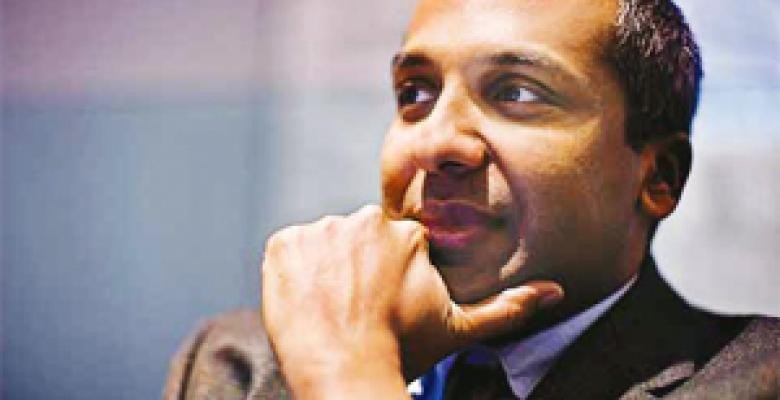 Last year, for example, 160,000 people registered for an online artificial intelligence course at Stanford, though a little more than 20 percent were reported to have completed it. Over the summer, the University of Virginia board briefly ousted, then reinstated, a popular president due in part to concerns that the school was lagging behind in online education.
Sreenivasan, a noted expert in new media and digital technology, doesn't appear the least bit worried about steering the University's online and distance learning.
"There is so much noise about online learning in higher education, but there is really no need for panic," said Sreenivasan. "It's like 1996 right now—before Google or Wikipedia. The conventions haven't been set yet. Columbia has been doing its job very well for 250 years. This next step must be thoughtful and strategic."
Sreenivasan comes to the new post in the provost's office after 20 years at the Graduate School of Journalism, where he was most recently dean of student affairs. After completing a master's there in 1993, he joined the school's faculty at age 24 and was soon captivated by a brand new course—cyberspace reporting.
"Technology wasn't a part of journalists' work then, so this was fascinating to me," said Sreenivasan, who helped pioneer the journalism school's now renowned digital media program.
Over the years, Sreenivasan has remained ahead of the technological curve, teaching journalists computer-assisted reporting in newsrooms that had only one computer connected to the Internet and conducting sessions for students on a little-known search engine with the odd name of Google when Dogpile was the preferred choice.
He has established himself as the go-to person on all things social media—both on and off campus. AdAge listed him as one of the 25 media people to follow on Twitter, and Newsweek ranked him among the 20 most influential South Asians in America.
In his first month at Columbia's digital helm, Sreenivasan has begun surveying platforms for online learning at other institutions and considering how pedagogy translates to an online classroom. "There is a lot to be gained by a slow and considerate approach," he said. "I don't have the answers yet. I'm still asking questions. What's working and what's not at other schools?"
For some answers, Sreenivasan can look within Columbia, where several schools have already put courses and degree programs online. The School of Continuing Education offers a master of science in information and knowledge strategy, a hybrid program that combines online learning with three five-day residencies over 16 months, and a business certificate program that can be taken entirely online, on campus or through a combination of the two. "New programs are on the drafting table now, and we look forward to working with Sree and other Columbia deans and faculty to explore networked learning across the campus," said Kristine Billmyer, dean of the School of Continuing Education.
At the Fu Foundation School of Engineering and Applied Science, programs, including master's in biomedical, chemical and civil engineering, are available to distance learners. Columbia's Center for New Media Teaching and Learning, founded in 1999 to enhance teaching through technology, offers, among many services, a digital classroom in Lewisohn Hall, where faculty can experiment with new technological and pedagogical strategies.
Down the road, Sreenivasan expects the University will experiment with more than one online learning platform and may determine that certain platforms are better suited to particular Columbia schools. "We aren't trying to centralize online learning, but rather have a central place thinking about it," he said. "We will be dealing with a new generation of students who will expect to learn in different ways. The Web has become part of our education and everything else that we do."
Columbia University President Lee C. Bollinger said, "While we believe that the personal, human experience of living in a community of diverse scholars and students pursuing knowledge and understanding will and should endure over time, new communications technologies can be helpful to that fundamental educational process and extend it to many other people who are curious to learn."
Online learning, however, is not synonymous with distance learning. Sreenivasan suggested that online components to courses taken right here at Columbia could become more common in the future. "With certain material, there is great potential for online learning," he said. "Traditional students should benefit, too." There will also be room for hybrid residency/online courses through Columbia's Global Centers, now established in Asia, Europe, Africa and South America.
"Our goal is to ensure that we deploy new tools and technologies in interactive and distance learning to ensure the richest and most dynamic educational environment possible for Columbia's students as well as learners outside the University," Provost John Coatsworth said.