Launching New University Homepage
The new homepage was developed internally by a collaboration of talented staff at CUIT and our Office of Communications and Public Affairs, with extensive input from every segment of the University community: students, faculty, staff, alumni, and visitors from outside Columbia, as well. The team was guided by online surveys, in-person focus groups, design-thinking workshops on campus, user testing, and site analytics.
The result is a mobile-friendly, ADA-compliant columbia.edu, including some second- and third-level pages, with simplified navigation and multiple ways to find and access key content.
The redesign also reflects best practices surveyed at dozens of peer institutions, moving many of the items found in traditional "nav bars" to larger, more visible locations on the page. The design highlights what analytics have shown are most popular links used by Columbians and visitors, while maintaining quick accessibility to the A-Z Index and adding a so-called "fat footer" with an extensive list of key sites and resources. Other user-friendly features include an event list that is a direct feed from the University Events Calendar.
Image Carousel with 5 slides
A carousel is a rotating set of images. Use the previous and next buttons to change the displayed slide
Slide 1: The new columbia.edu homepage

Slide 2: The A-Z Index now features more entries, better organized and searchable.

Slide 3: Research.columbia.edu is now an aggregation of research news and resources from across Columbia's campuses.

Slide 4: Services.columbia.edu provides a single place to find services provided on the Morninside and Medical Center campuses.

Slide 5: The homepage now features a larger number of events from across Columbia's campuses through a direct feed from the University Events Calendar.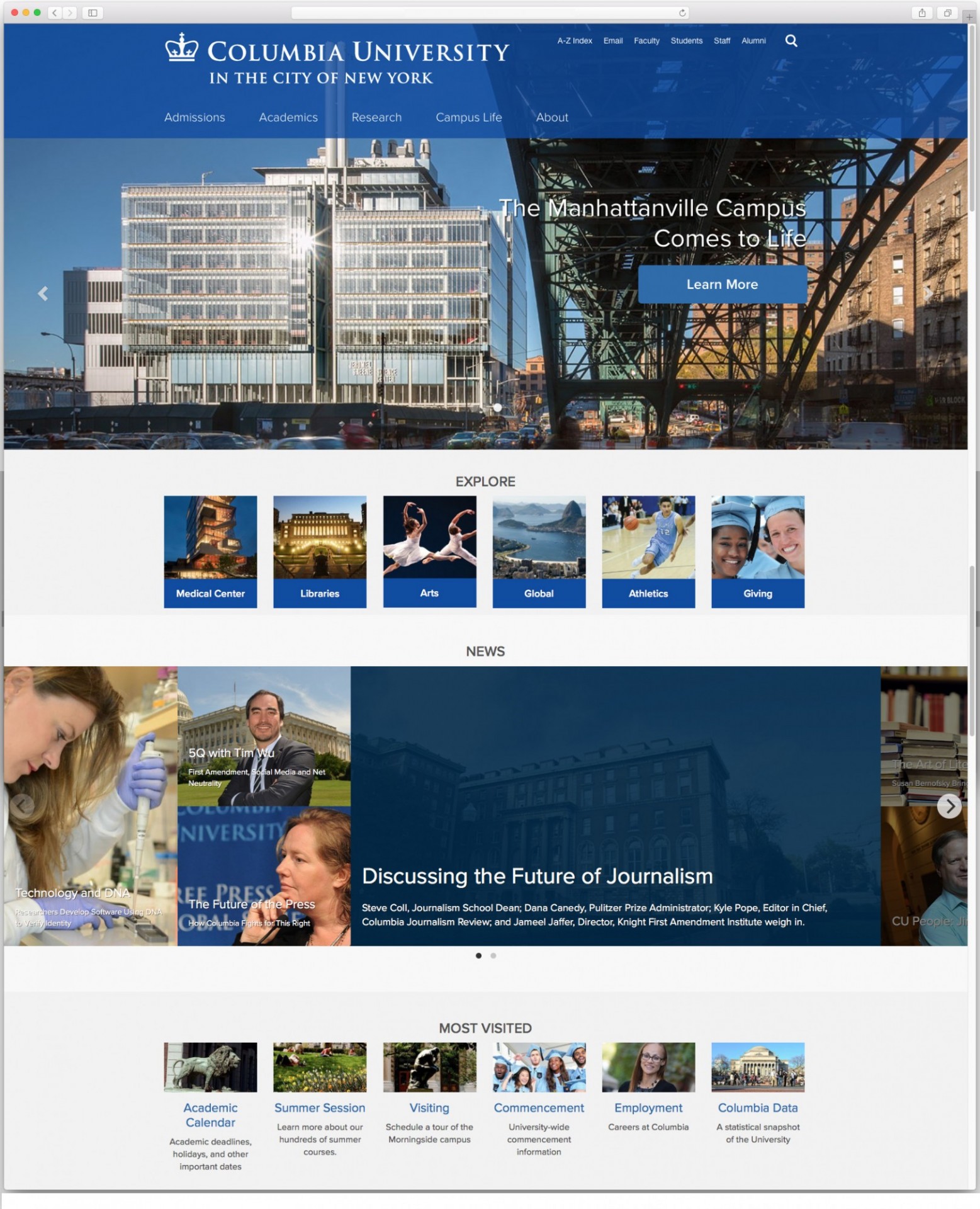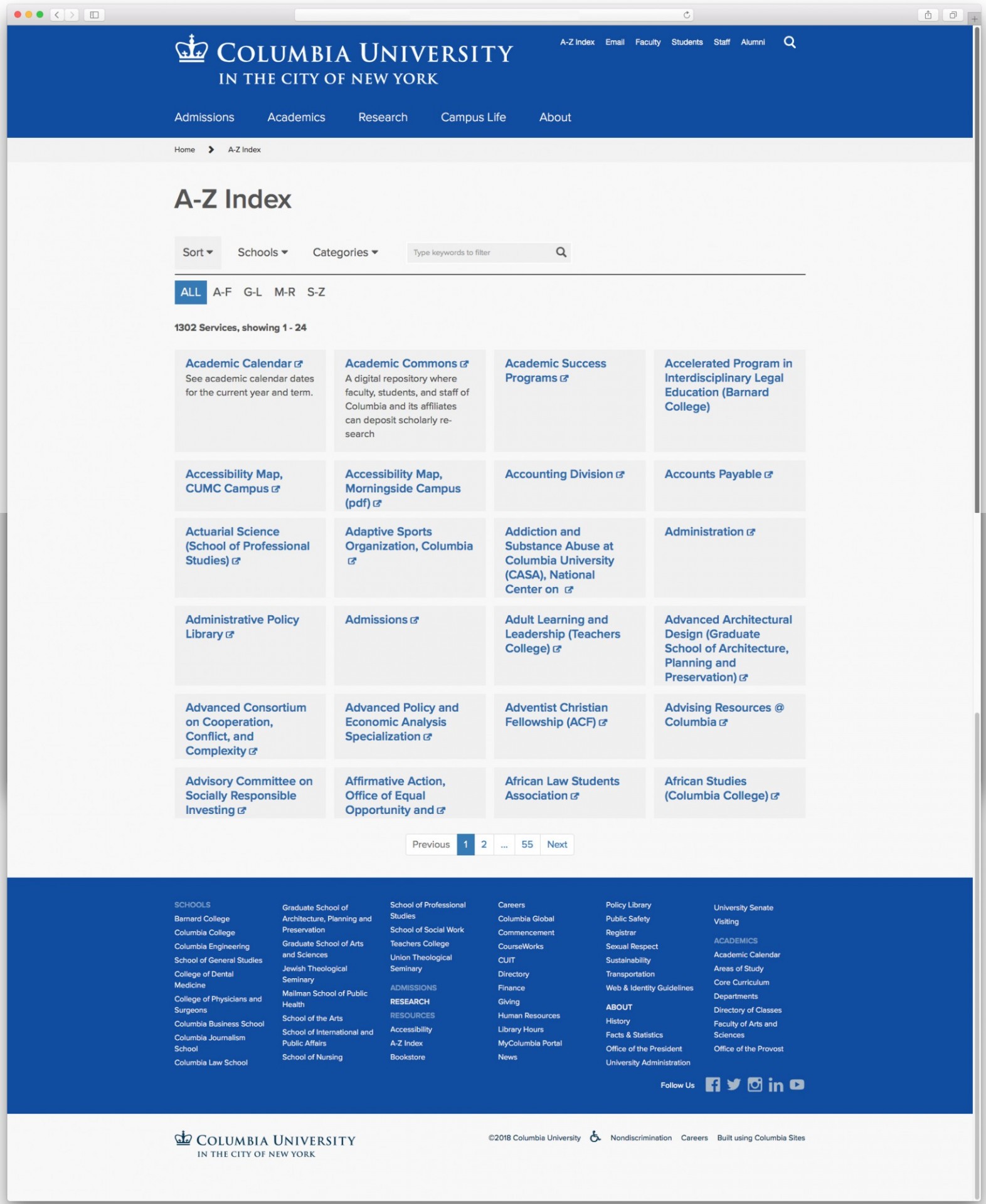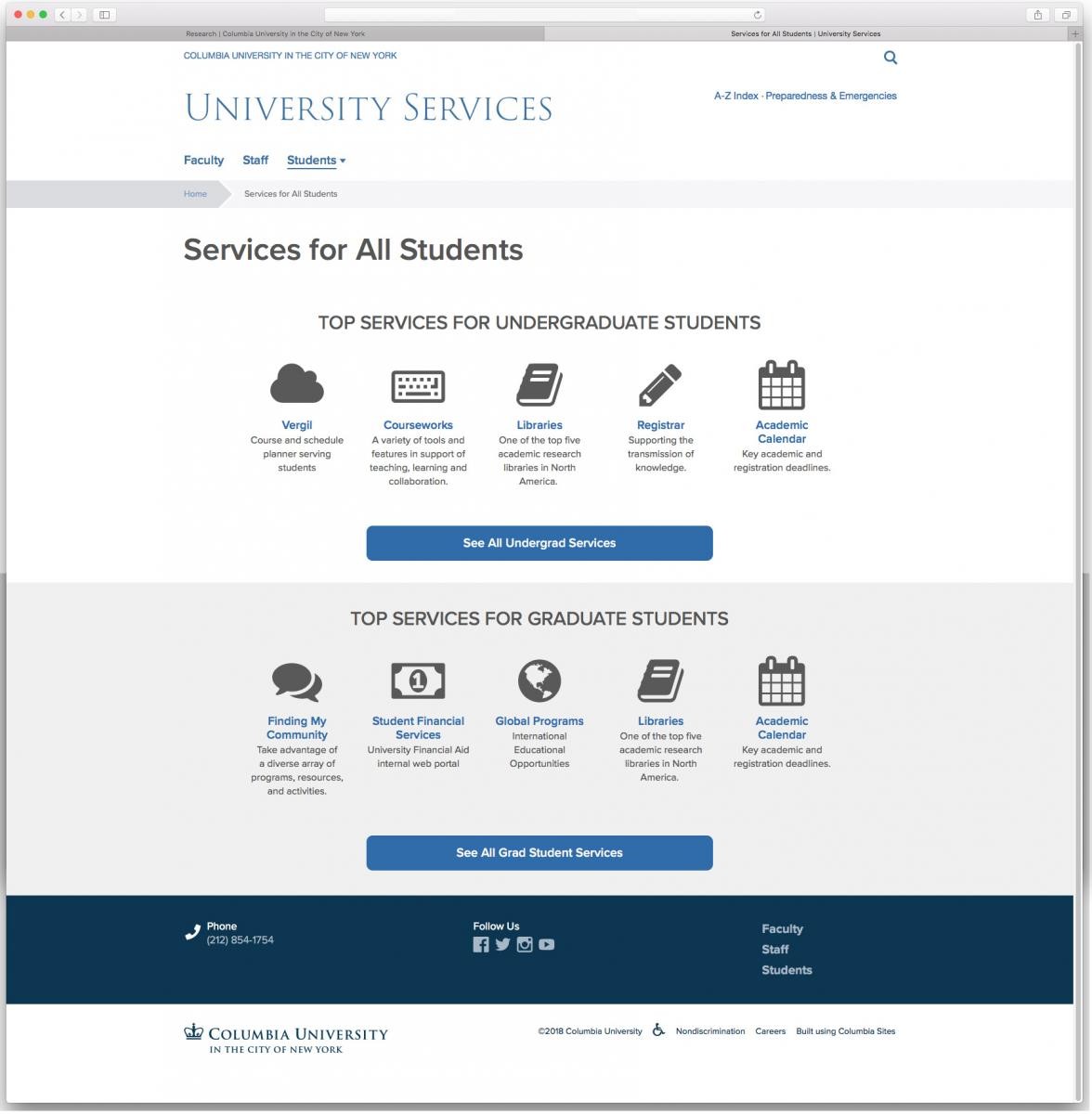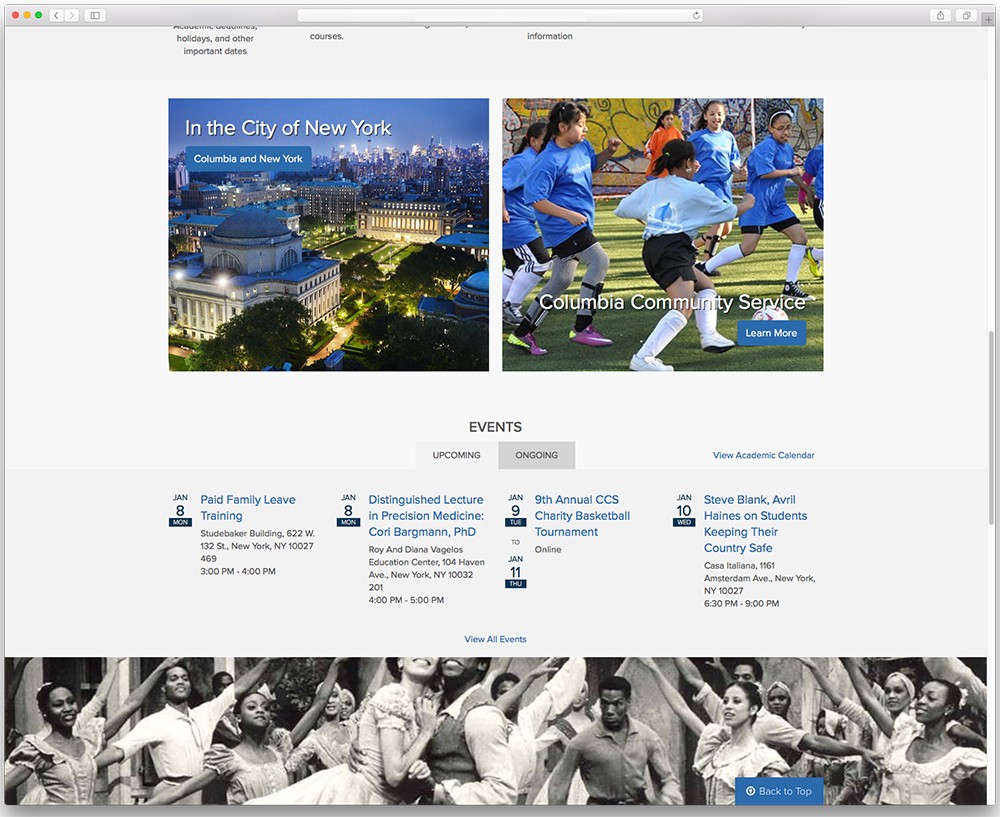 Previous
Next
For those both within and beyond our campuses, the new columbia.edu provides a more dynamic platform for a range of storytelling about the University, from video to social media.That depth of editorial content is a key purpose of university homepages that must not only serve the academic community, but also provide a digital front door for users all over the world interested in learning about Columbia.
The new homepage is built on a customized version of the Columbia Sites platform that more and more departments, labs, and offices are adopting because of its flexibility, cost-efficiency, and most importantly, responsiveness and accessibility to all users, regardless of the device or assistive technology.
How Is the New Site Better?
Uncluttered, modern design reflecting Columbia's academic and research excellence
Mobile-friendly design and content that looks great on screens of all sizes
Technical upgrades that assist users with hearing, visual, and mobility impairments in accessing content
Simplified navigation and content structure that allows the homepage to expand its editorial mission and showcase research, cultural opportunities, educational programs, and civic engagement
Multiple options for locating and consuming key content
Real-time content updates
User-friendly content management system that makes updating the site easier
Enhanced search experience
Social media integration
More complete and better-organized directories
Integration with the University Events Calendar