For Law School Graduate, Success Is Making a Difference in People's Lives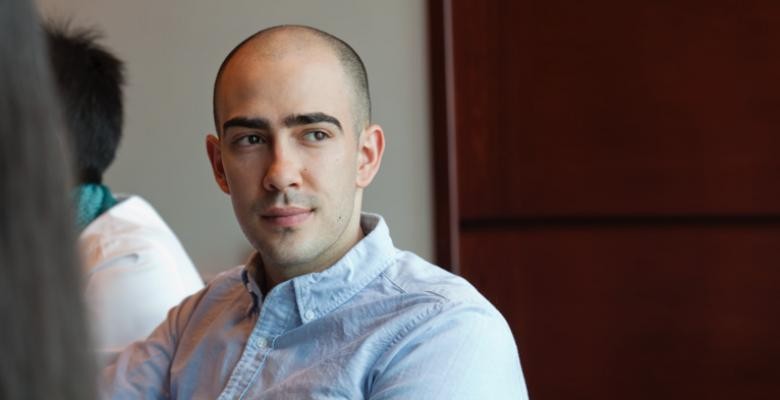 Luis Gabriel Hoyos was 18 years old in 2005 when he came to the U.S. from his native Colombia with a scholarship to attend Vassar College. Shortly after he graduated, he testified before an immigration judge in Houston on behalf of an uncle who was about to be deported after working and living in the U.S. for 14 years and paying taxes.
That experience, as well as meeting other immigrants who were just as smart, just as hard-working and just as ambitious, stirred his interest in immigration law. "It was eye-opening," he says. "It made me realize the system was broken and we have to fix it." With a Maguire Fellowship from Vassar, Hoyos studied in South Africa for a year and then worked as a paralegal while he applied to law school.
He will receive his J.D. degree from Columbia Law School on May 18.
He chose Columbia for its wide-ranging course offerings, its legal clinics and its location in New York. "In New York the world is your oyster," he says. "The opportunities for internships and externships are amazing." In his second year he worked at the national headquarters of ACLU on an LGBT rights project.
Working in the Law School's Immigrants' Rights Clinic, Hoyos represented and won asylum for three siblings from Honduras who had fled violence and abuse from family members and gangs. He remembers walking out of a six-hour asylum hearing certain he had won, although he had to wait two weeks for the formal decision. "It's an amazing feeling to know you made a difference in someone's life," he says.
He recently won the Clinical Legal Education Association's Outstanding Student Award, which goes to one graduate or recent graduate at each law school.
Elora Mukherjee, an associate clinical professor of law who oversees the immigration rights clinic, has become a mentor, Hoyos says. He also was inspired by Bernard Harcourt, the Isidor and Seville Sulzbacher Professor of Law, who teaches criminal law. "He forces students to think about the real impact of intrinsic inequalities within the law," Hoyos says. "When I think about my career, I want to be that type of lawyer, who thinks about the law holistically."
The Law School faculty impressed him in other ways. In the fall of his first year as a law student, he was talking with several friends after a civil procedure class about not being able to go home for Thanksgiving. Within minutes they received an email invitation from Sarah Cleveland, the Louis Henkin Professor of Human and Constitutional Rights, who had been teaching the class and overheard their conversation. \"We cooked with her, met her family and got to know her," he recalls. "That's emblematic of what the faculty at Columbia Law School really is about. They care about us as people."
Faculty members return the praise. "From the very first class, Luis lit up the classroom with his humor, wit, and style," says Harcourt. "He had a genuine knack for creating community—both intellectual and collegial. In a word, Luis is a gem."
Away from campus, Hoyos has enjoyed the opera, the ballet, and Broadway shows. And he leads a group of students and faculty from the Law School called Running from the Law, seeing the city on runs around New York's five boroughs.
But as much as he has liked living in New York, he heads to San Francisco after graduation for a job with Morrison and Foerster, where he was a summer associate last year. In 2018 he will return to the city for a clerkship with U.S. District Court Judge LeShann DeArcy Hall in the Eastern District of New York.
Hoyos isn't sure what he'll do after that, it could be immigration law, LGBT rights law, social justice advocacy or a combination of the three. He also may consider a career in government. "One of the things I've loved about Columbia is that I never felt I had to choose the kind of lawyer I want to be. I'm excited to take the different paths and test them."