Maria Moors Cabot Prize, President's Global Innovation Fund Awards, Fulbright U.S. Student Program Grants
From science to engineering, writing to social sciences, here are the Columbians who received awards recently.
August 11, 2022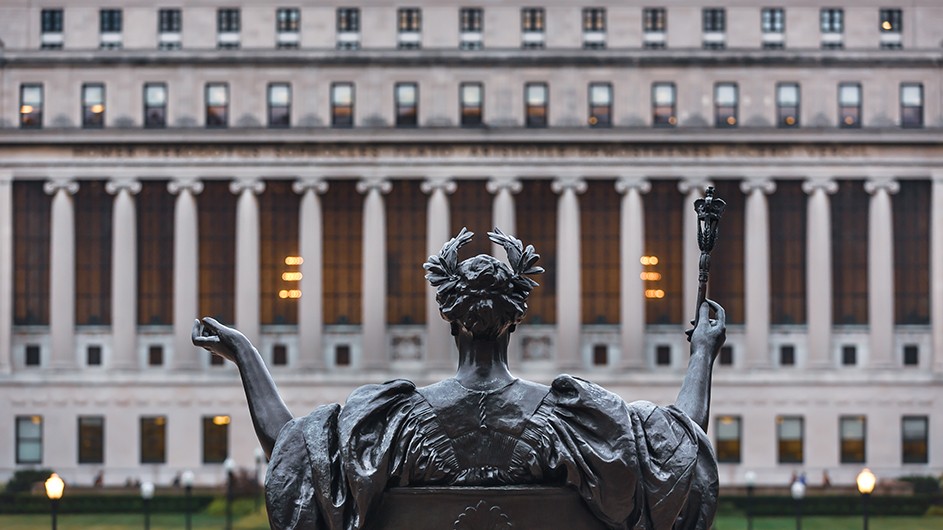 Columbia News produces a biweekly newsletter (subscribe here!) and article series featuring a roundup of awards and milestones that Columbia faculty, staff, and students have received in recent days. In this edition, you'll find awards and milestones from July 14 to August 11, 2022. 
Have an award or milestone you'd like to have featured in the newsletter or article online? Please send an email to [email protected]. Note that we'll be running this series every other week. 
You can take a look at past accomplishments on our Awards & Milestones page. And you can subscribe to receive the newsletter in your inbox. 
FACULTY
The Office of the President, the Office of the Provost, and the Columbia Global Centers recently announced the nine recipients of the President's Global Innovation Fund awards for 2022. With this support, faculty from across the university will conduct scholarly projects leveraging five of Columbia University's network of nine Global Centers, exploring a wide range of issues that advance our understanding of climate and sustainability, health and medicine, and social justice and equity.
ARTS & HUMANITIES
Daniel Alarcón, assistant professor at Columbia Journalism School, received a 2022 Maria Moors Cabot Prize, in recognition of his distinguished body of work that has contributed to Inter­-American understanding.
Jennifer Boylan, professor of English at Barnard College, was named a 2022–2023 Harvard Radcliffe Institute Fellow.
Andrew Delbanco, Alexander Hamilton Professor of American Studies at Columbia University and president of the Teagle Foundation, will deliver the 2022 Jefferson Lecture in the Humanities at the National Endowment for the Humanities. The Jefferson Lecture is the NEH's highest honor, which the federal government bestows for distinguished intellectual achievement in the humanities.
Brent Edwards, Peng Family Professor of English and Comparative Literature, was named one of the inaugural Ford Foundation Scholars in Residence at The Museum of Modern Art.
Barbara Faedda, executive director of the Italian Academy and adjunct professor in the Italian Department, was recently named a "Commendatore della Repubblica" (Commander of the Order of Merit of the Italian Republic) by the President of the Italian Republic. The highest ranking honor in Italy, it is awarded for merit in the fields of literature, the arts, economy, public service, as well as social, philanthropic, and humanitarian activities, and for long and conspicuous service in civilian and military careers.
SCIENCE & MEDICINE
Brooke Aggarwal, assistant professor of medical sciences, Department of Medicine, Division of Cardiology, Columbia University Irving Medical Center, was elected a fellow of the New York Academy of Medicine.
Linda Fried, dean of the Mailman School of Public Health, DeLamar Professor of Public Health Practice, and professor of epidemiology and medicine, was named to the New York City Economic Development Corporation's expanded Life Sciences Advisory Council.
Ana Kelly, assistant professor at Columbia Nursing, was named a 2022 Nurse Honoree by Nurses With Global Impact, Inc.
Ruth Masterson Creber, Lusine Poghosyan, and Jingjing Shang, faculty members at the School of Nursing, were inducted into the Sigma Theta Tau International Honor Society of Nursing's Researcher Hall of Fame.
Vincent Racaniello, Higgins Professor of Microbiology & Immunology, was awarded the ASV Wolfgang and Patricia Joklik Distinguished Service Award from the American Society for Virology, in recognition of his service to the field.
Jaime Rubin, vice chair for investigator development and professor of medical sciences (in medicine) at Columbia University Irving Medical Center, was awarded a Fulbright Scholarship to work with the Republic of Kosovo's Ministry of Education, Science, Technology, and Innovation.
SOCIAL SCIENCES
Mario Small, Quetelet Professor of Social Science in the department of sociology, was recently named the inaugural Social Science Research Council Katznelson Fellow. Named in honor of former SSRC president Ira Katznelson, this annual fellowship recognizes distinguished scholars whose research, pedagogy, and writing exemplify innovation and boundary crossing in the social sciences. Professor Small will deliver the first annual SSRC Katznelson Lecture on September 23.  
Amy Stuart Wells, professor of sociology and education at Teachers College, was elected a fellow to the British Academy.
STUDENTS
Meghna Sitaram (GSAS, PhD) and Navin Sridhar (GSAS, PhD) were recently named recipients of Future Investigators in NASA Earth and Space Science and Technology (NASA FINESST) awards.
ALUMNI
Sixteen recent Columbia University alumni have been awarded 2022-2023 Fulbright U.S. Student Program grants, which offer funding for students and young professionals to undertake individually-designed international research and study projects or primary and secondary school teaching in English-language classrooms around the world.