An Architect Who Relies on the Importance of Memory
In an online GSAPP event, Nigerien architect Mariam Kamara discusses the role that memory plays as a blueprint for her work.
October 21, 2021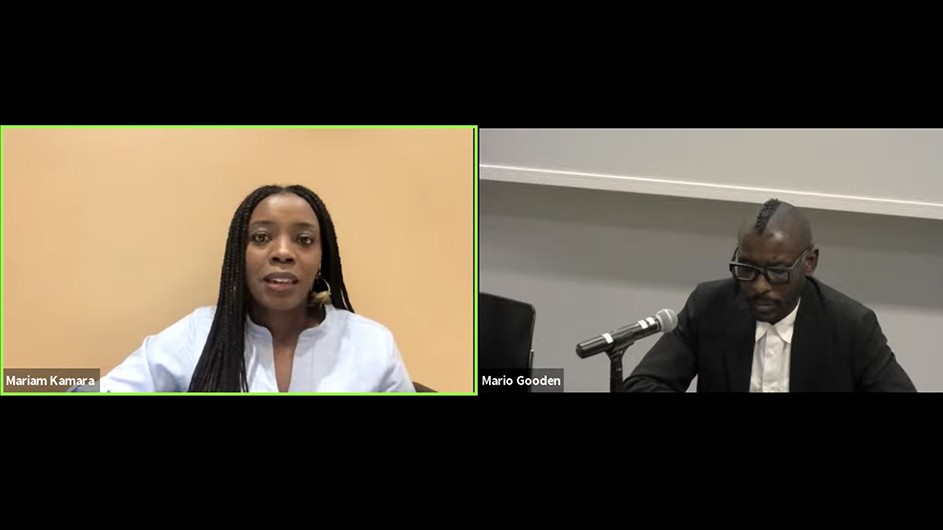 On October 4, 2021, Mariam Kamara, founder and principal of the Niamey, Niger-based architecture practice Atelier Masomi, delivered an online lecture sponsored by the Graduate School of Architecture, Planning, and Preservation. Mario Gooden, a GSAPP professor and principal of Huff + Gooden Architects, joined Kamara for a discussion afterward. The event was made possible through the John F. Foerster '64 Fund. 
From the onset of her Masters in Architecture program at the University of Washington, Kamara intended to practice professionally in Niger, where she was raised. Since founding Atelier Masomi in 2014, Kamara has completed a number of projects in Niger, as well as recently finishing a proposal for the National Black Theatre's redevelopment project in Harlem.
A unifying thread running through her work is the importance of memory. "I use architecture as a way of digging into memories—collective and individual—and using memory as a blueprint for architecture," Kamara said.
Through a meticulous observation of building materials, construction practices, and everyday behaviors, Kamara uses recollections to inform her approach to each design. She dismisses the idea that architects should begin with a blank slate, and questions the role of museums as primary repositories for information about the past.   
Making an Impact With Minimal Intervention
Kamara pointed out that one thing visitors to Niger, with its hot, dry climate, immediately notice is the lack of openings in walls, which minimizes heat gain. This was the case for a long-standing market in Dandaji, Niger, for which Kamara was commissioned to design a permanent, more durable infrastructure. Centered around a lone tree, the existing structures consisted of mud-based walls and thatched roofs, the latter of which necessitated frequent repairs during the rainy season.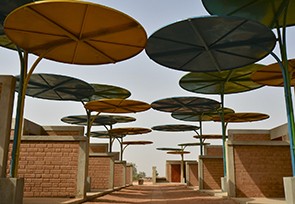 "It was evident to me that there was very little value in overhauling the way things were already done," Kamara said. "I was much more interested in how to improve the market, and make it more functional based on what we had observed in the daily tasks of the market-goers and the logistics behind what they needed to do."
Kamara and her team's intervention took the form of colorful metal discs, playfully clustered in canopies above stalls fabricated with compressed earth bricks, which rely on passive cooling to dissipate heat. Most important, according to Kamara, the design established the market as a public space, including a playground for the adjacent school. 
Tapping Into Local Resources
Also in Dandaji, Kamara refurbished a derelict mosque into a community center that includes a library and classrooms alongside a new mosque. Atelier Masomi's initial research for the project, called Hikma Religious-Secular Complex, uncovered the fact that, as far back as the ninth century, mosques functioned as knowledge centers and hubs for traveling scholars.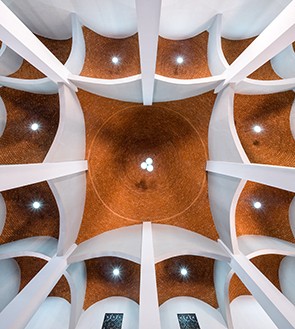 "Tapping into the memory of Islamic culture rather than just taking the form of what we see as 'Islamic architecture' today allowed us to bring back a typology, which is directly relevant to our times in the context of growing tensions, certainly in Niger, between secular knowledge and religious practice," Kamara said. 
By collaborating with the masons of the original mosque on the integration of new materials to improve durability, Kamara sought to create a new interpretation of traditional building techniques. The goal was to foster evolution, rather than innovation divorced from context.  
"It has been an exercise in figuring out how to make contemporary architecture in a way that neither breaks the bank nor creates this impossible choice—either you modernize by making yourself look as Western as possible, which is unaffordable and unmaintainable long-term, or you're stuck doing something from 200 years ago," Kamara said. "Neither one is desirable, neither one works. So it's about tapping into those memories to find a way forward, but also trying to bring new ideas for the future, and for the challenges that we are bound to face on the planet," she added.
Architecture That Elevates 
Kamara concluded her presentation with her proposal for Harlem's National Black Theatre, the design of which is informed by research about cabins built and occupied by enslaved people. The project aims to honor the expertise and craftsmanship of enslaved laborers who helped to build numerous monuments in the United States. 
"Expressing this terrible history and finally trying to find ways to surmount that and celebrate the triumph—that is, to be Black in America today—this project delved into that," Kamara said.
The mission of Atelier Masomi, she said, is less about creating architecture for the African context and more about designing architecture that "anchors us in our identities" and elevates users.
During their discussion, Gooden returned to Kamara's earlier comments on challenging the role of museums as memory keepers, and their organization of knowledge through collections of artifacts. Kamara's work, Gooden observed, explores "memory as another way of being," such as a mason's expertise, community traditions, and local materials.  
"Museums present a great problem in how we move forward in history," Kamara said. "This is a question we're going to grapple with for some time if we're serious about both decolonizing our knowledge systems, and starting to see the rest of the world as equal beings—and taking advantage of all of these different knowledges that are available and that enrich us as a species."
---
Shannon Werle is the digital editor in the communications office at GSAPP.