Medal for Meritorious Service, Pew Scholar, Udall Scholar, and More Awards
From science to engineering, writing to social sciences, here are the Columbians who received awards recently.
July 13, 2022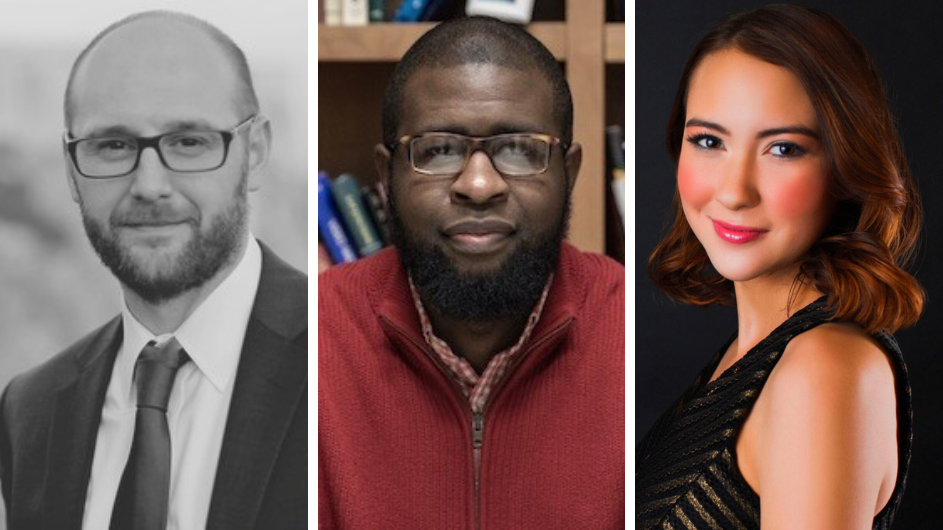 Columbia News produces a biweekly newsletter (subscribe here!) and article series featuring a roundup of awards and milestones that Columbia faculty, staff, and students have received. In this edition, you'll find awards and milestones from June 16 to July 13, 2022. 
Have an award or milestone you'd like to have featured in the newsletter or article online? Please send an email to [email protected]. Note that we'll be running this series once a month in July and August.
You can take a look at past accomplishments on our Awards & Milestones page. And you can subscribe to receive the newsletter in your inbox.
---
FACULTY
ARTS & HUMANITIES
English Professor Jennifer Wenzel's The Disposition of Nature: Environmental Crisis and World Literature has been named a finalist for the 2022 Ecocriticism Book Award by the Association for the Study of Literature and Environment.
SCIENCE & MEDICINE
Ishmail Abdus-Saboor, an assistant professor of biological sciences at the Zuckerman Mind Brain Behavior Institute, is one of 22 early-career scientists who have been awarded four years of funding by The Pew Charitable Trusts as part of the newest class of Pew Scholars in Biomedical Sciences. 
James Auran, professor of ophthalmology, was elected executive vice president of the American Society of Ophthalmic Trauma (ASOT) for 2022 through 2027. He is the immediate past president of ASOT, having served as president from 2020 to 2021.
Veronica Barcelona, assistant professor at the School of Nursing, was one of 12 members inducted into the 2022 cohort of the Betty Irene Moore Fellowship for Nurse Leaders and Innovators.
Walter Bockting, professor of medical psychology (in psychiatry and nursing), will receive nearly $1.3 million over five years from the National Institute of Nursing Research for his study, "Gender Affirmation, Quality of Life, and Access to Care: A Mixed-Method Longitudinal Investigation."
Ivan Corwin, professor of mathematics, has been named a 2022 Simons Investigator. 
Milan Delor, assistant professor of chemistry, has been named a 2022 Beckman Young Investigator.
Wafaa El-Sadr, University Professor, director of Columbia World Projects, and director of ICAP, was appointed to the NIH Advisory Committee to the Director, which provides advice on matters pertinent to the National Institutes of Health's mission responsibilities in the conduct and support of biomedical research, medical science, and biomedical communications.  
Vincent Racaniello, Higgins Professor of Microbiology & Immunology, received the Richard R. Ernst Gold Medal from ETH Zürich.
Governor Kathy Hochul and Major General Raymond F. Shields, Jr., the Adjutant General, New York Army National Guard, awarded Kai Ruggeri, assistant professor of health policy and management at the Mailman School of Public Health, a New York State Medal for Meritorious Service in honor of his "sustained conspicuous performance" as part of the National Guard's Operation COVID-19. 
Jeffrey Sachs, University Professor and director of the Center for Sustainable Development, has been named the 2022 recipient of the Tang Prize in Sustainable Development. 
Jiyoun Song, a postdoctoral research fellow at Columbia Nursing, placed first during the AI in Nursing 2022 presentation competition at the 20th International Conference on Artificial Intelligence in Medicine.
Maria Antonietta Tosches, assistant professor in the Department of Biological Sciences, is one of five early-career leaders in the biomedical sciences in the 2022 class of Rita Allen Foundation Scholars. Tosches, whose "research holds exceptional promise for revealing new pathways to advance human health," will receive a grant to conduct innovative research on critical topics in cancer, immunology, and neuroscience.
SOCIAL SCIENCES
Robert Y. Shapiro, Wallace S. Sayre Professor of Government and professor of international and public affairs, was honored by the American Association for Public Opinion Research with its 2022 Award for Exceptionally Distinguished Achievement.
STUDENTS
Twenty-six students and alumni from Columbia's three undergraduate programs have won graduate research fellowships through the National Science Foundation. The program represents one of the nation's most prestigious honors for young engineers, scientists, and social scientists. This year's group represents one of the largest cohorts from Columbia.
Grace Fox (CC'23) was named a 2022-2023 Udall Scholar and Noelle Files (GS'23), Kianna Pete (CC'23), and Matthew Schwitzer (CC'23) were named Udall Honorable Mentions, on the basis of their commitment to careers in the environment, tribal public policy, or native health care; leadership potential; record of public service; and academic achievement. 
Denizcan Ozdemir (CC'25) and Zenayah Roaché (CC'24) were selected to be part of the inaugural cohort of scholars at the Stanford Law Scholars Institute. The institute is a leadership and pipeline program for college students from broadly diverse backgrounds. It is designed to address obstacles that underrepresented minority, first-generation, and low-income undergraduate students, in particular, might face accessing legal education.