Meet Minne Atairu, an Artist and Doctoral Student at Teachers College
The Benin Bronzes from her ancestral homeland in Nigeria have deeply influenced her creative practice.
November 20, 2023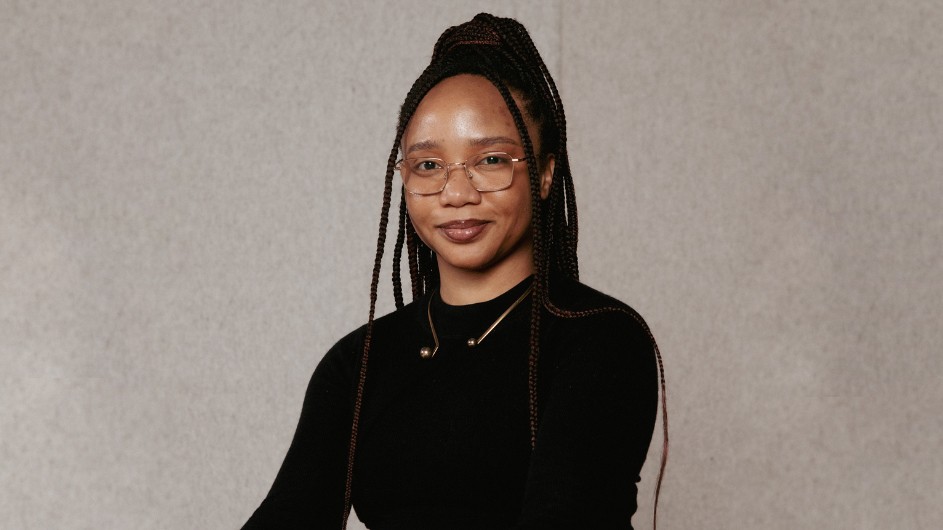 Notebook is a Columbia News series that highlights just some of the many fascinating students who study at our University. 
---
Minne Atairu, an interdisciplinary artist and doctoral candidate in the Art and Art Education Program at Teachers College, has created new artwork for an exhibition now on view at the Shed.
When are you graduating from Teachers College?
I graduate in 2024.
What was your path to pursuing a doctorate in art and art education?
My path was significantly shaped by my time serving as a teaching artist at the Smithsonian National Museum of African Art in Washington, D.C. There, I was privileged to design artistic experiences centered around West African cultural artifacts. Notably among them were the Benin Bronzes—a collection of looted artifacts from my ancestral homeland in Benin, Nigeria.
Ironically, it was within the confines of this museum, thousands of miles away from Nigeria, that I first came face-to-face with these invaluable, centuries-old objects. My engagement with the artifacts, in glass display cases, was a stark departure from the sanitized, untroubled representations I had seen only in my undergraduate art history textbooks back in Nigeria. I left the National Museum of African Art wrestling with questions about colonial dispossession, epistemic justice, culturally relevant pedagogy, and much more.
Additionally, my experience working on digital engagement projects at the Smithsonian National Air and Space Museum, although unrelated to art, further reinforced my interest in an interdisciplinary approach to art education—one that embraces technological innovation. This interdisciplinary perspective has not only enriched my artistic practice, but also laid the foundation for my academic research into generative AI in K-12 art education.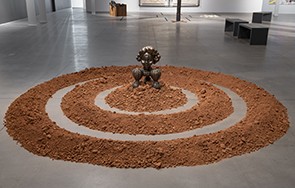 How did the opportunity for you to be exhibiting your work at the Shed come about?
I applied to the Shed's Open Call—a commissioning program for early-career, New York City-based artists. I'm one of 18 artists who were selected from across visual and performing arts disciplines. The exhibition at the Shed (which runs through January 21, 2024) presents artworks by myself and nine other artists, who bring to our pieces personal stories intersecting with global history. In summer 2024, in the Shed's Griffin Theater, the remaining eight commissions will feature immersive, multidisciplinary performances.
Can you tell us about your artistic practice, and what sort of work you create?     
My artistic practice is research-based. I investigate under-examined art historical gaps using generative artificial intelligence. These gaps are understudied for two reasons—either the absence of empirical evidence or the existence of undocumented evidence, like praise poetry or oral history. To visualize these often ignored, unknown, or untold narratives, I fine-tune my generative AI models using extant archival images. This process ensures that the resulting visuals echo historically resonant designs.
My artistic research is inspired by the concept of critical fabulation—a narrative method utilized by Professor Saidiya Hartman to express "doubts, wishes, and possibilities" about archival truths. An example of this work is my 3D-printed bronze sculpture on view at the Shed. The piece draws its inspiration from an AI-generated image, envisioning a cultural artifact that might have existed during a 17-year (1897-1914) artistic recession in my hometown of Benin—a period devoid of visual or archival documentation.
What are your plans post-Columbia?
I aim to secure a faculty position in art education. I would also love to dedicate more time to nurturing and expanding my artistic pursuits.