National Women's Hall of Fame Inductee, Whiting Award Winner, and More
From science to engineering, writing to social sciences, here are the Columbians who received awards recently.
April 05, 2023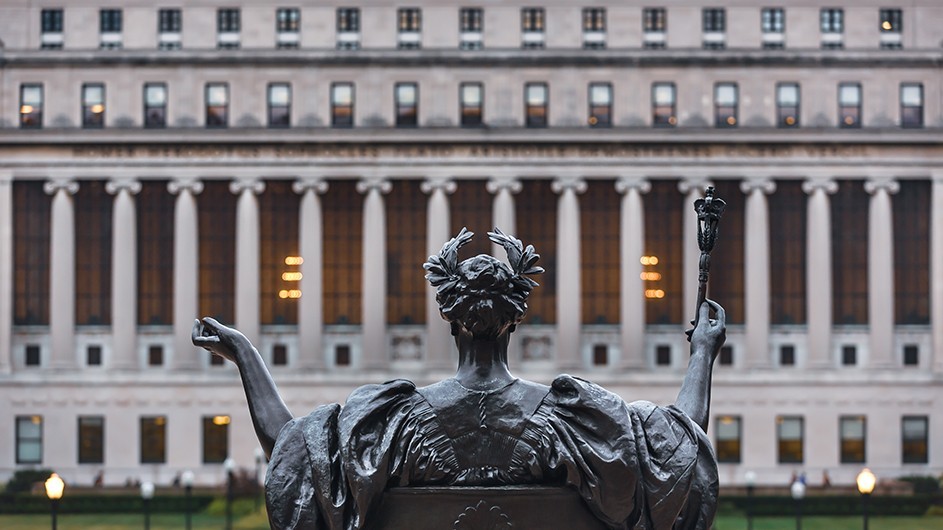 Columbia News produces a biweekly newsletter (subscribe here!) and article series featuring a roundup of awards and milestones that Columbia faculty, staff, and students have received in recent days. In this edition, you'll find awards and milestones from March 23 to April 6, 2023.
Have an award or milestone you'd like to have featured in the newsletter or article online? Please send an email to [email protected]. Note that we'll be running this series every other week. 
You can take a look at past accomplishments on our Awards & Milestones page. And you can subscribe to receive the newsletter in your inbox. 
FACULTY
ARTS & HUMANITIES
Stephania Taladrid, adjunct assistant professor at Columbia Journalism School, won a 2023 Whiting Award in Nonfiction.
SCIENCE & MEDICINE
Penelope Buschman (NUR'64), professor emerita, received the Elizabeth Hurlock Beckman Award, given to educators who inspired their former students to make a significant contribution to their community.   
Larisa Geskin, professor of dermatology in medicine, received a Lifetime Achievement Award from the United States Cutaneous Lymphoma Consortium and delivered a Herschel Zackheim Lecture at the annual American Academy of Dermatology meeting in New Orleans.
The ColumbiaDoctors Patient Safety team honored Rachel Ginsberg, assistant professor of medical psychology (in psychiatry), with the Rising Star/Unsung Hero Award, and Virginia Cox, nurse manager (radiology), with the Leadership/Stewardship Award, in recognition of their contributions to promoting a culture of safety.
Madelyn S. Gould, Irving Philips Professor of Epidemiology (in psychiatry), will receive a Lifetime Achievement Research Award from the American Foundation for Suicide Prevention at the foundation's Lifesavers Gala on May 4 at Jazz at Lincoln Center. The gala honors those who bring hope in the fight against suicide.
Wei Min, professor of chemistry, received the 2023 Biophotonics Technology Innovator Award from SPIE (International Society for Optics and Photonics) "for innovative work in stimulated Raman scattering microscopy, and for creating a new field of biophotonics."
Rossella Labella, postdoctoral research scientist in physiology and cellular biophysics, has been awarded the inaugural Walkers Scholar Fellowship at Columbia's Herbert Irving Comprehensive Cancer Center.
Delphine Taylor, associate professor of medicine, was named the 2023-2024 Vanneck-Bailey Scholar by the Virginia Apgar Academy of Medical Educators. The Apgar Academy also inaugurated 15 Columbia clinicians as new members: Amanda Bergner, Marguerite Costich, Devjani Das, Shubha Dathatri, Himabindu Ekanadham, Shivani Ghoshal, Teja Kapoor, Rosa Lee, Moneek Madra, Carlos Pagán, Madhavi Parekh, Joseph Picoraro, Briana Short, Christopher Tedeschi, and Christopher Winfree. Membership in the Academy represents not only recognition of excellence as an educator, but also a commitment to contributing to the educational life of its medical community.
Zenebe Yirsaw, associate research scientist in the Center for AIDS and Treatment Programs at ICAP, was awarded more than $7 million over five years from the Centers for Disease Control and Prevention for "Technical Assistance to Strengthen Health Information System Capacity in Ethiopia under PEPFAR."
SOCIAL SCIENCES
George Chauncey, DeWitt Clinton Professor of American History, and Michael Solender (CC'86), lecturer in law, were among a cohort of six new members elected to the New-York Historical Society Board of Trustees.
Kimberlé Crenshaw, Isidor and Seville Sulzbacher Professor of Law, was inducted to the National Women's Hall of Fame.
Hannah Farber, assistant professor in the department of history, has been awarded the Business History Conference's 2023 Hagley Prize in Business History for her book, "Underwriters of the United States: How Insurance Shaped the American Founding."
Rosalind Morris, professor of anthropology, was appointed a senior fellow and a member of the inaugural cohort at the newly established Leuphana Institute for Advanced Studies in Culture and Society, where she will complete work on her Guggenheim prize-winning project, "Anatomy Lessons of a Miner" in the 2023-2024 academic year.
María Victoria Murillo, professor of political science and international and public affairs and director of the Institute of Latin American Studies, was recently honored with the RAICES Prize, awarded by the government of Argentina in recognition of Argentinian citizens living abroad who have made significant contributions to the science and culture of Argentina. 
STUDENTS
Tyler Kim (SEAS'26) and Quan Tan were recently named  winners in the U.S. Champion in Education category for the 2023 Microsoft Imagine Cup. Their startup, Scraft, is an AI writing tutor for ESL students that provides instant personalized feedback and writing exercises using generative AI.