A New Book Charts a Path for the Future of Digital Education
Leveling the Learning Curve shows how digital tools can share knowledge more widely by reaching new audiences.
November 15, 2023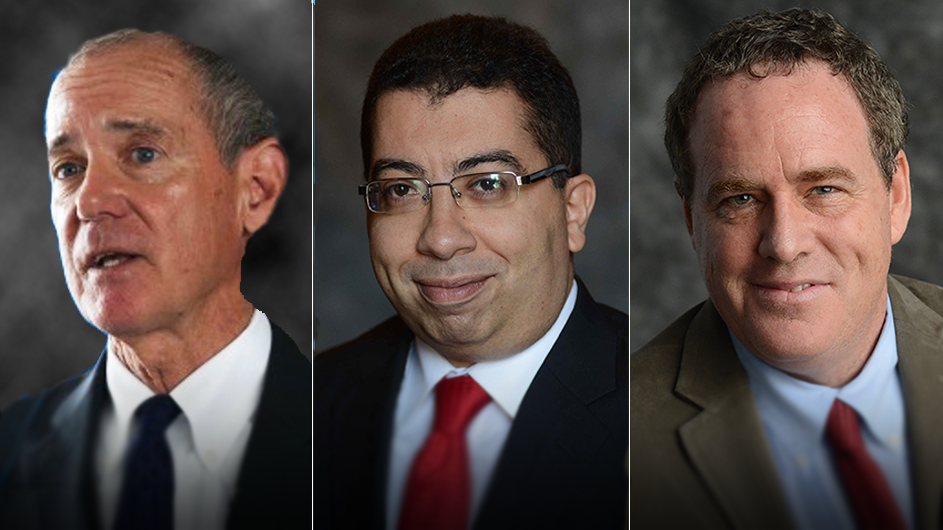 Will COVID-19 be remembered as a turning point in how universities deliver teaching and learning? How might the widespread use of digital tools change higher education?
These questions and others are addressed in Leveling the Learning Curve: Creating a More Inclusive and Connected University, a new book by William Eimicke, a Columbia SIPA professor and the founding director of the school's Picker Center for Executive Education; Columbia's Senior Vice Provost Soulaymane Kachani; and Adam Stepan, director of the Picker Center Digital Education Group.

The book explores the current role of digital education through interviews with more than 50 top practitioners from universities and ed-tech firms. Leveling the Learning Curve guides readers through the inner workings of digital learning by exploring how these new tools can enable universities to reach new audiences and address long-standing imbalances. The authors examine challenges to implementing digital education programs, and provide insight into how universities have managed to balance the needs of faculty as well as on- and off-campus students.
Leveling the Learning Curve traces the history of digital education initiatives from Khan Academy, TED Talks, and MOOCs through the pandemic, examining both successes and failures. It offers examples of what a connected university looks like in practice by sharing how digital tools increase audiences, expand interdisciplinary teaching and learning, connect students to real-life issues, help meet equity goals, and open new revenue streams.

In addition to the book, Columbia recently released two connected MOOCs on the edX platform, Blended Learning Toolkit and Digital Case Method, which share free and low-cost tools for educators around the world. Two SIPA MOOCs were also delivered on the edX platform, to coincide with the book's release. They are open educational resources, essentially free digital textbooks that teaching and learning teams at universities and global NGOs can use and download under the creative commons license. In the first two weeks of registration, educators from more than 50 countries had already enrolled.
Columbia News had a chance to discuss the book, related projects, and the future of digital education with Eimicke, Kachani, and Stepan.
How did this book come about?
Soulaymane Kachani: Bill, Adam, and I had been discussing an idea for a book on innovations in online education and educational technologies for some time. We originally imagined we would focus on Columbia SIPA's Digital Case Study program(short films on complex issues, sometimes created by students), which we had developed together over several years, as well as some exciting work by the Columbia Center for Teaching and Learning. When the pandemic hit, we decided to widen the scope to include a broader review of successes and failures in the digital higher education landscape.
Universities' mission statements typically call for sharing knowledge widely. Yet many leaders in higher ed admit they are not doing very well on the social imperative to provide high-quality, affordable education for everyone who seeks it. Post-pandemic teaching transformations hold the key for universities to help learners of all ages, socio-economic backgrounds, and stages of life and professional careers, everywhere, all the time. By embracing digital tools and online/hybrid access, universities can reach new audiences and deliver knowledge to those who need it the most.
Adam Stepan: Soulaymane has a strong network with the leadership of both the ed-tech industry and higher education. A group of provosts and vice provosts from major universities, as well as CEOs of top firms and online education platforms, agreed to talk to us. We ended up conducting numerous interviews with thought leaders from across academia, ed tech, the World Bank, and the UN, along with people who run national digital education programs in Israel and India.
Our book presents best practices in the planning and management of large, complex digital programs, and in working with professors on instructional design, media production, and course delivery, both in-person and online. We also experienced in-depth demos with team managers in the engine rooms of digital education production, and looked at hundreds of websites, courses, and learning experiences.
William Eimicke: Our goal with this book is to share this knowledge widely. The target audience includes those who run universities and learning organizations of all kinds—NGOs and international development organizations such as the UN and the World Bank, who realize that digital education is the only way to deliver change at scale.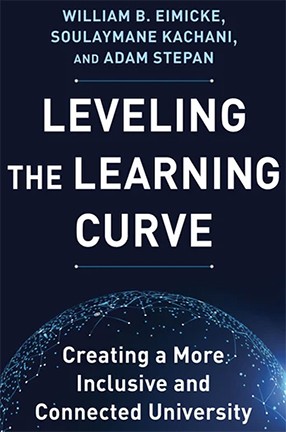 Can you give some examples from the book about the challenges to implementing digital education, and how new tools can enhance teaching and learning?
Eimicke: I teach in-person and online courses, and work closely with our faculty to structure executive education programs with partners all over the world. The reality is that most universities are set up to deliver a different learning experience than the ones students want and need today.
Most institutions have structures and incentives that are designed to deliver learning on a 19th-century model of in-person, lecture-based teaching. Technology can support new modes of teaching and learning.
Kachani: In 2012 and 2013, MOOCs on platforms such as edX and Coursera provided universities with tools to share knowledge beyond their walls. But following an initial burst of enthusiasm and activity, most universities returned to traditional teaching models, where their courses can be accessed only in the classroom, and only by those who can meet their standards for admission.
Evidence shows that in-person learning is better, but that digital tools can enhance it. Active learning and peer-to-peer engagement can be facilitated by digital tools such as well-designed course websites, digital cases, and recorded guest lectures. Online field trips through video case studies and simulations can help students apply abstract concepts. Rather than passively listening to a lecture, such digital tools can free up class time for discussion and active learning activities. Online, this new technology can enable the course to be scaled, allowing students in large courses to form small groups and assist each other.
Stepan: COVID-19 brought about a huge, unplanned natural experiment in digital learning. We were fortunate that it coincided with an ongoing engagement with the Open Society University Network, a group of 45 universities that turned to Columbia SIPA to help plan and deliver remote learning at scale across those 45 campuses. This allowed us to experiment with digital delivery modes here in New York, and with learners in places such as Bangladesh, Kenya, and Kyrgyzstan.
It was a tremendous laboratory in which to experiment with new tools. One of the conclusions we reached is that digital tools are very good at supporting teaching in the liberal arts. Students write and work collaboratively online in ways that they can't in-person. If used smartly, digital tools drive student-to-student learning and engagement.
What do you envision as the future of digital education?
Eimicke: Many of us were attracted to the promise of expanding access and sharing knowledge that the original MOOCs presented, and were sad when it seemed as if that door had closed. So one of the main messages of our book is that the dream that motivated MOOCs—top universities making a global impact by sharing content—remains alive and well.
By investing in and creating high-quality digital learning experiences, we better support learners on campus, and we create assets that we can share with partners around the world as part of our mission. This is the major takeaway of both our book and the accompanying how-to MOOCs that we have released.
Kachani: In the book, we share effective current applications of online education, and also discuss its future. In the next 10 years, generative artificial intelligence will likely revolutionize how we approach personalized learning at scale. AI can analyze students' preparation, abilities, needs, and goals, and allow for tailored learning pathways that cater to each learner's unique requirements. This will enhance engagement and foster an inclusive learning environment, which accommodates diverse learning styles and speeds. AI will also enhance digital accessibility, including text-to-speech, speech-to-text, and image recognition, hence ensuring greater access.
At the same time, augmented reality and virtual reality applications to education will provide effective immersive learning environments, which, coupled with social learning networks, can mitigate some of the ills of AI, such as the loneliness caused by personalization taken to an extreme.
What are you all teaching this semester?
Stepan: I am teaching a class at Columbia SIPA, Digital Case Study Projects, which uses all the pre-recorded video lectures that are in our Digital Case Method edX MOOC. We use a flipped classroom model where students watch the recorded lectures before class, and we use class time for active learning. I also teach this same content in courses at seven other universities across the Open Society University Network, including cohorts in South America, Asia, and Europe. All use the same core collection of 60 short videos as the shared digital textbook, but all also have small, seminar-style instruction with local instructors.
The end result achieves what is sometimes called the holy grail of digital learning—engagement (in small, in-person sessions) with scale (high-quality video lectures and digital cases). This is the model we are also seeing in national MOOC programs in countries like Israel and India, where leading universities invest in creating high-quality shareable content, which is used, adapted, and delivered by local partners. Teaching with these tools is easier for me as an instructor and better for the students. We now have almost 150 students learning in small groups across the different cohorts. With the MOOC, this number will no doubt grow into the thousands. Digital tools allow me to do this, while also managing other projects such as Inside the Situation Room, a course co-taught by Secretary Hillary Rodham Clinton and Columbia SIPA Dean Keren Yarhi-Milo.
Eimicke: I teach courses in both the MPA and the EMPA programs at Columbia SIPA, and also run a variety of executive education programs and trainings with groups that include leaders from the New York City Fire Department and the New York City Police Department, financial institutions, and city government.
In all these courses and engagements, we use diverse digital tools: Video and flipped lectures where appropriate; Zoom for remote guests; HyFlex classrooms and livestreams that enable us to reach learners both in the room and remotely. We also make heavy use of our library of Digital Case Studies.
Anything you would like to add?
Eimicke: We had a teaching and learning conference in May 2023 at Columbia SIPA, in which we had a chance to interact with many of those we had interviewed for the book. There were questions and input from remote students connected to the conference via Zoom, including students from a refugee camp in Kakuma, Kenya. They participated, and had access to top-level learning, through digital tools. Using such tools is not always easy, but it's worth it.
Kachani: The future of education has digital technology at the core of operations. This does not mean less in-person instruction. It means better, more focused in-person instruction, and wider sharing of the instruction we offer at Columbia. The first generation of MOOCs were analogous to filming a play and calling it a movie. Online education does not consist of taking old, often outdated forms of instruction and simply moving them online.
We need to go in the opposite direction, by finding the best teaching, then explore how digital technology can improve it—at scale. Pedagogy has to be our guide, not technology. William, Adam, and I look forward to providing better, more inclusive learning experiences to our students here on campus, engaging our alumni and lifelong learners from around the world, and increasing access to the excellent education.