A Celebration of the Columbia University Seminars' 75th Anniversary
A new book of essays explores the diversity and vibrancy of these singular gatherings.
January 08, 2021
The Columbia University Seminars, established in 1945, represent a distinctive experiment in academia. Scholars from different disciplines and institutions, as well as practitioners and other experts, meet once a month through the academic year to study and discuss subjects, sometimes beyond their specialties.
A Community of Scholars, edited by Thomas Vinciguerra ('85 CC, '86 JRN, '90 GSAS), is a 75th- anniversary celebration of the founding of the University Seminars. The book brings together essays by seminar chairs and other leading participants that exemplify the vibrancy of these proceedings, and the diversity of the topics. Also included are biographical sketches of Frank Tannenbaum, the Latin America scholar and criminologist who started the seminars, and his wife, the anthropologist Jane Belo, a close friend of Margaret Mead. Belo and Tannenbaum endowed the seminars and allowed them to flourish.
Vinciguerra discusses the book with Columbia News, as well as the last great book he read, why he's doing more talking than reading now, and who he would like to invite to a dinner party.
Q. How did this book come about, and how did you end up being the editor?
A. Robert Pollack, who until recently was the director of the Columbia University Seminars, had wanted to get them some attention for their 75th anniversary last year. He decided that a celebratory volume of contributions would do the trick, and he approached me to conceive and organize the volume. I was both flattered and fearful, because Bob had first known me almost 40 years ago as an upstart reporter for the Spectator! 

Q. Why do the seminars still matter, and what distinguishes them from seminars at other universities?
A. There are more than 90 operating seminars covering a dazzling array of subjects, including the Enlightenment, the politics and culture of Brazil, cinema and interdisciplinary interpretation, Shakespeare, indigenous studies, and peace. The topics are intellectually timeless and always open to new interpretations. To my knowledge, no program like this exists at any other American university.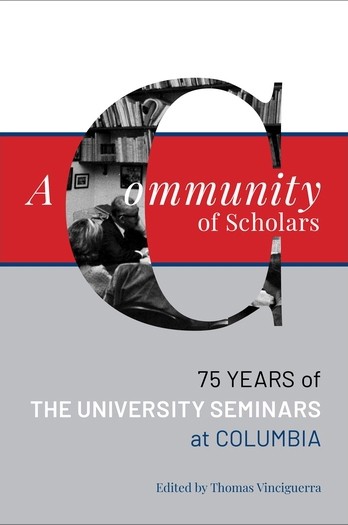 Q. Are the seminars open to anyone who wants to attend? 
A. Seminars are closed to the general public; you can't just show up, sit down, and participate. But you can approach the relevant seminar chair or administrator, and make a request. Participants are generally members of the Columbia community. Attendance is subject to approval.
Q. As the editor, how did you go about inviting contributors and determining what they should write about?
A. I contacted the chairs of all active seminars and, in consultation with my committee, asked them to submit proposals that made the case for including their respective rubrics. I was looking not just for histories of these gatherings, but for essays that made clear why they continue to concern us.
Q. What's the last great book you read?
A. I'm never reading the current bestseller. Last spring and summer, I seized on Walter Isaacson's 1990 biography of Henry Kissinger. A close friend sent it to me, and I'm so glad he did. It was comprehensive, informative, intelligent, balanced, and colorful—a model of popular yet serious scholarship.
Q. What's next on your reading list?
A. As I indicated, I'm always years behind the times when it comes to books. So I want to finally read Sticky Fingers, Joe Hagan's 2017 biography of Jann Wenner and Rolling Stone.
Q. Any reading recommendations for the pandemic winter?
A. I would recommend talking and communicating now over reading. Reading is, by its very nature, an isolating activity. And right now, we're going crazy in our isolation. It's hard to describe what a tonic it has been for me to reach out to old friends, and to have them reach out to me, during this time.
Q. You're hosting a dinner party. Which three scholars or academics, dead or alive, would you invite and why?
A. I would have Jacques Barzun CC '27, GSAS '32. Even though I knew him well from our common membership in the Philolexian Society, we never actually had dinner together. And Joanne Freeman, a history professor at Yale and an expert on Alexander Hamilton, whom I once interviewed her about. Now I want to speak with her about our various national emergencies. Finally, I'd go for Arthur M. Schlesinger, Jr., who had close relationships with any number of Kennedys, and could speak well on that.