A Nobel Prize, MacArthur Fellows, National Academy of Medicine Elections, Newly Tenured Faculty, and More
From science to engineering, writing to social sciences, here are the Columbians who received awards recently.
October 25, 2023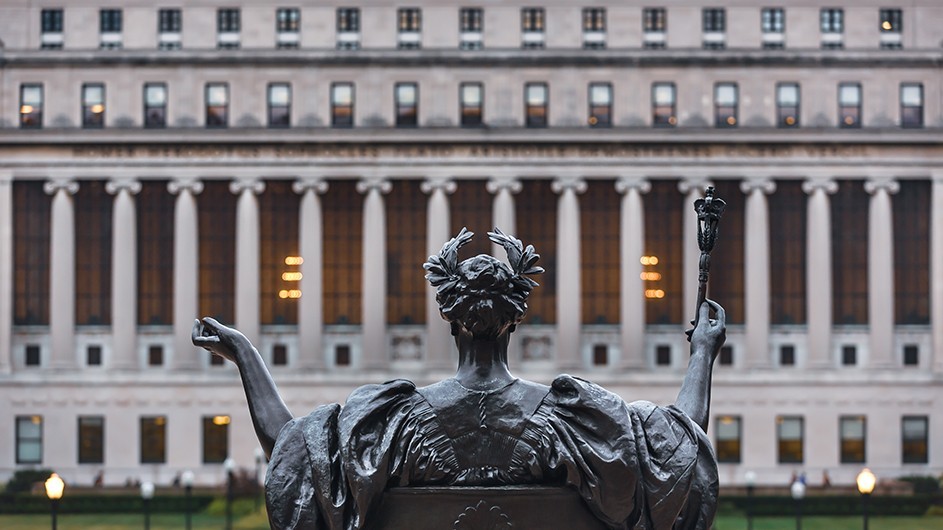 Columbia News produces a monthly newsletter (subscribe here!) and article series featuring a roundup of awards and milestones that Columbia faculty, staff, and students have received in recent days. In this edition, you'll find awards and milestones from September 21 to October 25, 2023.
If you have an accomplishment you'd like to be considered for inclusion, please email [email protected] with your name, title, school, department, and a link to the relevant award or milestone. 
You can take a look at past accomplishments on our Awards & Milestones page. And you can subscribe to receive the newsletter in your inbox. 
INSTITUTIONAL
Louis Brus, Samuel Latham Mitchill Professor Emeritus and an alumnus of the University, was awarded the Nobel Prize in Chemistry. Brus was recognized along with two other scientists—Moungi G. Bawendi of MIT and Alexei I. Ekimov of Nanocrystals Technology Inc.—for his work on the "discovery and development of quantum dots, nanoparticles so tiny that their size determines their properties."
Knight First Amendment Institute's Views on First podcast won a Listener's Choice Award and a silver medal from the Signal Awards jurors. 
Three Columbians or individuals with strong connections to the University were selected as 2023 MacArthur Fellows by the John D. and Catherine T. MacArthur Foundation. 
FACULTY
Columbia celebrated 50 newly tenured professors in a late-September reception. You can read profiles of all 50 faculty members here. 
ARTS & HUMANITIES
Kellie Jones, Hans Hofmann Professor of Modern Art, Department of Art History and Archaeology, and Chair, Department of African American and African Diaspora Studies, has been elected to the 2023 class of the American Philosophical Society. Election to the Society honors extraordinary accomplishments in all fields. 
Timothy Mitchell, William B. Ransford Professor of Middle Eastern, South Asian, and African Studies, has received the Grain of Sand Award, a career award from the American Political Science Association, Interpretive Methodologies and Methods unit. The award honors a scholar whose contributions demonstrate creative and sustained engagement with questions of enduring political importance from an interpretive perspective.
Kate Orff, GSAPP professor and director of the school's Urban Design Program, and her landscape architecture firm, SCAPE, have received the fifth OBEL Architecture Award for the Living Breakwaters project, and its radical design and community-and-ecosystems-driven approach to adaptation.
Ebonya Washington, Laurans A. and Arlene Mendelson Professor of Economics and professor of International and Public Affairs, has been elected as a vice president of the American Economic Association for 2024.
MEDICINE & SCIENCE
Andrea Baccarelli, Leon Hess Professor of Environmental Health Sciences, and Ka Kahe, Tilden-Weger-Bieler Professor of Preventive Medicine, received a grant of $8,157,110 over five years from the National Institute of Environmental Health Sciences for "Center for Environmental Health and Justice in Northern Manhattan."
Suzanne Bakken, Alumni Professor of the School of Nursing and professor of Biomedical Informatics, will receive the 2023 Morris F. Collen Award of Excellence on November 12 during the opening session of the AMIA 2023 Annual Symposium in New Orleans.
Melissa Beauchemin, assistant professor of Nursing, will be awarded the APHON Early Career Researcher Award by the Association of Pediatric Hematology/Oncology Nurses. 
Ulf Bronas, professor of Biobehavioral Science in Nursing and Rehabilitation Medicine, will be honored with the Distinguished Researcher Award from the University of Illinois Chicago. The award recognizes UIC College of Nursing faculty or alumni who have made outstanding contributions to nursing science and research.
Kellie Bryant, associate professor of Nursing, was selected to be a fellow for the Society for Simulation in Healthcare Academy.
Andrea Califano, Clyde and Helen Wu Professor of Chemical and Systems Biology, has been honored with the 26th Alfred G. Knudson Award in Cancer Genetics by the National Cancer Institute (NCI) for his exceptional contributions to the field of cancer research.
Roísín Commane, associate professor of Earth and Environmental Sciences, was named one of the ten scientists to watch in 2023 by Science News. The scientists included on the list were selected by a committee of Science News writers and editors for their potential to shape the science of the future.
Noémie Elhadad, associate professor and chair of the Department of Biomedical Informatics, and Chris Wiggins, associate professor of Applied Mathematics and Systems Biology, were included in "The AI 100 2023: The top people in artificial intelligence" by Business Insider.
David A. Fidock, C.S. Hamish Young Professor of Microbiology & Immunology, has been elected the next president of the American Society of Tropical Medicine and Hygiene.
Jon Freeman, associate professor of Psychology, received an Early Career Impact Award from the Federation of Associations in Behavioral & Brain Sciences (FABBS) for his groundbreaking contributions to social psychology and neuroscience and his advocacy for LGBTQ+ scientists. He was nominated for the award by the Society for Experimental Social Psychology. 
Linda Fried, dean of Mailman School of Public Health and DeLamar Professor of Public Health Practice, was awarded the David Rall Medal by the National Academy of Medicine. Siddhartha Mukherjee, associate professor of Medicine, and Brent R. Stockwell, William R. Kenan, Jr. Professor of Biological Sciences and professor of Chemistry within Arts & Sciences, and chair of the Department of Biological Sciences, were elected to the Academy. Edward Shortliffe, adjunct professor and former chair of the Department of Biomedical Informatics, received the Walsh McDermott Medal, recognizing a member for distinguished service to the academy and the National Academies of Sciences, Engineering, and Medicine. Membership in the academy is one of the highest honors bestowed in the field of medicine.
Maureen George, professor of Nursing, was awarded the Outstanding Founders Award at the Association of Asthma Educators 2023 Conference. 
A team at Columbia's Zuckerman Institute, led by Herbert and Florence Irving Professor Elizabeth Hillman, has been named by the National Institutes of Health as recipients of a 5-year, $24-million grant, alongside collaborators at Massachusetts General Hospital and the University of Rochester Medical Center. The award will establish a new Center for Large-scale Imaging of Neural Circuits.
Marianthi-Anna Kioumourtzoglou, associate professor of Environmental Health Sciences, was awarded the 2023 Tony McMichael Mid-Term Career Award, which is given to candidates who possess the same qualities as McMichael. Kioumourtzoglou has demonstrated excellence in environmental epidemiology research, mentoring, sharing scientific results, and community engagement.
Claudia Lugo-Candelas, assistant professor of Medical Psychology, is the recipient of the 2023 One Mind-Luther Family Rising Star Award for "Prenatal sleep health – An untapped intervention target for the intergenerational prevention of mood and anxiety disorders." The award supports early-career investigators in neuroscience, psychiatry, and related disciplines who pursue research to advance the understanding, treatment, and prevention of mental illness.
Catherine Monk, Diana Vagelos Professor of Women's Mental Health in the Department of Obstetrics & Gynecology and professor of Medical Psychology in the Department of Psychiatry, has been selected as an Aspen Institute Ascend Fellow. 
Luiz A. Pimenta, professor of Dental Medicine, was inducted into the International College of Dentists (ICD) USA Section. The ICD is a leading honorary dental organization dedicated to the recognition of outstanding professional achievement, meritorious service, and the continued progress of the profession of dentistry for the benefit of all humankind.
Lusine Poghosyan, Stone Foundation and Elise D. Fish Professor of Nursing and professor of Health Policy and Management, has been named to the Board of Directors at AcademyHealth. 
David Saunders, assistant professor of Clinical Psychiatry, is the recipient of the Brain and Behavior Research Foundation's NARSAD Young Investigator Award, which helps researchers launch careers in neuroscience and psychiatry.
SOCIAL SCIENCES
Glenn Denning, professor of Professional Practice and founding director of the Master of Public Administration in Development Practice at the School of International and Public Affairs, was named Global Australian of the Year by Advance, which recognizes the work of remarkable Australians making an extraordinary impact on the global stage in industry sectors that are of particular importance to Australia.
POSTDOCS & STUDENTS
Frank Agwuncha (SPS/CS'23), a student in the M.S. in Sustainability Management program, was awarded the Business Case Award by the Environmental Defense Fund as part of the Climate Corps Fellowship. The award is given to the fellow who presents the strongest case for a project recommendation, backed by sound quantitative analysis and with a high likelihood of implementation.
Ryan Greene (BUS'21) was named New Yorker of the Week by NY1 in early October, for a business he started while a student at Columbia Business School: Quincy, a calling service to walk people through their everyday tech issues.
Izzy Levy, PhD candidate in the Classics Department, has won the 2023 Winkler Prize, for their essay, "Poetic World-Building, Queer Ephemerality, and Sapphic Memory Work: Fragment 94 and Eloise Klein Healy's The Islands Project: Poems for Sappho."
Sai Priya Kodidala (SIPA'24) has been awarded the Laadli Media Award 2023 from the Population Fund (UNFPA) for a piece she wrote for Caravan Magazine in India, which focuses on the unacknowledged role of women in the Telangana People's Movement. 
Meredith Slopen, doctoral research associate at the School of Social Work, and Lauren Toppenberg, PhD candidate in the School of Social Work, won the 2023 Junior Scholar Intensive Training Research Award from the University of Wisconsin-Madison Retirement and Disability Research Center.