The Obama Foundation and Columbia Join Forces
The Obama Foundation has selected the Columbia Center for Oral History Research to produce the official oral history of Barack Obama's presidency. This project will provide a comprehensive, enduring record of the decisions, actions, and effects of his historic presidency.
May 16, 2019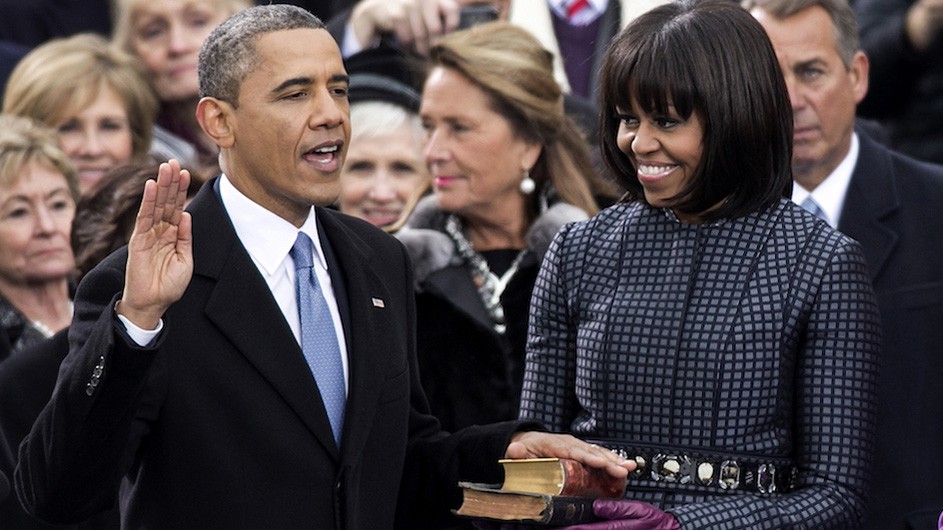 Columbia University and the Obama Foundation are pleased to announce that the Columbia Center for Oral History Research has been selected to produce the official oral history of the presidency of Barack Obama (CC '83). This project will provide a comprehensive, enduring record of the decisions, actions, and effects of his historic terms in office. The University of Hawaiʻi and the University of Chicago will partner with Columbia in this project. The University of Hawaiʻi will focus on President Obama's early life, and the University of Chicago will concentrate on the Obamas' lives in Chicago.  
"The pride we feel in counting President Obama as an alumnus involves much more than the recognition of his time as a student here many years ago. This is a relationship built on shared values and interests that is producing public spirited projects of enormous, even transformative, potential at Columbia," said Columbia University President Lee C. Bollinger. "The latest venture will capitalize on the University's unsurpassed talent for assembling oral history and will, I am sure, create an invaluable resource for understanding an historic presidency."
From Eisenhower to Obama
This project builds on a longstanding tradition of presidential oral histories. For more than 50 years, oral history has been used to record the stories of people inside and outside the White House that shed light on a president's time in office. This will be the second presidential oral history project conducted by Columbia, home to the country's largest and oldest oral history archive, including the Eisenhower Administration Oral History project. (Dwight D. Eisenhower was president of Columbia from 1948 to 1952.) As part of this effort, Columbia and its academic partners will have full control on all editorial aspects of the project.
"Columbia's long record of executing complicated and detailed oral histories is exceptional, and we believe the University's thoughtful approach will result in an exciting oral history archive for historians, academics, and storytellers as well as the public to learn about and investigate the Obama presidency," said David Simas, Chief Executive Officer of the Obama Foundation. "We are grateful to the University of Hawaiʻi and the University of Chicago for participating and ensuring that the important work that preceded President and Mrs. Obama's time in the White House is integrated into this project."   
Obama Presidency Oral History Site
"Michelle Obama famously observed that ʻYou canʻt really understand Barack until you understand Hawaiʻi,'" said University of Hawaiʻi President David Lassner. "The University of Hawaiʻi's extraordinary Center for Oral History is looking forwarding to exploring those early days with those who were part of President Obama's story,"
In a joint statement from the University of Chicago, Adam Green, Associate Professor of American History, and Jacqueline Stewart, Professor in the Department of Cinema and American Studies, said, "We are pleased to collaborate with Columbia on this exciting project. The stories of Michelle and Barack Obama are intertwined with the story of Chicago and the South Side in particular. We look forward to contributing to that historic narrative, with a focus on how their city helped to shape them as civic leaders."
Some 400 People Will Be Interviewed
Starting this summer and over the next five years, the Obama Presidency Oral History Project will conduct interviews with some 400 people, including senior leaders and policy makers within the administration, as well as elected officials, campaign staff, journalists, and other key figures—Republican and Democrat—outside the White House.
The Obama Presidency Oral History Project also will incorporate interviews with individuals representing different dimensions of daily American life, whose perspectives enable the archive to weave recollections of administration officials with the stories and experiences of people who were affected by the Administration's decisions. This project will also examine Mrs. Obama's work and legacy as First Lady.
"We are honored to document the legacy of President Obama. Our goal is to set a new benchmark for presidential oral histories in terms of the diversity and breadth of narratives assembled and depth of understanding achieved," said Mary Marshall Clark, Director of the Columbia Center for Oral History Research and a project co-investigator. "Central to our project is a commitment to candidly document the stories of key administration alumni and bring them into conversation with the varied experiences of Americans from all walks of life."
Clark will work with Peter Bearman, Jonathan R. Cole Professor of the Social Sciences and Director of the Interdisciplinary Center for Innovative Theory and Empirics, and Kimberly Springer, Curator of Columbia's Oral History Archives.
"We conduct interdisciplinary research, and a trademark of this project is bringing together experts from across fields of knowledge and expertise to ensure that our interviewers are asking the right questions, whether they are in the offices of policymakers who enacted the Affordable Care Act, or at the kitchen table of citizens whose lives were affected by it," said Bearman, who will serve as the principal investigator for the project.
Columbia University also announced the formation of the Obama Presidency Oral History Advisory Board, composed of leading presidential historians and authors, including Robert Dallek (GSAS '57, '65) and Douglas Brinkley; acclaimed journalists such as Michele Norris and Jelani Cobb, Ira A. Lipman Professor of Journalism at Columbia; and other scholars in history, political science, sociology, and public health, who can speak to how this period affected the lives of those inside and outside of Washington. 
The Oral Histories Will Be Publicly Available Online
The oral histories are expected to be publicly available online at Columbia University no later than 2026. Following the project's completion, the Foundation will look for opportunities to connect the oral history archive with related collections and content, including the National Archives-administered digital records of the Obama presidency.
"Columbia is committed to preserving our past for use in the future," said Springer, the archives' curator. "Columbia's collection is distinguished for the inclusion of perspectives of not just 'Great Men,' but the many others who shape our world. Our archive includes a vast array of histories so that current and future generations of historians and citizens can learn lessons from our times."