School of Social Work Awarded $86 Million to Reduce Opioid Deaths in New York
National Institute on Drug Abuse grant will bring the School of Social Work together with partner universities to work in 15 counties across New York State.
April 18, 2019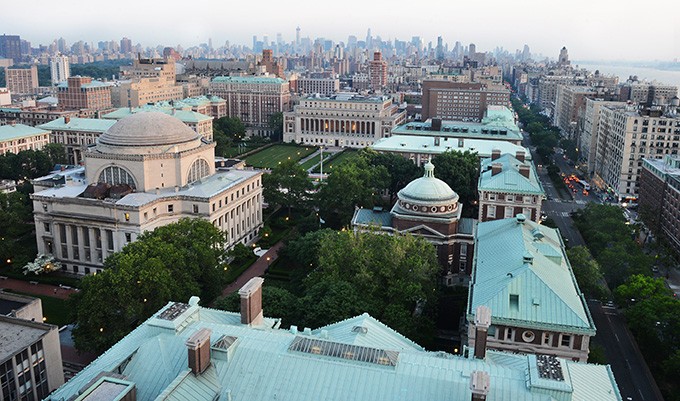 Columbia University's School of Social Work has been awarded $86 million over multiple years (pending availability of annual funds) from the National Institute on Drug Abuse (NIDA), part of the National Institutes of Health, to support research intended to reduce opioid deaths across New York State. Nabila El-Bassel, University Professor and the Willma and Albert Musher Professor of Social Work, and her colleagues secured this major funding based on their community-focused public health interventions.
"We are planning a rapid public health response to the current opioid epidemic in New York State, focusing on policy and system changes by working with the criminal justice system, health care organizations, emergency rooms, schools, and drug treatment programs," El-Bassel said.
"The opioid epidemic is a national crisis that is causing devastation throughout society," said Columbia University President Lee C. Bollinger. "With this grant, Professor El-Bassel and her team are providing thoughtful and necessary leadership on this critical issue, working with government and academic partners to put in place effective, proven interventions that will save lives."
Elected officials from New York comment on the grant:
"Columbia University has long been a leader in tackling the most intractable problems facing our nation, so it is only fitting that the NIH should support their cutting-edge research on opioid intervention," said U.S. Senator Charles Schumer, a Democrat from New York. "Our institutions of higher learning are laboratories for public policy. With this vital funding, Columbia's School of Social Work can further bolster our shared work of reducing deaths by opioid addiction across New York. I am proud to support Columbia in this important work."
"The opioid epidemic has devastated communities across New York and all over the country, and we need to do everything we can to solve this crisis," said U.S. Senator Kirsten Gillibrand, a Democrat from New York. "This federal funding will be used to help develop community-based interventions for the treatment and prevention of opioid abuse, and will help us take a significant step forward in the fight against this terrible epidemic. I will continue to do everything in my power to help end the opioid addiction crisis once and for all, and I urge all New Yorkers to keep raising their voices and fighting with me too."
"The opioid epidemic has torn through this country, leaving families and communities in its wake," said U.S. Representative Jerrold Nadler, a Democrat from New York's 10th congressional district. "An epidemic with such a broad impact requires a far-reaching response. Professor El-Bassel's research will bring together communities, providers, the criminal justice system, and other stakeholders to quickly and effectively identify policy and systems changes to help communities turn the tide on this epidemic. I am incredibly proud to represent Columbia University and to have this ground breaking research based in my congressional district. I congratulate Professor El-Bassel and her entire team on this well-deserved grant and look forward to seeing their results."
"Opioid abuse, addiction, and overdose continues to impact men, women, and children of every demographic, and it remains critical that we continue to support and develop research that will help individuals and families seeking treatment on the road to recovery," said U.S. Representative Adriano Espaillat, a Democrat from New York's 13th congressional district. "Columbia's School of Social Work is a leader in innovative research and is a vital resource that will help communities throughout New York State address the opioid epidemic. We are many lives lost beyond the point where we could accept the null hypothesis. I commend the National Institute on Drug Abuse and the National Institutes of Health on today's announcement to dedicate nearly $90 million in funding to Columbia University. I have great confidence in the expertise and vision Dr. El-Bassel has put forward to combat and curb the opioid epidemic here in New York State to combat this crisis and reduce deaths due to opioid addiction."
NIDA is allocating funding to three other research sites that will contribute to a multi-year study, which is part of the NIH HEAL (Helping to End Addiction Long-term) Initiative, a bold, transagency effort to speed scientific solutions to stem the national opioid crisis. The study is being carried out in partnership with the Substance Abuse and Mental Health Services Administration (SAMHSA), which provides support for many of the local prevention, treatment, and recovery support services to be studied.
This federal grant, one of Columbia's largest ever, brings together Columbia's School of Social Work, the Department of Psychiatry, the Mailman School of Public Health, the Data Science Institute, as well as researchers from Albert Einstein School of Medicine/Montefiore Health System, City University of New York, Weill Cornell Medical College, New York University School of Medicine, University of Miami, and Yale School of Medicine.
Columbia University will be working in 15 pre-selected New York counties that have been heavily affected by the opioid crisis. The project will be conducted in collaboration with the county health commissioners and driven by robust community engagement and real-time learning rooted in data and systems science. El-Bassel and the investigative team brought together New York State Office of Alcohol and Substance Abuse Services, New York State Department of Health, New York City Department of Health and Mental Hygiene, and 15 state and local health or mental health commissioners to help solve this intractable issue.
"The opioid epidemic has heart-wrenching consequences for families throughout the United States, and I am proud that the Columbia School of Social Work will make a significant contribution to reducing this plague in New York," said Columbia School of Social Work Interim Dean Irwin Garfinkel. "I am confident that under El-Bassel's direction this work has the potential to change countless lives for the better."
In the past 30 years at Columbia, El-Bassel has been working in marginalized communities to address HIV, substance abuse, and intimate partner violence. In many cases, her work has led to interventions that have become the gold standard for best practices. In addition to her field work, she has published in more than 260 peer-reviewed journals and her papers have been cited over 8,000 times.
"I am delighted to be leading this extraordinarily innovative study with such an outstanding group of scientists," El-Bassel said. "Our goals are ambitious. We plan to reduce opioid overdose fatalities by at least 40 percent within less than four years in 15 of the most burdened counties in New York State. There is no time to waste; we have lost far too many people to this epidemic."