A Pioneering Doctor Reflects on a Career In Pediatrics that Spans Generations
Each Thursday at 9:30 a.m., Dr. Sylvia Preston Griffiths arrives at the pediatric cardiology outpatient clinic at New York-Presbyterian/Columbia University Medical Center. She dons a long white coat with her full name embroidered on it in blue and places her stethoscope in her pocket.
June 27, 2017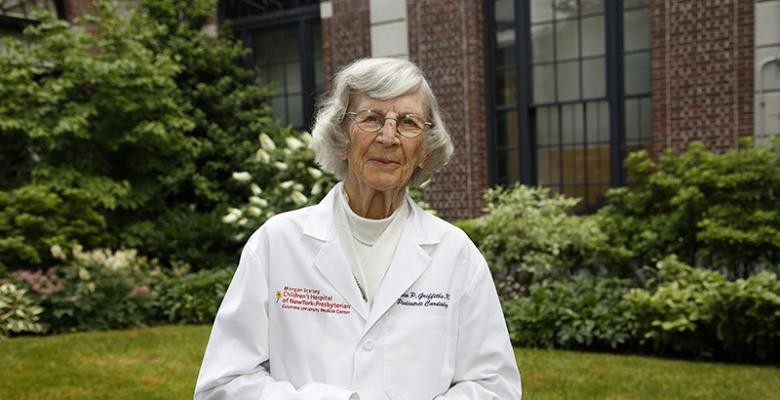 Proceeding to a consultation room, she and a senior staff pediatric cardiologist listen as a medical fellow—a doctor completing specialty training—presents the case history of a child with a heart murmur or possible cardiac problem. She then reviews the young patient's electrocardiogram and echocardiogram and offers comments.
Griffiths is now in her seventh decade of teaching at Columbia's College of Physicians and Surgeons and still practices medicine. At 92, she is a professor emerita of clinical pediatrics and a special lecturer in pediatrics who has witnessed the history of pediatric cardiology unfold. She is the author of more than 150 scientific articles on topics that include congenital malformations of the heart and the results of their surgical repair.
"Over my professional career, I have derived great personal pleasure working with students and physicians at Columbia," Griffiths said. In 1996, her colleagues and former students established the Sylvia P. Griffiths M.D. Lectureship and Teaching Day, held annually at the Medical Center to honor her outstanding humanistic qualities and her dedication to teaching.
"Gratitude is the one word to describe this," Griffiths said of the event, adding that it is a joy to see former fellows who return to visit. The day includes a lecture by an eminent figure in a field related to pediatric cardiology. Her first mentor in pediatric cardiology, Yale faculty member Dr. Ruth C. Whittemore, gave the inaugural lecture, which Griffiths called "a great honor."
Griffiths grew up on Claremont Avenue, and recalls attending Riverside Church and Easter Sunday sunrise services on the steps of Low Library. She wanted to be a nurse like her mother. But her father, an Oxford-educated writer and historian, told her: "If you are interested in medicine, you should be a physician." She attended Hunter College High School and then earned a bachelor's degree from Hunter College in 1944 and an M.D. from Yale University School of Medicine in 1948.
"I elected to specialize in pediatrics because of my pleasure in working with children and the influence of outstanding faculty at Yale," she said. Her early interest in pediatric cardiology was prompted by an elective course on the heart that she took as a first-year medical student studying human anatomy.
Griffiths left Yale in the mid 1950s to come to Columbia. Together, she and Dr. Sidney Blumenthal, a pediatrician in New York City, established the division of pediatric cardiology at the Medical Center, under Dr. Rustin McIntosh, who was then chairman of the department of pediatrics.
In 1960, when the American Board of Pediatrics created the subspecialty of pediatric cardiology—the discipline's first— Griffiths was named one of its 50 founders.
At Columbia, she directed the pediatric cardiac clinic from 1972 to 1990, becoming professor of clinical pediatrics in 1977. Columbia's pediatric cardiology division, under the directorship of Dr. Julie A. Vincent, is "the top of the heap and remains so," Griffiths said. Columbia also has one of the leading fellowship training programs in the nation, she added.
In the 1960s, open-heart surgery to repair congenital cardiac malformations was seldom possible on patients younger than 5 or 6. Happily, Griffiths said, "that age has gone down to the first day of life, and there will be further developments in fetal heart surgery."
In addition to continuing her work at Columbia once a week, Griffiths remains "a life-long learner." She takes courses at Columbia and at Hunter College in subjects such as art history and opera. A devoted listener to WQXR radio, she especially enjoys Bach, Mozart and Beethoven.
Griffiths recalls many decades of conversation about music and science with her late husband, Dr. Raymond B. Griffiths, who until his retirement in 1983 was executive editor of The Journal of Cell Biology, published by Rockefeller University Press. Their daughter, Wendy Griffiths, a composer, is on the faculty of the Mannes College of Music in New York.
As she helps to train fellows, Griffiths in turn gains knowledge from the young physicians. She describes learning about advances in genetics, including the identification of chromosomal abnormalities and how they relate to clinical syndromes. Staying active, Griffiths said, "keeps me abreast of a field that I love."
When Griffiths graduated from Yale medical school, only seven women were among the 57 students in her class. "We did enjoy a sense of being pioneers," Griffiths said, "but as time went on, that receded." She added: "Women in medical schools are no longer a handful. We're now a big armful."