Pulitzer Prize Administrator Mike Pride to Retire
Mike Pride, former editor of the Concord Monitor who helped guide the Pulitzer Prizes through their centennial year, will retire as administrator this summer.
March 13, 2017
Pride, 70, became the Pulitzer administrator in 2014. During his tenure, the Pulitzer Prize Board opened its journalism competition to online and print magazines. He also supervised the redesign of the prizes' website, Pulitzer.org. Pride will oversee the rest of this year's prize process and remain in the job through July.
"This job has restored my faith in the future of journalism, but it is time for me to return to my happy state of retirement," said Pride. "I am grateful to have played a part in the prizes' celebration of their first century and their passage into their second."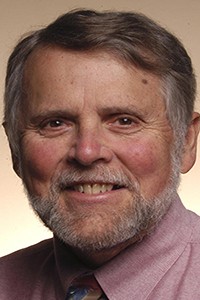 Last year, in partnership with the Federation of State Humanities Councils, universities, news organizations and many other institutions, the Pulitzer Prizes observed their centennial with hundreds of events around the country. Pride helped organize this programming and curated a content stream at Pulitzer.org celebrating prize-winning works. He also spearheaded the first phase of planning a digital archive for the prizes.
The Pulitzer Prize Board co-chairs — Randell Beck, retired publisher of Argus Leader Media in Sioux Falls, S.D.; Joyce Dehli, an Edmond J. Safra Fellow-in-Residence at Harvard University and former vice president of news for Lee Enterprises; and Keven Ann Willey, vice president and editorial page editor of The Dallas Morning News — thanked Pride for his outstanding service to the Pulitzer organization and the values it represents.
"Thoughtful and collaborative, Mike Pride guided the Pulitzer Prizes through a time of historic change and the Board is profoundly grateful for his leadership," Beck said. "Mike's deep understanding of journalism and letters uniquely shaped our centennial while anticipating the many ways that the prizes, and the work they honor, can and will remain vital to our nation."
Before coming to Pulitzer, Pride had a 40-year newspaper career as a writer and editor. He had his first byline in the Tampa Tribune at the age of 14 in 1961. From 1978 until his retirement in 2008, he ran the newsroom of New Hampshire's Concord Monitor, where he is editor emeritus. He was a member of four Pulitzer Prize juries, the first in 1994, and served nine years on the Pulitzer Prize Board until 2008. Pride has written or co-authored six books, and his articles on poetry, art, politics, history and journalism have been published in many newspapers, journals and magazines. He is a U.S. Army veteran.
"The Pulitzer Prizes, like the great Journalism School housed in the Pulitzer Building, not only share an origin story at Columbia, they reflect the university's essential mission of promoting the highest accomplishment in American journalism, arts and letters," said Columbia University President Lee Bollinger, whose father was a small town newspaper publisher. "Mike Pride has not only exemplified the values of a robust free press in our society as an admired journalist and editor, he has actively advanced them in his leadership of the Pulitzers through their historic centennial. We are grateful for his service, wise counsel and friendship, which we know will endure in the years ahead."
The Pulitzer Prize Board has formed a search committee to nominate the next administrator, chaired by Washington Post columnist Eugene Robinson, a 2009 Pulitzer winner who joined the Pulitzer Prize Board in 2010 and is also incoming board chair for 2017-18. In addition to President Bollinger and Columbia Journalism School Dean Steve Coll, the committee includes Willey, who joined the Pulitzer Prize Board in 2008 and is its co-chair for 2016-17; novelist Junot Diaz, the 2008 Pulitzer winner for Fiction and a board member since 2010; and Aminda (Mindy) Marques Gonzalez, executive editor and vice president for news at The Miami Herald who joined the Pulitzer Prize Board in 2012. Inquiries about the position should be directed to Susan Glancy, in the Office of the President at Columbia University, using the e-mail address nominations@columbia.edu.
The Pulitzer Prizes, which are administered at Columbia University, were established by Joseph Pulitzer, a Hungarian-American journalist and newspaper publisher, who left money to Columbia University upon his death in 1911. A portion of his bequest was used to found the School of Journalism in 1912 and establish the Pulitzer Prizes, which were first awarded in 1917.
The 19-member board is composed mainly of leading journalists or news executives from media outlets across the U.S., as well as five academics or persons in the arts. The dean of Columbia's journalism school and the administrator of the prizes are nonvoting members. The chair rotates annually to the most senior member or members. The board is self-perpetuating in the election of members. Voting members may serve three terms of three years for a total of nine years.