Scholarships for Local Students Honor Two Distinguished Alumni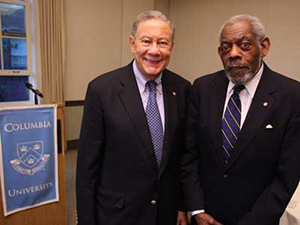 Albert Thompson and Carlos Muñoz lived on the same block of West 116th Street and knew each other at Columbia College, overlapping for one year. Now their names jointly grace a new Columbia initiative for future generations of local students.
The initiative, named last spring in their honor, identifies some 40 promising undergraduates in West Harlem, Washington Heights, Inwood and the South Bronx. The students, who are welcomed into the program when they receive their acceptance letters from Columbia, have the opportunity to attend special events where they meet alumni and community leaders.
The program is one of many scholarship and grant programs the University administers to ensure economic diversity on campus, joining other initiatives such as the Dyckman Institute Scholarships for outstanding students from Washington Heights and Inwood. Financial aid workshops are held in the local community to publicize these and other efforts.
"Columbia is defined by the city we call home and by our historic commitment to providing educational opportunity to a remarkable diversity of young people, regardless of their family's income," said Columbia President Lee C. Bollinger. "We reach out to attract talented students all across the nation who are the first member of their family to attend college, but nowhere more so than our own New York community. We are proud to add the Thompson-Muñoz Scholars to this effort that's so central to our mission."
Columbia College and The Fu Foundation School of Engineering and Applied Science both participate in the program. Nearly half of the students at the College and School of Engineering receive financial aid, and 16 percent of the first-year students are the first in their family to attend college.
James J. Valentini, dean of Columbia College and vice president for undergraduate education, said, "Our goal with this program, as with financial aid in general, is to admit students based on their ability to contribute to and benefit from our community, not on their ability to pay for the experience."
Columbia provides need-blind admissions for U.S. citizens and permanent residents, meeting 100 percent of demonstrated financial need for all four years of study. Students on financial aid receive on average more than $42,000 annually.
Jessica Marinaccio, dean of undergraduate admissions and financial aid, said socioeconomic diversity is essential for building a representative student body. "Affordability and access are major themes in our outreach to prospective and admitted students," she said.
One of the Thompson-Muñoz scholars is Jean-Franco Diaz (CC'16), who grew up in the Dominican community in Washington Heights. Diaz, who intends to major in economics and political science, said, "Attending Columbia has given me a global perspective." Janay Anderson (CC'17), who grew up 20 blocks from Columbia and plans to major in the Medicine, Literature and Society track, said the University has prepared her to help her community.
Manhattan Borough President Gale A. Brewer (GS'97), speaking at a reception in October for the Thompson-Muñoz scholars, praised Columbia's educational outreach programs, singling out the Double Discovery Center, which offers tutoring, standardized test-prep and Saturday enrichment classes. "These students go on to do great things in the world." Indeed, columnist Frank Bruni recently profiled the benefits of a full-time summer session held on campus for college-bound local students in The New York Times.
Peter Johnson, director of Enrollment Group Special Projects and special assistant to the dean of undergraduate admissions and financial aid, applauded the students for their intellectual curiosity, initiative and hard work. "It is not a privilege to attend Columbia," he told the students. "But it is an honor. Privileges are bestowed on us, honors you earn." Roosevelt Montas (CC'95), associate dean and director of the Center for the Core Curriculum, told them, "Your presence enriches all of our experiences."
Thompson (CC'54), a Columbia shot put record-holder who continued his track and field career in the Naval Reserves, graduated from both Columbia College and the College of Dental Medicine, where he is now an assistant clinical professor.
Muñoz (CC'57, MA'61) likewise earned a pair of degrees from the University, graduating from the College before getting a master's degree in economics. He climbed to executive vice president for credit and risk management at Dime Savings Bank of New York. A former president of the Columbia College Alumni Association and member of the College's Board of Visitors, Muñoz has long donated his time to his alma mater. He said the initiative made him proud of his Columbia heritage and had this advice for students: "Keep your minds open to all areas of opinion and take advantage of the trove of knowledge available at the University."
Thompson told the students that while they deserved to be commended for getting into Columbia, they didn't do it alone. "Your parents deserve credit for providing an environment for you to succeed," he said. And going forward, he said later, they will have to help each other. "The biggest asset that all of these students have is one another."