Demystifying the World of Impact Investing
Columbia Startup Lab hosted a conversation between SIPA Professor Sarah Holloway and UBS Vice Chairman Jolyne Caruso-Fitzgerald on how social enterprise entrepreneurs can grow their missions.
March 05, 2020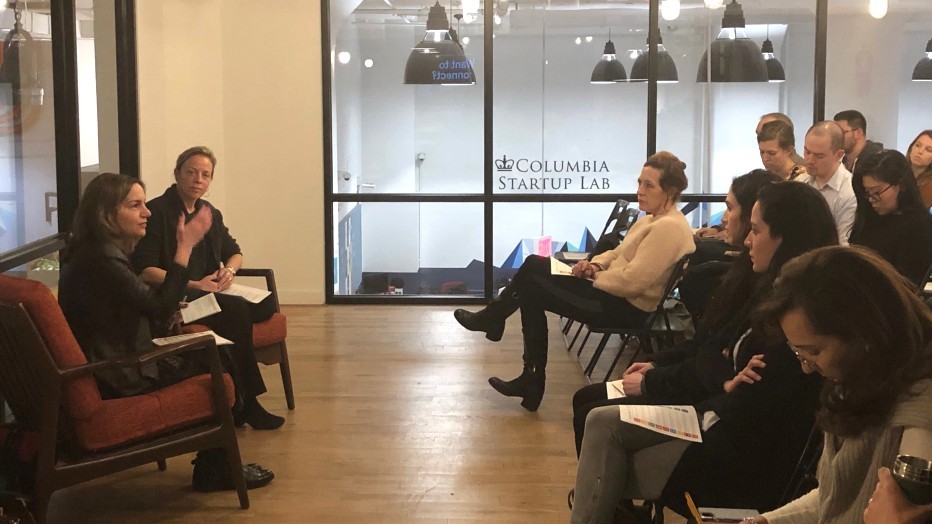 On January 30, the Columbia Startup Lab hosted a fireside chat between serial social entrepreneur and SIPA Professor Sarah Holloway (SIPA'03) and investor and UBS Vice Chairman Jolyne Caruso-Fitzgerald (BC'81) to demystify this emerging world of impact investing.
"Impact investing is where the philanthropic and for-profit world comes together. You have VCs investing alongside the government and organizations like the Ford Foundation," Holloway said. "Everyone is working together to make a difference and to ensure that the right social ventures are capitalized."
The Startup Lab, which serves as headquarters to 71 alumni entrepreneurs each year, opened its doors to the greater Columbia entrepreneurship community to shed light on what impact investors are looking for and how startups can position themselves to receive funding for their missions. 
A dedication to transparency and authenticity are also crucial for startups.
"As the field takes off, it's going to mature into what classic investments look like now," Caruso-Fitzgerald said. Where impact investment stands today, though, leaves startups with many questions. What metrics are potential investors looking for? How do you effectively explain the impact your company has on a community?
"The standardization of impact measurement is still evolving," Caruso-Fitzgerald told the audience. "And since people have different metrics—from your standpoint, don't get too caught up in it. One of the most important things you can do is find the three things that your company is going to measure and report on that progress annually."
A dedication to transparency and authenticity are also crucial for startups considering if they're the right fit for impact investors. Your company shouldn't pretend to be something it isn't just to get the investment. Sustainability actually has to be a part of your mission if you are pursuing green investment.
"The worst thing you can do is greenwash your business, because people can see through that," said Caruso-Fitzgerald. "Be authentic."
Here are some online resources that Caruso-Fitzgerald and Holloway have for social enterprise entrepreneurs looking to grow their social missions:
Goals to Consider
Impact and Social Investors
Blogs and Websites on Impact and Social Entrepreneurship
Recommended Reading