Students Curate an Art Exhibition on Campus
Ava Robles and Lucie Schwartz gained hands-on experience, thanks to the MA in Art History Presents project.
October 12, 2023
The next MA in Art History Presents project—in which graduate students in the Department of Art History and Archaeology curate an exhibition from the Art Properties collection—will focus on 11 European drawings donated to Columbia as a gift from the estate of Lola Szladits (1923-1990), who was the former curator of the Berg Collection at New York Public Library. The exhibition is on display in the art history department's Judith Lee Stronach Center on the 8th floor of Schermerhorn Hall, and will run through December 15.
Frederique Baumgartner, director of the MA in Art History Program and senior lecturer in Art and Archaeology, and Roberto Ferrari, curator of Art Properties and lecturer in Art History and Archaeology, oversee the project, which enables students to gain curatorial experience through a hands-on, practical approach. By working directly with art objects, they enhance their skills for prospective jobs in the art profession.
Columbia News spoke with MA in Art History students Lucie Schwartz and Ava Robles, who worked on the Szladits exhibition, about this curatorial opportunity.
What has it been like to work on this exhibition? 
Lucie Schwartz: It has been an exceptionally rich experience. As a new member of the field, curating a show has always been chief among my professional aspirations, as it combines the research and preparation of academic work with object-based study. What made this opportunity so tremendous is probably familiar to many students: A stimulating class ends with the semester, and, even after your final paper is handed in, you wish you could keep learning about the topic.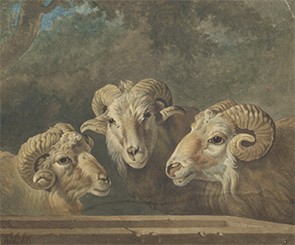 In my case, I was lucky enough to be able to continue my own research on a watercolor in the Art Properties collection that was formerly attributed to Jan Stolker, an 18th-century Dutch artist, and also engage with the work of my colleagues and classmates. As far as summer jobs go, working on this show was a perfect window into the multifaceted nature of exhibition preparation, with the extra trust and flexibility that comes from collaborating with professors and scholars who you already know.
Ava Robles: The entire experience has been rewarding, as well as challenging. Beginning work on this exhibition in the spring 2023 semester allowed us to grasp a sense of the timeline, effort, and cooperation required to mount exhibitions. I am grateful for the access to incredible resources at the University and beyond.
Lucie, as a curatorial assistant, what exactly did you do?
The summer began by running through the exhibition space, in our case, the Stronach Center in Schermerhorn Hall. Charlotte Santo Domingo, another MA student in the art history department, and I met regularly to deliberate the most advantageous layout for the works in the show, in addition to deciding if and where we would add two other previously researched works in the Szladits collection. We mocked up layouts of the room, and paid close attention to the curatorial consistency of a show comprised of works by different artists from different places and times and, occasionally, different mediums.
We also worked on exhibition materials such as signage and website layout, with the goal of producing a dynamic, enticing show that visitors could access both in-person and digitally. Along with other administrative tasks like proofreading, adhering to a timeline, researching materials vendors, and staying in close contact with Dr. Baumgartner, I was responsible for writing the image descriptions for low-vision users, which can be found under each image on the website. This part of the project was the most personally important to me, as it was an actionable way to incorporate diversity, equity, and inclusion best practices into our show. I hope it is something future curatorial assistants continue!
Ava, as a research assistant, what were you responsible for?
For me, the project was intended to gain a clearer understanding of the personal collecting practices of Lola Szladits. Before this research was conducted, her art collecting practices were unknown, as was information on how and where she obtained her art. Her interest in particular art historical movements was apparent, but the reasons for this interest were a mystery.
I spent the summer sifting through the Szladits archives at both New York Public Library and Art Properties. Among other insights that I gained on her life in Hungary and New York, I found a folder of receipts for the purchase of all the artworks in the exhibition. In addition to archival research, I conducted an interview with Julie Carlsen, the assistant curator of the Berg Collection at NYPL. Serendipitously, she curated a Szladits exhibition this year as well, which took place at the NYPL and recently closed. Our conversation will be posted on our exhibition's website.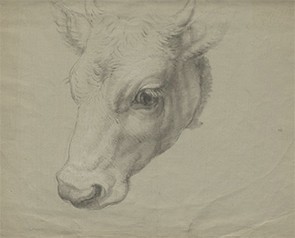 Has this experience helped you both figure out what you want to do in the art field after you graduate? What are your plans?
Lucie Schwartz: Working on this exhibition was like peeking into a future curatorial career. While graduation feels far off, I do hope to either continue my education through a PhD program, or apply the knowledge I've already gained toward a career in the art field. The Szladits exhibition has helped me see the many ways that research, writing, attention to detail, and partnership can influence such a career, and I hope to be among the lucky ones who get to experience that full time.
Ava Robles: It certainly has helped! This assistantship has thoroughly exposed me to the world of archives, and the effort required in conducting such research. The experience challenges me to think in new ways, and find new pathways to answering a question. The work has also shown me the expansiveness of such a project. I ended up learning about the life of an incredible woman, and conducting provenance research on individual artworks. This is a path I want to consider for my future in the art world.
What would be your advice for students new to the MA in Art History Presents project?
Lucie Schwartz: Remain open-minded during the semester of research that goes into the MA in Art History Presents—you never know where a work will lead you. I think all of us were impressed with what we were able to uncover about our respective artworks, from questioning attributions to finding collectors' stamps and watermarks that helped us successfully place our works within an art historical context. It was all excellent practice for future museum or research jobs, where, surely, we will be asked to investigate works outside of our personal fields of study.
Finally, I would, of course, recommend applying for and participating in one of the curatorial or research assistantships. Not only will you benefit from the mentorship of Dr. Baumgartner, but you'll gain valuable skills by immersing yourself in the field. I feel more confident embarking on my next steps after graduation, knowing I may get to work on projects with a similar texture to this exhibition.  
Ava Robles: Trust that your interests will guide you to good things. From the start of working on this exhibition, I had a lingering interest in Lola Szladits. When I applied to be the research assistant after completing my work on my assigned art piece, my small curiosity about her led me to delightful months of discovery, meeting wonderful people along the way.