Teresa Harris Shares Her Vision for Leading Avery Library
Top priorities include a strategy for digital collecting of architectural material and working with faculty and students.
September 05, 2023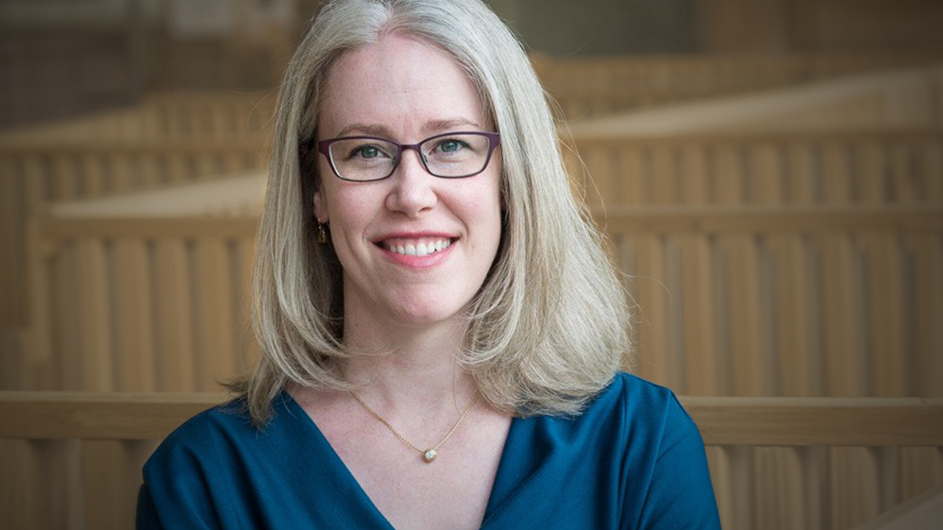 On August 1, Teresa Harris became the director of Avery Architectural and Fine Arts Library, overseeing all operations, including collection development, research and access services, art properties, digitization and exhibition loan programs, facilities management, and the Avery Index. 
Harris first joined Avery Library in 2015 as curator for the Avery Classics rare books collections. Since 2022, she has managed Avery Classics, Drawings, and Archives, the library's renowned and expansive rare books, architectural drawings, and architecture archives. In these roles, Harris has broadened the materials collected in Avery Classics, expanded the geographical reach of its holdings, and led crucial digitization efforts to increase access for researchers across the globe.
Harris discusses her plans for Avery Library with Columbia News, as well as what's on there this fall, and her suggestions for students interested in archival and curatorial work.
What are your top goals for Avery Library?
I have only been in the position a month, and am still working with staff to fully understand our needs. However, the interview process confirmed two important policy priorities for Avery. The first is developing a strategy for born-digital collecting of architectural archives. Computer-aided architectural drawings and emails pose a challenge in terms of preservation and organization of the files and researcher access to the materials. We will be working with colleagues across the Columbia Libraries system to address these issues.
The second priority is working with faculty and students—especially in the Graduate School of Architecture, Planning, and Preservation, and the Department of Art History and Archaeology—to ensure Avery's collections are properly supporting new directions in research.
Are there any new archive/collections acquisitions or projects that you can tell us about?
There are a number of important projects happening here, including the creation of the Frank Lloyd Wright Digital Archive, an ambitious project to digitize archival materials documenting the life and career of Wright, which was made possible by a generous donor. The first phase of the project focuses on the digitization of the drawings for Wright's residential projects.
Art Properties is in the middle of efforts to identify and better understand its holdings of cultural heritage objects created by American Indian and Alaska Native tribes. Art Properties Curator Roberto Ferrari and his staff have begun direct consultations with specific tribal nations as part of our compliance efforts with the Native American Graves Protection and Repatriation Act.
What exhibitions and/or programs are happening this fall at Avery? 
The next MA in Art History Presents project—in which graduate students curate an exhibition from the Art Properties collection—will focus on European drawings donated to Columbia as a gift from the estate of Lola Szladits (1923-1990), former curator of the Berg Collection at New York Public Library. The exhibition will open on October 5, in the Judith Lee Stronach Center in the Department of Art History and Archaeology, on the 8th floor of Schermerhorn Hall.
Art Properties is lending one of its premier paintings—Florine Stettheimer's Portrait of Myself (1923)—to the exhibition, Judy Chicago Herstory, opening at the New Museum in New York on October 12, where the painting will be showcased with other self-portraits by women artists. 
Lastly, 20 Frank Lloyd Wright drawings from Avery are traveling to Japan as part of an exhibition that opens in October, and celebrates the 100th anniversary of Wright's designs for the Imperial Hotel in Tokyo.
How will Avery research and teaching evolve under your leadership?
I do not anticipate a seismic shift in research or teaching, but rather subtle adjustments to better support interdisciplinary scholarship related to the built environment. As I mentioned earlier, we want to nurture the close relationships we have with GSAPP and the art history department, while also forging a stronger relationship with the School of Arts. To that end, we will be reaching out to faculty and students in the various schools to determine how we can best support them.
Any advice for students interested in pursuing a career similar to yours, which embraces art history and curatorial/archival work?
The best piece of advice I can give is to be open to opportunities as they arise. My career in libraries started as the result of a work assignment while I was a graduate student in Columbia's art history department. I was assigned to help with an exhibition on the architect Max Abramovitz, whose papers are housed in Avery's Drawings and Archives Collections. That eventually led to a graduate internship processing archival collections, which led to a job as the project manager for the Marcel Breuer Digital Archive at Syracuse University Libraries. I could not have predicted where those jobs would take me, but I took advantage of opportunities as they arose, rather than having a prescribed path that I followed.